Periodically, fortunately, not too often, one encounters statements in the style of "All Ukrainians are stupid", accompanied by gloating and some unreasonable sense of superiority.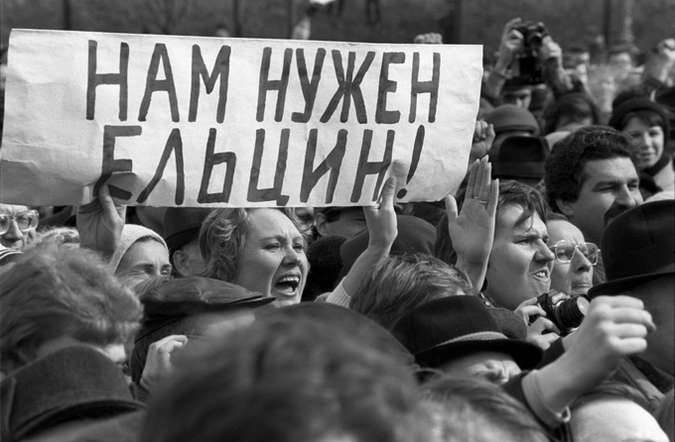 Accompanied by this cattle-gopnic is usually statements like "Russia should not help them" and "Let them die."
Let's start from afar. Are you a type very different from them? You did not have your Maidan in 1991 year? You do not profukali USSR for chewing gum and jeans? And how do you differ from those who profukal Ukraine for cookies and lace panties? You (or your parents) rode almost the same way as today's maydanutye. They demanded "We want to bleat like in the West!" And kilometer-long queues at McDonalds defended.
What, there was no desovietization and de-Stalinization in Russia? Until now, from time to time they want to tear down Lenin's mausoleum.
Well, if the claims were made by the defenders of the White House in 1993 year. But I am familiar with a couple of them, these people silently collect the help of the militia of New Russia, and do not PR.
And all this trash, writing in the comments "Ukrainians are inferior" and sarcastic, "Why don't they rebel?", In 1993, it jumped with chants "If the speaker is nonsense - vote Yes, Yes, No, Yes." Even as jumped, "not freeloaders, and partners." And the money in the "MMM" carried, not a second I doubt.
And you had your own Poroshenko-Yeltsin boo, and your own voucher privatization (on which you were bred, like suckers, for greed), and much more. Even today, there are plenty of "crackers" and liberals-Westerners in Russia. Constantly someone ahejakatsya.
The driving force of the "revolution shit" in Ukraine was the youngsters by 18-25 years who have not seen the events of the year 1991 and know nothing about them. Therefore, they stepped on the same rake. In Russia, by the way, three years ago, in large quantities, on Maidan's, at Bolotnaya, and near-football meat jumped "Who doesn't jump, that hach". It was? As it was! American zombie puppets are the same everywhere, according to the same training manuals.
In fact, Russians in Ukraine and Russia are very similar. Sorry, I'm not used to flatter anyone. The only difference is that there is Putin in Russia. But this, you see, is not your achievement, but your (and our) happiness.
Just when Putin became the head of the FSB in Russia, in Ukraine, the head of the SBU was the metrosexual (who made his fortune to cut the Soviet heritage) and Khoroshkovsky, the corrupt lackey of the Pindos Nalyvaychenko. Honor and praise to the Russian special services, shame and shame Ukrainian zadrodantsami.
Russians have wised up with 1991, you say. Yes, of course, smarter. But how much for this was needed unobtrusive explanatory work? All these Solovyovs, Starikovs, Kara-Murza, Logvinovs, Fursovs and many others. And they had the opportunity to print books, publish articles, appear on television.
And imagine a territory where nothing pro-Russian / pro-Soviet has appeared for decades. Censorship is such that I got on the central television only once (in fact, by chance), the same Ischenko also made it through with great difficulty, and many of ours never saw the airs at all. And the whole day, for years, for decades, "the RI is bad, the USSR is bad, the Russian Federation is bad, the Russians are bad, the communists are bad, only Bandera and Mazepa were patriots, but they were disturbed by the Muscovites".
Vaughn, Belarusians are now also actively treated in a similar way - tales of the greatness of ON, "chases" and "Square Belarus". But if there is no big Russia, then a small Belarus will be scrambled once or twice, as the Baltic border guards and proud Georgians devoured (who thinks that everything is fine in Lithuania, Estonia and Georgia, it's not for me, but for the psychiatrist, I'm not I treat).
Those who declare "All Ukrainians support the junta, so they are not native to us" and rush to insults to the right and left - they objectively work for this very junta.
First, because they help to support the myths of the junta about "evil Moskals who hate Ukrainians", they are a clear confirmation of these myths.
Secondly, because the Russian world is built on its help, this is one of its main ideas.
And its full in Ukraine. Thousands of people are sitting in prisons for their Russophilism, for their Russianness, they are even more fighting in the militia (after all, not only Donetsk residents are at war, but guys from all over Ukraine). And even more is in the internal occupation, under the daily threat of reprisals (dismissal, beating, kidnapping, torture, murder).
Thirdly, the screaming "hobla Nebrat" rowing one size fits all. And share the views of the junta.
Just imagine that you are pro-Russian / pro-Russian in Ukraine. And how will you perceive such screams? Not words of support, do not "hold on, brothers," what people in occupation really need, but "die there, everything". How will this contribute to the maintenance and growth of pro-Russian sentiment? And who after that is an evil idiot and enemy of the Russians?
I have always said, and I will repeat: Ukrainians and maydanutye are two different commonalities. You do not need to repel the Ukrainians (this is how American grant-eaters are actively doing without you), you need to help them to clear themselves of maydanut parasites. And when someone projects the second on the first and declares that maydanutye represent the opinion of all Ukrainians - he works for the Kiev occupation regime (they also constantly declare that they broadcast on behalf of all the "Ukrainians" Ukrainians).
And my attitude to such screamers will be appropriate. At the same time, I simply do not have time to figure out who is misguided and who is a sincere idiot. In terms of the result, there is no difference between them.