The usual pharmacy are two used syringe. This pharmacy has a bad reputation: they rush to here by expensive cars and hurry away. Drug addicts today have gone is not the ones that were. Previously, it was the prerogative of creative people. And now largely addiction is rooted in the "abandonment of the soul," in the absence of life, "the rod" among young people, which for centuries was a bulwark of the future, she hoped for on and off the wildest scenarios glorious destinies. But everything can destroy drug addiction, which is still a threat to Russia's national security, although in some other countries it is considered the benchmark of life.
The beginning of the fight against asocial youth
In January 2016 98, it marked the years since the adoption of the decree "On commissions for minors" (was adopted in January 14 1918, the Council of People's Commissars of the RSFSR). People's Commissar of Education A.V. About a year later, Lunacharsky initiated the creation of another state institution - the Council for the Protection of Children, which includes almost all the people's commissariats involved in the socialization of children.
For children's problems, F.E. Dzerzhinsky: he became the chief of the country on children's issues in December 1922 year: that's when the previous structure - the Council for Child Protection - was abolished, and a special committee dedicated to improving the lives of children has been organized instead. The emergence of many colonies for homeless and orphanages was one of the main results of the new state institution.
Much was done in the post-war period, when the level of homelessness in the country was the highest - about 700 thousands of children.
Another fundamental transformation became possible in the middle of 1967: local governments were supplemented by commissions for minors. In this form, the legal relationship in the chain "children - parents - state" still exists. True, different social institutions appear, but they cannot take government decisions, but only play a coordinating, preventive role.
The current situation in the system of prevention of homelessness and neglect - from here and begin to multiply mainly drug addicts - is one of the main tasks of government on the implementation of which involved security forces.
Registered to a narcologist
"Alcohol is one of the most common causes of such cases," says the secretary of the commission on juvenile affairs of the administration of Aksai district (Rostov region), M. Yu. Zhigalina. - 40 legal representatives of adolescents were fined for the fact that their young children drank alcoholic beverages. Another 61 KDN case was examined in connection with the consumption of alcoholic drinks by teenagers who are over 16 years, guys fined and put on the account to Narcologist.
Young alcohol lovers are detected during regular raids. To a question fit strictly even if the teenager does not drink alcohol, and holding a closed container, it qualifies as a preparation for drinking alcohol.
Moreover, only guardians, and not other relatives (grandmothers, brothers and sisters) are considered to be persons replacing parents.
Already identified 38 minors who were at night on the street unaccompanied by adults. In 11 cases, the parents were fined.
"Of course, the amounts of fines are insignificant in our country," says Margarita Yuryevna. - For example, in the Krasnodar Territory, parents will have to pay five thousand rubles for such offenses of children. Of course, this encourages them to be more attentive to the whereabouts and activities of their children.
Extortion about the registry office
In the summer, the commission often received young scooter drivers. The fact that the right to drive these vehicles are only issued to 16 years, but the parents neglecting the safety of children and common sense, give the scooter its more young children of.
In addition, young people often ride without helmets. In all of these areas, the 15 protocols were created.
Frequent complaints of theft in "Auchan". Children, as a rule, do not suspect that video cameras are installed in the hypermarket and the facts of theft are always recorded. For each stolen item, children, or rather, their parents, will have to pay damages in triple size. Moreover, if the theft of a large recognized (that is, its value exceeds 1000 rubles), and the child had turned 14 years, the plant is a criminal case.
For regular hits on the note commission teenager can go to a special school. This preventive measure is now facing a group of children, to which the mass of claims: time off school, loitering, fighting, training failures, vandalism, begging and even extortion. Among these teenagers and those who extorted money near the registry office, this
история
at one time thundered on the whole area. Children with the threat that they will spoil or stain the car, extorted rather large sums from the participants of the wedding procession. Now, every Saturday, police officers, employees of the commission on juvenile affairs, teachers from schools are on duty at the civil registry office.
The Commission on Juvenile Affairs regularly holds events in educational institutions, they are called Days of Major Prevention. The audience - schoolchildren, starting from the sixth grade. The children are told about their rights and obligations, they are shown videos about the dangers of alcohol and smoking, explains the responsibility for the offense.
Attract guys to socially useful work. Adolescents will also learn about what circles and sections exist, including sports, and learn how to behave correctly in the event of an emergency. The commission meets every two weeks, cases are considered, decisions are made.
The children who have committed offenses and their parents need to take into account that, for example when registering to narcologists subsequently be eliminated to obtain a driver's license. Upon admission to the university, applicants must present a characteristic, which will also reflect the "mistakes of youth". Because of one unseemly act, the future can be endangered.
Addict artist with a ballpoint pen
The medical staff of the therapeutic department were admired by the sketches of portraits, which Vitaly drew with a ballpoint pen in his notebook.
- I'm 25 years old, and my life is just beginning! - He said cheerfully, introducing himself to everyone. Visitors came to it almost daily. Relatives, friends.
That's just the beloved girl he was waiting for, never looked here.
"I have a wonderful one," said Vitaly, who suffers from bilateral pneumonia of the lungs, to the nurses. - Beautiful, mistress, good girl. I will leave the hospital, give up drugs, marry.
They say drug addicts are usually embittered people around them. But, looking at Vitaly, this could not be said. He was joking, telling stories of the lives of famous artists, writers and other artists, simply hitting surrounding their erudition and education.
Doctors knew that he had practically no chance to survive, despite all the measures taken to save Vitaly. But fought hard for the life of a guy. The weakened immunity of the addict constantly reminded of himself, antibiotics did not affect the patient's body or had little effect. The guy began to choke more and more often. But still this time he survived.
- How to get sick again - immediately to you. You saved me! - He said goodbye to doctors and nurses. A month later he was gone. No, not from a drug overdose. Just refused a heart. The guy died at the hands of his mother, who begged money for another dose of desomorphine. A year later, she was gone.
A further relative of the will "left" their home. And neighbors who lived near Vitalik and his mother, and now, a few years after the tragedy, shaking their heads, remember what was this happy family, until his father took to drink and has not started to use drugs son.
The story of this woman shocked many
Severe form of hepatitis C, which Elena caught by fellow addicts, quietly and purposefully destroying her body for a few years. A woman turned for help to doctors when she had only one or two weeks left to live.
- Dying, she called the daughter, - one of the nurses does not hide tears. - I repeated that I wanted to live, that I would not give my child to anyone.
I wonder if the mother thought, starting to use desomorphine, that she would leave her five-year-old daughter orphaned?
But the story of Elena began so beautifully. She graduated from school, went to college, then got a job. By the way, colleagues speak about Elena very well and still can not believe that she used drugs. Then she, according to her friends, got married successfully. The couple had a daughter. But soon her husband left Helen and married another. About the presence of the child's former husband does not remember to this day.
Experiencing grief, every person seeks consolation for himself. Elena "found" him in drugs.
- If to our department received drug-dependent patients, it is usually young people between the ages of 20 to 30 years, - said the head of the therapy department at the hospital LE Zubovskaya. - It hurts to look at them! After all, many of the employees of our team have their children of about the same age! Immunity from young drug addicts entering the hospital has been almost completely destroyed. Their bodies are no longer able to fight for their lives. But at the same time, drug-addicted patients absolutely do not want to understand that they are sick with drug addiction. "I can jump off the needle at any moment!" - doctors often hear from them. Neither the young men nor the girls understand what torture they have sentenced themselves to. And only yourself?
Daughter of acquaintances and icons in wards
Heading to the district hospital, preparing materials for countering drug addiction with the medical staff, I did not even assume that in one of the departments I would meet the daughter of my acquaintances. Her mother did not hide tears, her father clenched his fists helplessly. A toxic violation of immunity was found in the student's daughter. Cause? Drugs. More precisely - desomorphine. You do not need to be a prophet to assume that the neighbors, friends and acquaintances of this family will say tomorrow. "There was a decent girl, she studied well, obeyed her parents, and such ..."
"It amazes me," admits Lyudmila Evgenievna. - Among drug-addicted patients are most often those who are constantly, from childhood, were surrounded by the love and attention of adults. And parents, until the child passes away, until the last moment they believe in him, as doctors. That here, they say, such a moment will come by itself and the son or daughter will give up drugs and start a new life.
And more and more students are found among drug-addicted patients. Not so long ago, young people were admitted to the hospital with a diagnosis of "drug overdose". One of them is a student of a prestigious Rostov university. He was in less serious condition than his companion in misfortune, but he did not survive.
From a conversation with the guy's parents I find out that Maxim was one of those who could be called the future of our science. From childhood he worked on some very complex computer programs. Programming was for the guy all. Fascinated by work, he sat at a computer for days, then began taking some kind of stimulants, from which there was only one step to drugs.
Chambers in various departments of the district hospital, where there are people suffering from drug addiction, alcoholism, it is very easy to find out. No, not even as patients who, because of drugs and alcohol, received a whole bunch of chronic diseases. It is just that in these wards on the bedside tables there are usually most of all the icons that the patients themselves, their relatives, friends and relatives bring with them.
I was also struck by the fact that both the artist and Elena were believers. The woman and in the intensive care unit took with her a small icon of the Virgin, from which she did not part until the last minute of life. Both the deceased Maxim and the drug addict who was taken to the hospital almost at the same time as him, wore the "Living Aid" prayer belt.
Is love for relatives and faith in God not enough reason to quit drug use?
Today, the level of educational education today is also trying to raise with the help of the introduction of new subjects that, according to the developers, raise the spiritual and moral state of education among the younger generation. There is no single opinion on this issue in the society. From the beginning of the current school year, the modular courses "Fundamentals of Business" and "Fundamentals of Orthodox Culture" were introduced into the school curricula. We are talking about one of the directions of the implementation of the presidential initiative "Our New School".
Pupils get acquainted with the Fundamentals of Orthodox Culture from the fifth grade, and from the second half of the year (pupils of 2-3 classes learned about Orthodoxy about extracurricular activities. As the teacher O. Fedorova commented, information about the culture of Orthodoxy is given to children unobtrusively and in dosage form , as provided for by the program of a secular educational institution. At the expense of the regional budget, the issue of acquiring the necessary textbooks that come with workbooks was resolved. The author of the official textbook on Fundamentals of Orthodox Culture "- Archdeacon of the Russian Orthodox Church, Professor of the Moscow Theological Academy, writer, theologian and writer, secular and religious scholar AV Kuraev.
However, society only concentrates its strength on the fight against drug addiction.
"The life expectancy of a person who started using drugs is, on average, five years," explains L.N. Chief Physician of the Aksai Central District Hospital. Miller. - Few of the drug-addicted people live, having started using drugs, for more than ten years. The usual cause of their death is an overdose of narcotic substances. But quite often, drug addicts die from infectious diseases, with which their bodies simply cannot fight. As experts say, self-deception is the usual state of all those who use drugs. Drug-addicted people, whose body and psyche are already in irreversible stages of destruction, believe that they are able at any moment to "engage in drugs" and return to normal life.
The number of drug addicts in our country is growing. According to experts, the number of drug addicts in Russia is about six million. Official statistics gives figures that are smaller than the specified one in 10, because it takes into account only those citizens who voluntarily have entered medical records. According to statistics, out of the total number of drug addicts in Russia, 20 percent are schoolchildren, 60 percent are young people between the ages of 16 and 30 years, 20 percent are older people. Every year tens of thousands of Russians are killed by drugs in Russia. And if earlier the problem of drug addiction was mainly related to big cities, now it has come to the village. In rural feldsher points, outpatient clinics, central district hospitals, as a rule, there are no narcological departments, but narcologists constantly receive patients suffering from drug addiction. And often, citizens who use drugs, become patients of the infectious, therapeutic departments. After all, drug addiction brings with it not only AIDS and hepatitis C, but also bilateral pneumonia of the lungs, bronchitis, stroke, renal failure, and many other diseases.
Children at the stake in the yard bake pancakes
A dysfunctional family becomes a "breeding ground" for drug addiction, both in urban and in rural areas. Especially hard in this situation is children.
In the countryside, family ties are stronger than in the bustling cities. It always has been. Only here the facts of today's life overturn all the established foundations. The more difficult we live, the more in the farms of parents who have disown their own children; mothers of cuckoos traveling through life, like tumbleweeds, drowned in a glass of vodka, completely forgotten about their duties.
The Commission on Juvenile Affairs manages to deal with the fate of disadvantaged children, to admonish fallen parents that they should, the law requires the performance of parental responsibilities. It is a pity that the biological parents have long been less concerned about the lives of their children than a glass of "opohmelki" after a stormy night.
I was at one of the meetings of the commission. Before members of the commission - the mother of two children with disabilities. A woman does not work anywhere, she lives with the support of old parents. Weeks in weeks, forgetting about children. Parents who have long been behind 80 are trying to take care of the children. But only if they are able to make a tolerable life of children who need individual care and treatment? And what about mommy? She takes offense at her parents. They scold her, and therefore drinks. This is how she explains her behavior. This unfortunate mother had long since drowned her maternal feelings in vodka, and she already has little in common with a woman. But to the exhortations of the members of the commission she condescended: "I will heal from alcoholism, but I do not guarantee that I will not drink again. As parents begin to run down - leave. " Apparently, the cuckoo mother does not know that, having left today, she will never leave from old age. Children's pain will certainly return to her boomerang.
But another case was told during the meeting of the commission. The "star of the regional scale" has not yet fallen from memory from the village of Bogachev, "with a particular way of life", as another similar family appeared on the regional horizon. Boris lives with a young female mistress in the farm Semyonovke. Two have five children, but there are no parental responsibilities. They live in a dilapidated house, in which there is a half-disassembled stove, three pillows for seven family members. Parents do not care about bed linen, fuel supplies, clothes, food for children in this family. In the morning, one concern: hang up, drink. A young female mistress, who appeared from an unknown place in a farm, successfully "stuck" to an unkempt single father of three minor children. She does not have any identity documents, and even two children - without birth certificates. Of course, neither children nor any other benefits are received. What do they live on? For children's allowances and social benefits for children of a hapless father.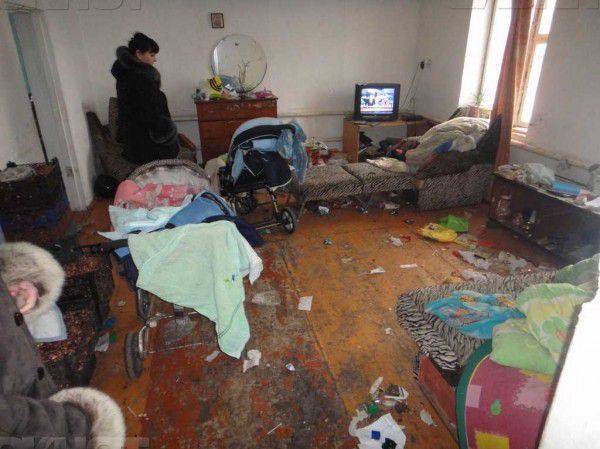 Neighbors help children with food, clothes. Children on the fire right in the yard baked pancakes. Sometimes they get into other people's gardens.
The older daughters of Boris fled from the house. The father knows their whereabouts badly. Much better in the family situation of the family is a specialist in rural administration.
It is terrible to imagine how hungry, unprotected children feel in the difficult life of the Russian hinterland. When a living father lives three destitute orphans.
Boris's children have no conditions not for life, but for elementary existence.
About a loving thirty-year-old person with a pretty worn look, the conversation is special. It is not as simple as it seems. After all, she, like a plant parasite, clung to a rustic peasant, and she even planted her children for children's allowances.
The members of the commission on juvenile affairs took measures to the unfortunate parents within the law. But what is a fine for these people if they have long ago lost the most important, vital, connection with their children.
Orphans with living parents - an ugly product of our time. Like mushrooms after a rain, grief-parents appear who do not live anywhere, do not work anywhere, love nobody.
How to protect a child
In the Rostov region, the project on introducing the school ombudsperson for children's rights in schools, which coordinates the efforts of various state and public entities, including on the problem of drug abuse prevention in the school environment, continues to be implemented since 2010.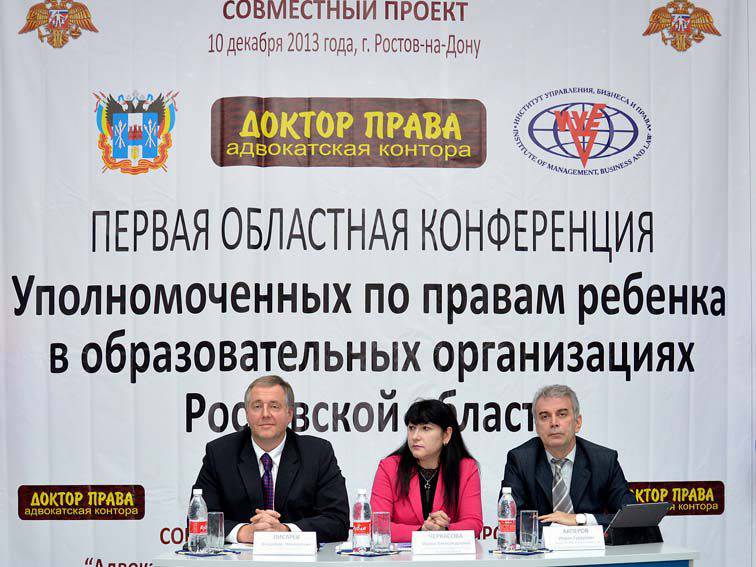 The people elected to this position have passed and are still studying at courses in Rostov-on-Don, get acquainted with the experience of the Saratov and Volgograd regions, where they already have their own experience and methods. In many schools there are information boards on legal issues and on the time of reception by authorized persons, mailboxes for anonymous appeals. The interaction of representatives with other interested services, such as territorial divisions for work with the population, school inspectors for juvenile affairs, is being worked out.
School commissioners are elected at the general meeting of students. The Commissioner can choose any adult participant in the educational process: a teacher, educator, social teacher, psychologist, parent. Persons holding an administrative position in schools can not be elected authorized.
Today, such services began to operate in all urban schools, and therefore the school ombudsman's children's rights workshop held in the education department was more numerous than before.
Like any new activity, the work of the commissioners needs a methodological basis, an exchange of experience and useful information. For this purpose, a methodical association of ombudsmen for children's rights has been created at the education department, headed by MP Bashmachenkova. Opening the first seminar in this school year, she spoke about what was done at the beginning of the journey. First, the regulatory materials are systematized and the social status of the families in which the students live is analyzed. Today, probably, no one will argue that the rights of minors are violated to a greater degree in families that are far from being well-being, and these children require the primary attention of the commissioners. According to today's data, students of educational institutions of the city live in 7053 families, 3591 of which is low-income, 2008 - incomplete.
Already during the first year of work, appeals began to be received by authorized representatives.
Schoolchildren most often appealed because of conflicting relationships with classmates, theft of things, fights, and also complained about a large amount of homework. Parents raised issues of humiliation and insults of their children by classmates, asked for help in placing children in state educational institutions, the guardians consulted on issues of housing the wards. Teachers posed the problem of using cell phones during school lessons, the rudeness of schoolchildren with regard to teachers, and also asked for help in conducting extracurricular activities on legal topics.
By the end of the school year, not without the participation of the authorized representatives, the percentage of serious conflicts in the relations between teachers and students decreased. Mostly they were easily resolvable and were provoked by the incorrect behavior of schoolchildren and the response of teachers who did not take into account the age and psychological characteristics of children. In such cases, it was necessary to seek a compromise. Appeals concerning the relationship of students with each other, a little in comparison with the actual number of conflicts. Students of the 3-5 classes mostly complained about their classmates (boys and girls). Older children prefer to solve the problems of interpersonal communication independently, without resorting to the help of adults.
Methods of conflict resolution, elected by students, are still far from legal. And because the main task of the school commissioners was and remains to increase the legal literacy and culture of children. During the year, explanatory talks were held on the main provisions of the Convention on the Rights of the Child, meetings with representatives of the juvenile affairs department, psychologists, doctors.
The schools conducted a survey of high school students to determine the degree of comfort of their stay in school. This is how teenagers answered the questionnaire. 52 percent of respondents go to school with joy, 60 percent are in a good mood at school. A good study is a serious work - 79 percent of respondents adhere to this opinion. 54 percentages of pro-questioned high school students think that school teachers can be consulted, 55 percent have such a teacher in their school, and 66 percent have answered yes to the question whether their school has a respected teacher. Answers to these and a number of other questions helped the school officials to form an opinion on the psychological state of adolescents in school.
Much, for example, the system of material incentives for commissioners, has not yet been defined at the oblast level. And the meeting participants also talked about this. Working mainly as subject teachers, they carry an extra load that requires high commitment and a lot of time, completely free of charge. It remains to be expected that the problem will nevertheless be considered by the regional administration and resolved.
"It's still difficult for us, because we stand at the origins of this important matter," said M.P. Bashmachenkova.- But you do not need to immediately retreat before a large amount of work, but start small and gradually achieve a certain result.
What did Olga Verbova, a student of 11 "A" class of secondary school №6, write:
"There is indeed the only effective way to not become addicted to drugs - it is never, under any circumstances, to try! And yet, if anyone has such a desire, then prepare a fee for a minute pleasure:
- crawling like a sleepy fly;
- your memory is full of holes like a colander;
- "twitch" like the last psychopath;
- you start to be afraid of your own shadow;
- you become stupid, like a Siberian felt boot;
- everything falls out of your shaking hands;
- "sound, color, image" disappears;
- your brains are not worth a rusty penny;
- and all the fluid in you brake;
- people of the opposite sex no longer interest you;
- and you them too;
- your race may be interrupted by you;
- You are known as a thief, a liar and a beggar.
Romantic, isn't it? "You wanted to be cool, but you became an outcast!"
The destruction of man begins with a swear word
But the efforts of public institutions today are not enough. I am convinced of this from my personal experience. Not so long ago, three schoolchildren of about ten were walking towards me. Looking at them with affection, I think: "Yes, children go to school, they will be literate, educated ..." We would have diverged from them, I am with a good opinion about our schoolchildren, they are leaving this opinion about themselves. But then the trinity wanted to communicate with each other. Their appearance and involvement in the younger age category of the population did not harmonize with the form of speech, which was based on virtuoso swear words. While I was trying to understand the content of the conversation behind this form, the boys noisily withdrew, leaving a trail of "abusive aftertaste" and frustration in the realities of modern life.
After the words "mom" and "dad", our children begin to pronounce other, more interesting ones. Adults teach their children these words intentionally, being touched by the baby talk of "strong" words, or they talk among themselves so that they cannot be remembered, and taking into account their brevity and plainness is not easy to remember.
Having become acquainted with the lessons of the Russian language with the ways of forming words, young minds masterfully test the rules in practice, inventing very intricate in form, but quite understandable in content, expressions that have little to do with common words. Without these expressions, it is difficult to imagine a beating for a boss (and sometimes a boss), a conversation about fishing or hunting, just a heart-to-heart talk. But how! How many emotions can be conveyed by one strong word!
Profanity (still sounds better than swear words) has long become the norm in our everyday conversations. On the street, in the hospital, at school, at the train station, in the store ... everywhere you can hear "strong words". Two teenagers find out the relationship, repeatedly using different words of obscene language. Groups of young people in the park drink beer, animatedly telling something, naturally with the use of familiar words to everyone in different letters. "Yes, you went (went) ..." - in response to a phrase you liked little, and it's good if specific coordinates are not added. The car does not start, but it is necessary to go, the son received a bad mark, it suddenly started to rain.
Any trouble is accompanied by expressions that are far from generally accepted. We have already stopped being ashamed of those who are near and should not hear these words from us - our own children or parents. In some families, communication in the language of expletives, profanity is quite normal. That's what scary.
In modern society, the use of profanity has become the scale of the epidemic, it has penetrated into literature, the cinema, the media, for many obscene language is becoming the norm. Its distribution is another proof that there are many problems in our life. Profanity is a form of social protest and self-assertion. Riot against the abominations of life. According to research by modern scientists, abusive words, in addition to other negative characteristics, reduce the level of intelligence, destroy our consciousness, deprive the human psyche of conscience and shame, make it uncontrollable, and even distort the structure of DNA.
It is from this that disrespect and contempt for their traditions begin to emerge, the search begins for new ideals and ways to please their already half-ruined, not yet formed soul, which is aimed at receiving only pleasures from life in the form of scooters, gratuitous parent money and, perhaps, all this leads end up with addiction. Weak people are subject to it in the first place.
Vocational school had ethical code
In the Rostov Region five years ago, in the 2011 year, more than 33 thousands of students from vocational schools and lyceums decided to voluntarily test for drug use in the XNUMX year. The results have not been made public yet.
Tests, of course, are good. But children need to be given more and moral foundations, which, unfortunately, are absent today in some moments.
Ivan Razinkov, former and last director of vocational schools, recalls: "I leaf through a family album, archives, and suddenly I find a very interesting thing - the cadet's statement.
Year 1995. I am the director of the training course. In UKK they taught various specialties, mainly mechanization. Upon admission to our school, the exams did not surrender, but, apart from the desire to get a profession, the students were subject to ethical requirements.
The main one was not to smoke. His adherence was of great importance for academic success. Not to say that our cadets received more knowledge than in other educational institutions, but one indicator (which I am very proud of) was nevertheless decisive: 100 percent of students sat on the tractor. That is why it was the training course combine that was considered in our area as a "forge of personnel".
It is a pity that this plant today is not. Seven years have passed since its closure, but young people still turn to me with a request for obtaining the specialty of a tractor driver, welder, and fireman. But alas! This is not in my power.
I would like to wish the educational institutions: the issue of cadet education to be considered the main one, and then the quality of study will be guaranteed. "
Drug addicts need to be treated or planted.
We argued about this on the pages of one of the local newspapers in 2003. I was convinced that drug addicts, recognized as such, should be treated by force, by a court decision. By the way, the corresponding law on this was adopted, finally, in Russia in 2013. But then, the famous, honored doctor Katsman said that drug addicts should be treated. I wrote about prison again. As a result, the editor simply fired me, who made me laugh to confront such a respected human doctor who founded one private clinic in Rostov-on-Don, where they treated these unfortunate people. But the truth triumphed. The president made the right decision: too many doctors divorced, wanting to treat their patients for a considerable amount of money as long as possible. By the way, years later, I met Katsman's grandson and this honorable young man, taking a sip of brandy, and sitting in my grandfather's medical chair — was inherited — told with joyful arousal how to make all medicine in Russia pay, and which it is a limitless place to make all sorts of profit. I was sick of these words. But I had to listen. I think that justice will triumph in Russia in this respect too.
Today, Cossack societies have connected to the problem of drug addiction, there are even competitions (!) For the best journalistic work on drug addiction, various anti-drug commissions are established, operating in almost every region of the country, major resolution decisions of the courts are announced, but for now it all continues year after year, and there is no end to this. Perhaps in the near future, more severe measures will be taken against drug dealers who pose a threat to national security.