The Turkish Foreign Ministry summoned "on the carpet" the Russian ambassador in Ankara in connection with the allegedly new violation of the country's airspace, reports
RIA News
Reuters message.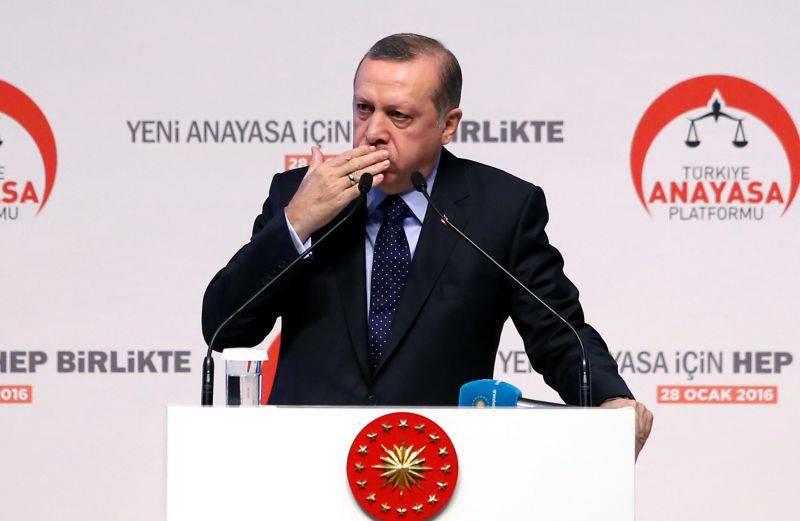 "The Turkish Foreign Ministry said that a Russian military aircraft violated Turkish airspace on Friday," Reuters writes. In a statement, the agency "called for a stop to violate the airspace" of the country.
The press attache of the Russian embassy confirmed the fact of calling the ambassador to the Turkish Foreign Ministry.
On Saturday, President Erdogan, in the course of communication with journalists, said that he would like to meet personally with Vladimir Putin.
"Yesterday there was a violation of our airspace by a Russian plane. Such irresponsible steps, in which we see an escalation of the crisis, benefit neither Russia, nor NATO-Russia relations, nor regional and global peace, they only bring harm. Yesterday, these considerations were expressed by the Russian Ambassador in Ankara (Andrei Karlov). At the same time, I asked the Deputy Foreign Minister to contact the Russian side and convey that I personally want to talk to dear Putin. Our ambassador informed that this information was passed on (to the Russian side), but we haven't received a reply until now ",
- said the Turkish president.
In turn, the Russian military said that "there were no violations of Turkish airspace by the aircraft of the Russian air group in Syria," the agency said.