Today in Ukraine, the Independence Masses celebrate the anniversary of the so-called Battle of Kruty, held in January 1918. Fighters of the Red Guard (prototype of the Red Army) on the one hand, and representatives of the UPR on the other, participated in the battle. The modern Ukrainian government has erected this event to the rank of national holidays, without paying particular attention to the fact that the residents of Ukraine at that time actually fought with each other, being in different detachments.
The President of "Square" delivered a great speech in which, in particular, he stated:
29 January we honor the memory of the Krut heroes. Ukraine made conclusions from those events. Today we are building a powerful army to repel the impudent enemy. Today we honor the feat of the patriots of the Ukrainian People's Republic, who gave their lives for the freedom of their native land. They are a symbol of the unconquered spirit of the younger generation of Ukrainians in the struggle for their own state.
During his speech, he linked the events of January 1918 to events in the Donbas. According to him, modern Ukrainian servicemen "just as courageously protect the Fatherland from the enemy." At the same time Poroshenko decided to name the figures of the dead Ukrainian security officials during the Donbass conflict. According to the Ukrainian president, 2269 of the Ukrainian military were killed during the conflict. Among the dead, Poroshenko singled out about 20 "fighters" who did not live to 18 years.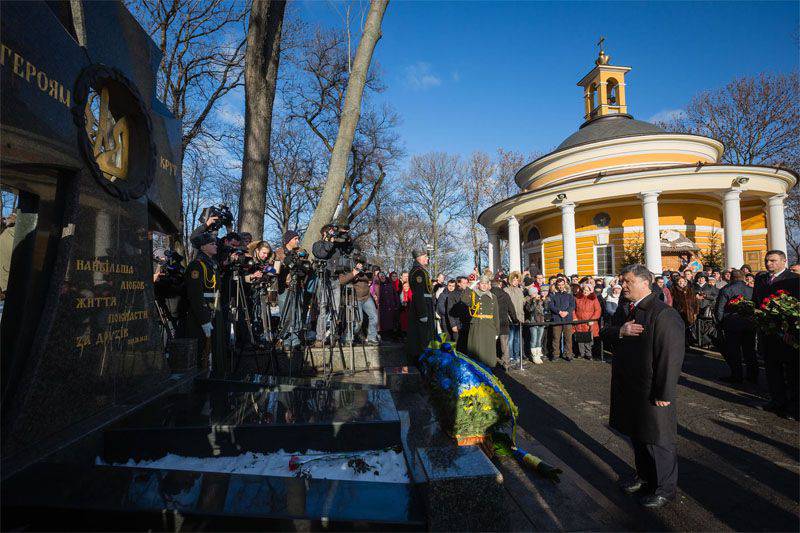 Poroshenko traditionally became the apogee of the performances of "I have not yet died ..."