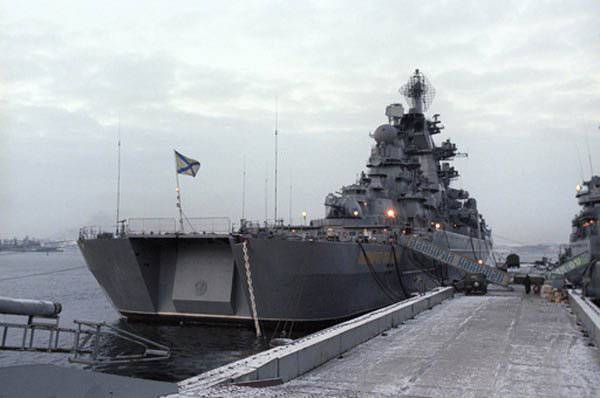 Work on the modernization of the nuclear-powered missile cruiser Admiral Nakhimov (Orlan, project 1144) at Sevmash will begin after 2012. At the same time, attention will be focused on rocket armament. Andrei Dyachkov, General Director of Sevmash, told RIA about this
News
.
For the last ten years, the cruiser Admiral Nakhimov has been on conservation at Sevmash.
"When upgrading, a powerful build-up of weapons will be carried out that will touch the missile complex. Today, the cruiser is armed with Granit cruise missiles removed from service. They do not meet modern requirements either in range or power. In this connection, new missile weapons will be installed there - Onyx and Caliber complexes, "said Dyachkov.
He also stressed that energy will not change. "In April, the development work will be completed. After that, work on the modernization and repair project will begin. No work will be done on this project at Sevmash in 2012," the general director said.
He also said that initially the Ministry of Defense wanted to conclude two contracts at the same time: for development work and for repair from upgrades. "During the negotiations, it was concluded that it was simply pointless to continue working at the enterprise without a final version of the modernization. Therefore, the repair and modernization of the cruiser were suspended," said Andrei Dyachkov. He also said that a contract was concluded with the Northern PKB for the development of abbreviated ones. project. The PCB must determine the path of the vessel's modernization.
The agency's interlocutor noted that the Ministry of Defense agreed to assume the cost of maintaining the ship at the berth of Sevmash for the period of development work.
The general director of Sevmash stressed that today it is exclusively about the modernization of Nakhimov. "We are talking exclusively about" Nakhimov. "" Ushakov "(a cruiser of the same series) is in Severodvinsk at the Zvyozdochka shipyard, but he has been withdrawn from service
fleet
".
To date, only one ship of this series is in service of the Russian Navy — the cruiser Peter the Great. This ship is the largest non-invasive strike ship in the world. The purpose of "Peter the Great" is the defeat of large surface targets, the protection of sea connections from air attacks, and the search and destruction of enemy submarines.
In 1998, after the tests, "Peter the Great" was transferred to the Russian Navy. The standard displacement of the cruiser is about 24 thousand tons, the full one - 26 thousand. The nuclear power plant makes it possible to reach speeds up to 31 node (60 km per hour). Cruiser dimensions: length - 251 m, width - 28,5 m, height - 59 m. The crew of the ship is more than 800 people.
The Granit anti-ship supersonic missiles П-700 (3М-45) (Shipwreck) are the basis of the cruiser armament. Twenty PKR "Granit" are placed under the upper deck and have a launch angle of approximately 60 degrees. Also, the cruiser has a variety of modern weapons to protect against air attacks, destruction of underwater and surface targets. Abroad, "Peter the Great" has no analogues.