Odessa
news
portal
"048.ua"
reports that the region continues to hold meetings of local governments for recognition of the Russian Federation as an "aggressor country." It seems that the Maidan authorities are thus trying to get at least some kind of solidarity from the municipalities, and therefore it comes to the point of absurdity: in the districts and rural settlements representatives of local authorities are forced to vote on the said issue.
The next theater of the absurd showed itself in the Krasnokonyansky district council of the Odessa region. 14 deputies of the local council decided to vote in favor of recognizing Russia as an "aggressor". 1 MP voted against. It turned out to be the representative of the "New Power" movement Vasily Lomakovsky, who, apparently, is the only representative of local authorities who is not inclined to turn municipal work into insanity.
The material is a statement and. the head of the district administration, Mr. Beltsik:
This question for each of us lies in the plane of personal understanding and perception. We are all against the war, but it continues, and the country - the aggressor is none other than Russia. I think we had enough time to realize this and develop our own position.
The report says that in total there are 26 deputies in the Krasnoknyansky district council. Where were the rest of 11 at the time of voting - not reported.
An eloquent photo of the departure of a "foreign policy" of a regional scale: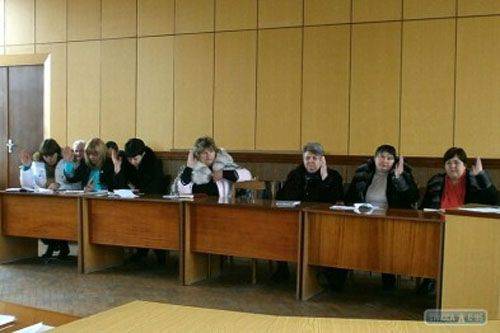 Judging by the photo, the district deputies, for starters, should have attended to the issues of heating.
On pages of inhabitants of Odessa in social networks comments on voting in Krasnoknyansky area appeared. Users of social networks (not devoid of a sense of humor) offer to consolidate success and conduct a vote on neighborhoods and housing offices ...