Mr. Steinmeier!
Having carefully studied your controversy between you and Minister Lavrov, I would like to ask you a few questions.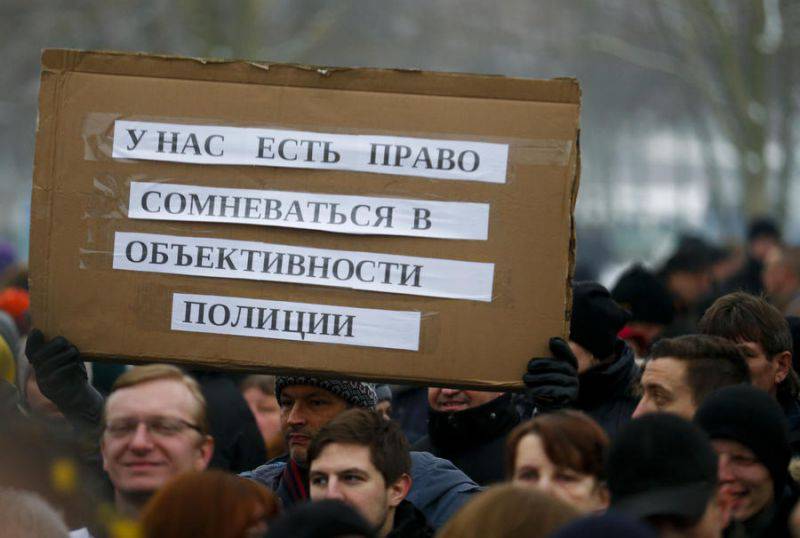 I will not raise the topic, because I, unlike you, everything is clear in it. It is clear that the fact of rape was, it is clear that your police simply chose to silence him, it is clear that today the ball in Germany is ruled by migrants. There are no questions here.
There are also no questions about your reaction and the statement that Russia allegedly interferes in the internal affairs of Germany. Clearly, this is Germany can climb wherever she wants. In the internal affairs of Russia, Ukraine, Donbass, Poland. This is Germany ... she can.
More precisely, the United States can go into the affairs of other countries. And Germany, which, whatever one may say, is still a state-occupied territory, will pretend that it is not forbidden to her personally either.
Everything would be fine, but the girl is Russian ... Here it is the fact that it's not a Russian woman, not a Russian citizen, but a Russian one. There is a small difference, but nonetheless. So our interest in this case is fully justified.
But again, I'm not talking about that.
I'm talking about the current situation in Germany.
Maybe I misunderstood Mrs. Merkel a little, but her jokes with the "refugee" migrants, it seems to me, are aimed at improving Germany's gene pool. Need new blood. And, if 80 years ago was categorically forbidden in Germany to interfere with their blood with foreigners, was punished in full, then today the situation is clearly the opposite.
I agree that the influx of fresh blood from Africa and the Middle East can drastically improve the situation. Yes, tomorrow's Germans will be a little darker, they will not go to the church, but to the mosque, but as a nation they will obviously become more active, if not to say, aggressive.
Good plan.
And here we go to the questions that interest me.
1. It is very interesting to know, does the program "Dance Everybody" apply to all visitors, or only to people arriving from Africa and from the Middle East? If at all, then the prospect is rather pleasant, if not ... But what about democracy, equality and tolerance? So it is possible to finish the trial before the European Court of Human Rights.
Indeed, why am I worse than Ahmet from Somalia? Yes, there are some differences, but they are so insignificant that you don't even want to talk about it. If Ahmet can arrange sexual entertainment for himself, then why shouldn't I?
2. Is the element of violence obligatory? As it is not accepted here, everywhere, Russians prefer to resolve such issues somewhat more modestly. And not a crowd. And not on the square. Perhaps our methods in Germany will be even more attractive to Germans. And the result is no worse. Plus the lack of massacre.
3. Does your country expect further development of tolerance in terms of the official three-member family? The fact that there are spouses or parents №1 and №2, it is well known. Or maybe it's also officially to introduce the third element?
That is, there is the head of a family who earns money, walks in a skirt for demonstrations and all that, and there will be a third member? Just a family member? Which, sorry for the tautology, will be exactly the functions of a family member? Well, purely in Russian and very tolerant, he will be able to break off the horns of some unnecessarily boisterous bull from Somalia or Ethiopia.
In my opinion, a very tolerant alignment emerges.
4. In Russia, for some reason, everyone prefers women who combine mind and beauty. And what to do with those that you frankly do not match? Like Henrietta Röcker, the famous burgomaster of Cologne? She, forgive, and stupid, and ugly. And what is more weighty, difficult to say.
Maybe enter some surcharge in this case? Small, so that the budget does not collapse, so purely for tickets and schnapps. Or only on schnapps or beer, because even raping Henrietta without a proper dose of alcohol is not easy even for a Russian peasant.
In general, the idea is not bad. Indeed, in this way the gene pool of the Germans can be podrichtovat. A long time affair, of course, cannot be handled in a couple of years. But, as practice shows, with the proper amount of excellent German beer, this problem can be solved. And without battering and damage to clothing. And, of course, without removing the phones and other gadgets.
And, most positively, we will not need to be resettled somewhere, pay us benefits, because real hussars do not take money. Total benefits and savings. Plus, the fact that we do not need your citizenship. Anyway, let's go back.
And, naturally, we will not go into any internal affairs of the state. We do not climb in ours, and even in others and even more so.
You think at your leisure over my questions. There is still time. Just do not tighten, but it may turn out that the decision will be made, but it will already be necessary to go to the namaz. So everything will be gone. And the idea is not bad ...