One hundred pounds of patriotism was presented to Ukraine by the commander in chief of its naval
fleet
(as if there is one ...) Vice Admiral Sergey Gaiduk. According to the vice admiral, who publishes the portal
defence-ua.com
, Ukraine intends to create its own submarine forces. From the statement of the Ukrainian Vice-Admiral:
Submarine forces should become the elite of the fleet and an important combat, moral, psychological and deterrent factor in the region. A new infrastructure will be created for the underwater forces.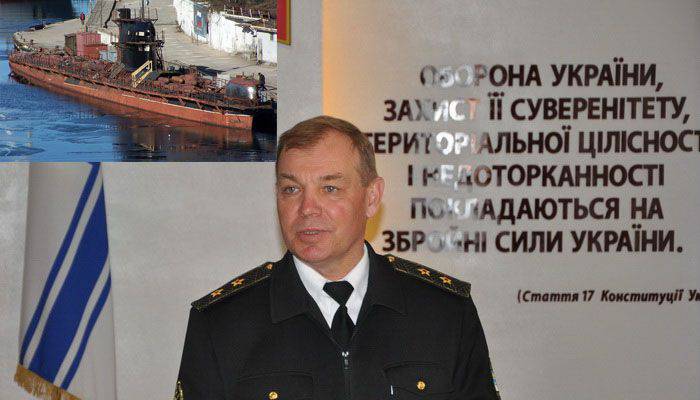 For information about the text in the photo: Non-faint (in Ukrainian) - inviolability
According to Haiduk, now the department is in the process of considering options for equipping future Ukrainian submarine forces, taking into account the hydrological features of the marine area of ​​application. The vice admiral said that it was not only ultra-small and small, but also medium-sized submarines.
At the same time, Mr. Haiduk did not clarify when exactly Ukraine will have its own submarine fleet, how much manpower and resources it will need, and whether there is a place in it for the "flagship" - "pidvodny chovna" Zaporizhzhya ", which is still on the Russian base in the Sevastopol?
Instead, the Commander-in-Chief of the Ukrainian Navy noted that the submarine forces of the Ukrainian fleet would be based in Odessa.
In connection with the statement of Haiduk, the well-known expression about the "submarine in the steppes of Ukraine" acquires a new (relevant) semantic connotation ...