By recalling his servicemen from the Joint Control and Coordination Center (JCCC) working in the DPR, Kiev shows a reluctance to work in the Donbas in a peaceful manner, and, in fact, repeats the Georgian scenario 2008 g, leads
RIA News
opinion of military expert, associate professor of the department of political science of the University. Plekhanov Alexander Perendzhiev.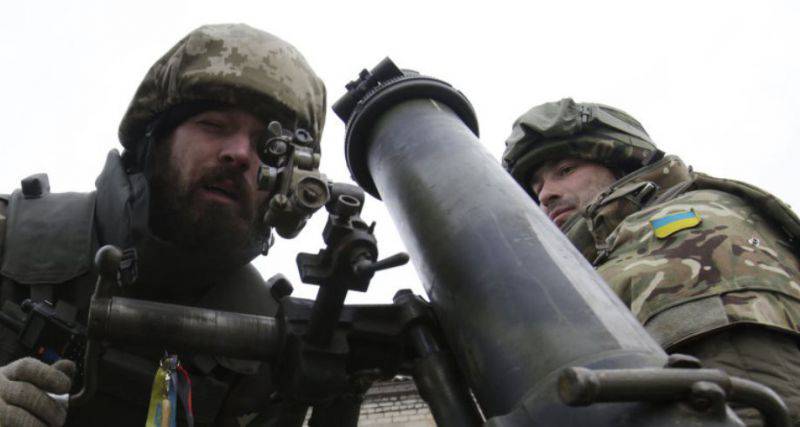 Archive photo
"This is clearly the Georgian script of the year 2008. The very gesture of official Kiev shows that the Ukrainian authorities are not going to work in a peaceful way and openly violate the Minsk agreements. This gesture smells of war, "said the expert.
He recalled the words of the leader of the DPR, Zakharchenko, who warned of Kiev's intention to provoke a new conflict.
"Then Zakharchenko said that the Armed Forces of the DPR in response were ready to deliver a decisive blow and free the entire Donetsk People's Republic," said Perendzhiev.
He noted that "the Georgian 2008 provocative algorithm of the year is confirmed by the trip of the head of the Odessa regional administration, Mikhail Saakashvili, to the checkpoints of the Ukrainian army in the Donbass".
"The fact that Saakashvili allegedly" leaked "secret information to the Internet is pure provocation. In my opinion, the maps of the situation he photographed with him are no more than misinformation for the DPR and preparation for military actions similar to the attack of the Georgian army under the supreme command of the current Odessa governor on South Ossetia in August 2008 of the year, "the expert believes.
He is confident that "the recall of the Ukrainian military personnel from the JCCC is the demonstrative actions of the official military-political leadership of Ukraine".
"The masks are torn off: official Kiev, in view of the deteriorating political and economic situation in Ukraine, seeks to shift the people's attention to the Donbass, rally citizens under the slogan of the" Russian threat ". Those who are now in control of Ukraine are ready to provoke a war, "concluded Perendzhiev.
At the same time, in the Luhansk Republic the list of participants of the JCCC has not changed, the Ukrainian military is still working in the Joint Center.
"The situation with the participants in the JSCC remains unchanged. The composition is currently the same, "a military source told the agency.
According to reports from the DPR, the ceasefire on the contact line is not respected. APU are shelling the northern outskirts of Donetsk.
"Now comes the shelling of the Volvo-Center, the village of Zhabichevo and the village of Zhabunki. Siloviki used mortars caliber 120 and 82 millimeter. The number of mines increases. Also used BMP and AGS. Over the past 10 minutes in the Volvo-Center area, we have counted more than 40 minutes, preliminarily, millimeters 120 caliber, "a representative of the Ministry of Defense and Development told yesterday.