Ukrainian edition
"Mirror of the week"
referring, of course, to unnamed sources, it comes out with a material that speaks of the "willingness of the Kremlin" to discuss the removal from office of the heads of the DPR and the LPR Alexander Zakharchenko and Igor Plotnitsky. The "source" of the Ukrainian media claims that Moscow is "ready to take such a step" if official Kiev recognizes the election results in the so-called "separate regions of the Donetsk and Lugansk regions".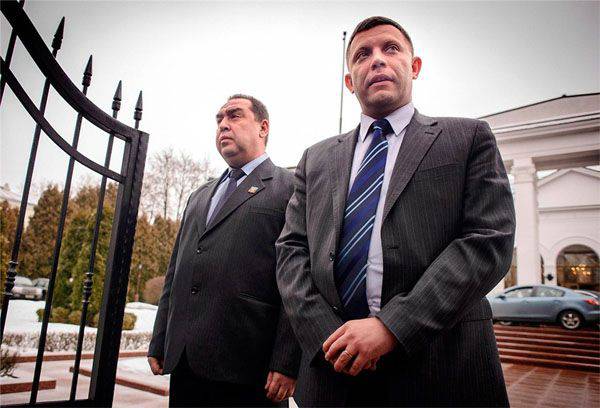 The author of the article writes that the Kremlin is supposedly considering the possibility of changing Zakharchenko and Plotnitsky to "less odious figures." And right there in "The Mirror of the Week" it is suggested that the current heads of the DPR and LPR may offer "any" posts in Russia or "address threats of physical elimination."
The Ukrainian press is clearly vigorously discussing future elections in the DPR and LPR, especially after the recent meeting in the Kaliningrad region of Vladislav Surkov and Victoria Nuland, who talked about the political settlement of the crisis in Donbass. One of the directions of discussion by the Ukrainian media is related to the fact that political movements / parties called "Donetsk Republic" and "World of Lugansk Region" are being created in the DPR and LPR, which may become the main candidates for receiving the greatest number of votes from the regions in the upcoming local elections. . In Kiev, they are still dreaming that representatives of the political forces of Ukraine's Maidan, including Lyashko's radicals, Svobodovts 'fighters, as well as representatives of Mr. Poroshenko's bloc, can win the elections in the DPR and LPR.