The chief of the General Staff of the Russian Armed Forces, Valery Gerasimov, stated that the strategic initiative in most sectors of the front in Syria had passed to the army of the Syrian Arab Republic. On the TV channel
Russia-24
A high-ranking Russian military official said that the systematic massive desertion of militants from terrorist units indicates a shift in the strategic initiative to the SAR army.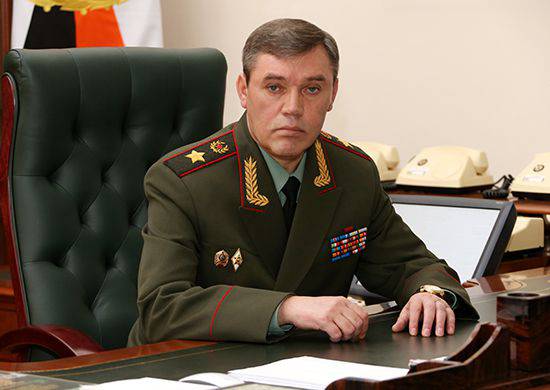 Valery Gerasimov:
The strategic initiative in most areas is now in the hands of government forces. They are engaged in active hostilities, sooner or later the resistance of ISIS will be broken.
According to Valery Gerasimov, former Iraqi soldiers take part in training IS militants in Syria. Valery Gerasimov noted that the Iraqi military were well prepared at one time, and their instructor activities on the side of the IG is a serious problem, but this problem is solvable.
The Chief of the General Staff of the Russian Armed Forces notes that for about four years the Syrian army retreated and suffered defeat from numerous terrorist groups, and recently the support of the Russian Aerospace Forces helped the UAR forces to feel the taste of victories. The soldiers of the Syrian army believed in themselves, and now defeat the militants in various provinces of the country.
Valery Gerasimov:
For four years, the Syrian army, defending itself against illegal armed formations, led mainly hostile actions. Literally two weeks after the start of the air operation of our airborne forces in Syria, separate trends emerged for the transition to an offensive in certain directions. It was at the end of October. Now (...) from the 15 areas, which are undergoing military operations in Syria, offensive actions are now being conducted on 10, three are being prepared for an offensive, and only in two directions are units defended.
According to Valery Gerasimov, during the counter-terrorist operation in Syria, the crews of the Russian Aerospace Forces airplanes carried out more than 6 thousands of sorties to attack various militant targets. At the same time, the head of the General Staff of the Armed Forces of the Russian Federation added that the combat experience of the armed forces of the Russian Federation in Syria will be further taken into account during inspections and maneuvers in the Russian Federation.