Ukrainian Maidan "activists" are indignant. In the stronghold of the Ukrainian "Square" and "separatist" - the city of Rivne - for the second time during January they break a granite board attached to one of the houses in memory of Stepan Bandera. The board was installed on the birthday of the Nazi criminal - January 1 and intact lasted only three days. 4 January unknowns broke the board.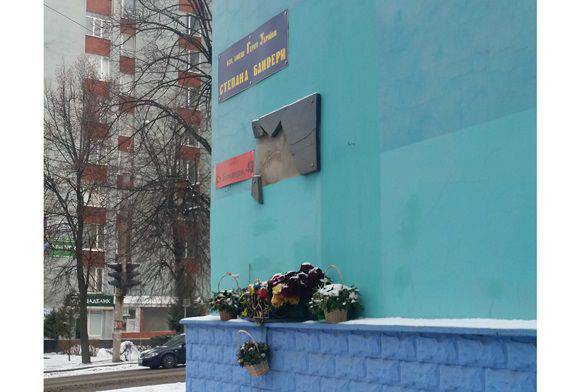 After some time, a plaque in honor of Bandera, which has now been turned into a national hero of Ukraine, was returned to the wall of a house on the street, again named after Bandera. However, today the board was broken again.
Ukrainian edition
"Correspondent"
reports that a local resident, an 71-year-old pensioner who reported "vandalism", applied to the "national police" department. Based on her appeal to the internal affairs bodies, as reported by the Ukrainian media, criminal records will be opened. The local police reported that "criminals are looking for."
In the Ukrainian segment of social networks, opinions on the "desecration of the Ukrainian shrine" are divided. Some believe that the police squad should now be attached to the tablet in order to protect "the memory of the hero", others ironically in the style of "she cracked in the cold" ...