The trend of last year, which hinted at a phased refusal of the state to invest Russian savings in American valuable (or rather, debt) securities, suddenly changed to the opposite, which by definition could not be a reason for discussion in Russia. If you believe the statistics of the Ministry of Finance of the Russian Federation, from November 2014 to November 2015, the volume of investments in American securities decreased from $ 108,9 billion to about $ 82 billion. It seemed that such investments would be minimized, and Russian government economists would find new, more efficient and adequate routes for investment. However, the new report says that at the end of the year, investments in American candy wrappers increased again. The increase was approximately 7%. By December 2015, the infusion of US "valuable" notes reached 88 billions of dollars.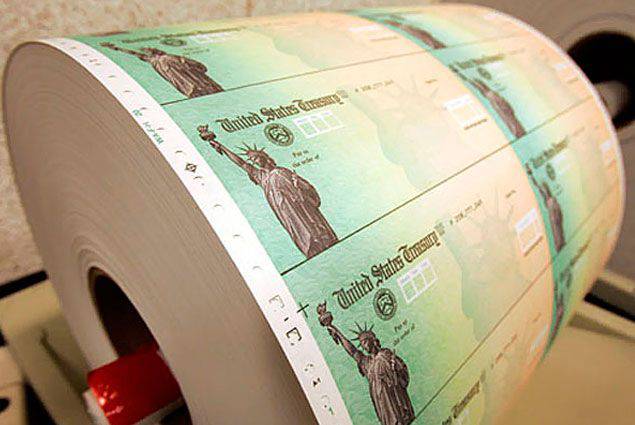 Before proceeding to discuss this fact, it is worth looking at a few more figures. So, 82 billion dollars of Russian investments in American securities is not at least in 2014-2015 years. It was also less - for example, in April 2015, when the Ministry of Finance named the amount of investments at the level of 66,5 billion dollars.
Based on these data, we find that a kind of game is being conducted with American bonds. This game consists in the fact that, first, bonds of several tens of billions of dollars are "dumped", while in fact the American candy wrappers are immediately acquired again, albeit for a slightly smaller amount. But not always for less ... The main question is: for what purpose do Russian government economists play such a game?
Naturally, I would like to believe that the game "to dump more - buy less" is aimed at putting the American partners to sleep. Russia continues to buy American securities ... As if ... In the meantime, this fact warms the souls of American economists, the volume of Russian investments is gradually decreasing.
However, this assumption does not look like the truth for the simple reason that overseas are sitting in chairs: a) not idiots not to catch this tendency, and b) that 88 billion, that 108 billion for the American economy is not that amount , which will play a significant role, if 7% is taken away from this sum or the same 7% is added to it. For example, China invests much more thoroughly in the American economy - in American securities of Chinese money alone, more than 1,25 trillion dollars! If the Celestial Empire carried out about a third of the investment, then on Wall Street it would really cause significant confusion ... And here (unfortunately or fortunately), it is not the same scale ...
It turns out that games with investments in US securities are really games, but only aimed at trying, so to speak, to obtain local dividends - for example, with the dollar rising to the ruble. And all this is very similar to a kind of mathematical casino, in which Russian economists are trying to win something, considering the change in currency balances from dumping and buying currency, as well as from investments in the aforementioned American securities. And, perhaps, the word "casino" here can be considered key, because one chance for thousands of receiving a really solid win, but there are much more chances of getting out (or carrying out) of a player's casino, sorry, with a bare ass ...
In this connection, another question is born: how well do such games fit in tightly with the real sector of the economy? Who specifically can benefit not investing billions of reserve or budget funds in education, industrial production and high technology, but in paper cut into even rectangles that has come out of the hands of the American "partner"? Yes, even if these papers tomorrow will bring income exceeding the rate of inflation a couple of times, can this be considered a success of the Russian economic sector? There is an assumption that with real success there is little in common, for bringing in income, already tomorrow this very tool of economic speculation will take away all the "profits" in favor of the very "partner" that the colored paper has cut. It was for this purpose that the instrument was created: one gain to the holder of the securities, one hundred gains to the one who printed these papers.
If this is one of
strategies
economic leadership of the state, then, frankly, all the recent conversations about some kind of mobilization economy look ridiculous. Well, what kind of a mobilization economy can be, when investments in the financial system of a state that has become the actual author of economic pressure on Russia, are still being made under loud statements about economic feasibility and shouting "fyfsenprofessionals" —is better silent. "
One thing is clear - the Russian economy is involved in globalization. In principle, there is nothing demonic here. One thing is alarming: all sorts of (currency, "paper", etc.) speculations remain on the site of the sacred cow of the Russian economy, but the role of the real sector is at best somewhere in the crowd scene ...