Ukrainian TV channel
TSN
reports that the head of the Odessa region, Mikhail Saakashvili, posted on his page on the social network a layout diagram of the Ukrainian troops in the Donbas, which in Kiev is considered secret. The layout with the map was filmed by the operator who accompanied Saakashvili. We are talking about positions in the area of ​​Mariupol.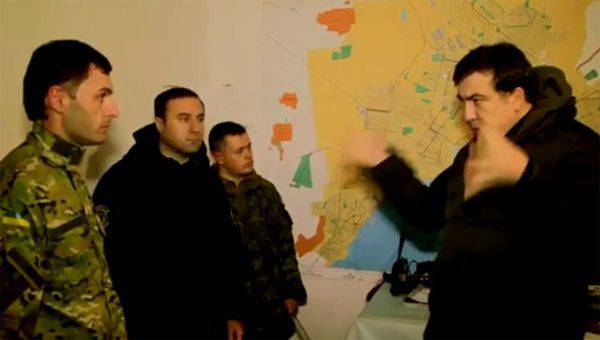 It was under Mariupol that the Odessa governor arrived, although this city has nothing to do with the territory of the Odessa region. In Mariupol, Saakashvili held meetings with the Storm battalion, inquiring about the situation in the area and the equipment of the battalion.
On the
frames
schemes of the positions of the Ukrainian troops appear, and this is hardly a case identical to the "information leaked to the press from a meeting in the Kremlin about the development of the latest torpedo with a nuclear charge" ...
In the comments on Saakashvili's page flashed comments from users of the following nature:
Maxim Susch
On this video card with the positions of our fighters paraded. Somehow silly.
Sergiy khomenko
I really hope, Mikhail, that in the future you will not choose an operator for yourself ..., which not only removes faces, checkpoints and maps, it also doesn't cut out during installation. You say that there was no way out? On the background of the map were? This is the professionalism of the operator: the ability to take the right angle and background. So, if you want to fill this country with professionals, start with an operator who is either a moron or a scout, but not a professional. And so that people do not take off during the interview, it was enough for the boys to say that they were wearing balaclavas.
The Ukrainian General Staff has not yet published official comments on the actions of Saakashvili.