At the international airport of the Ukrainian capital, an American board was received, on which equipment for military communications and medical supplies were delivered to Kiev. After unloading, all this will be delivered to the landfills, where the training of Ukrainian security forces is carried out by servicemen of the American army. This is reported by the press service.
US embassies in Ukraine
.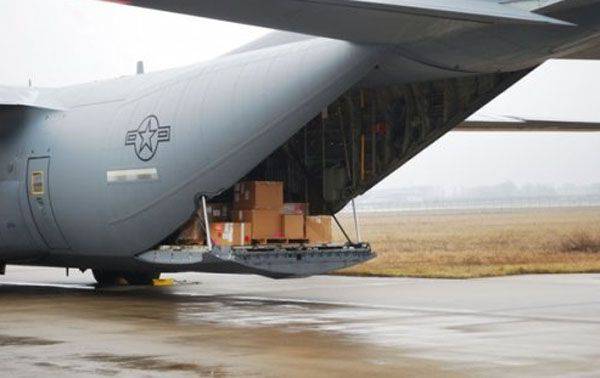 From the message (translation
RIA News
):
Last night at the Boryspil International Airport, the United States provided Ukraine with vital equipment for military communications and medical supplies worth 23 million dollars. This includes secured radio equipment on 21 million dollars, which will allow the Ukrainian military to effectively exchange information without endangering themselves, as well as medical equipment to save lives on the battlefield for two million dollars. This batch of aid for 23 million dollars is part of the US 75-million European encouraging initiative.
What exactly Washington's hopes are associated with this initiative (and specifically with this help) is not reported in the press service of the American Embassy in Ukraine.
It should be recalled that the US budget (and in its military part) provides Ukraine with financial assistance. Whether this assistance will be limited to means of communication and medicines is a separate question.