During the night assault, the special forces units of the hotel in Ouagadougou (the capital of Burkina Faso) released 63 hostage, there are victims, reports
Rossiyskaya Gazeta
with reference to Reuters. Local security forces were assisted by special forces from France and the United States.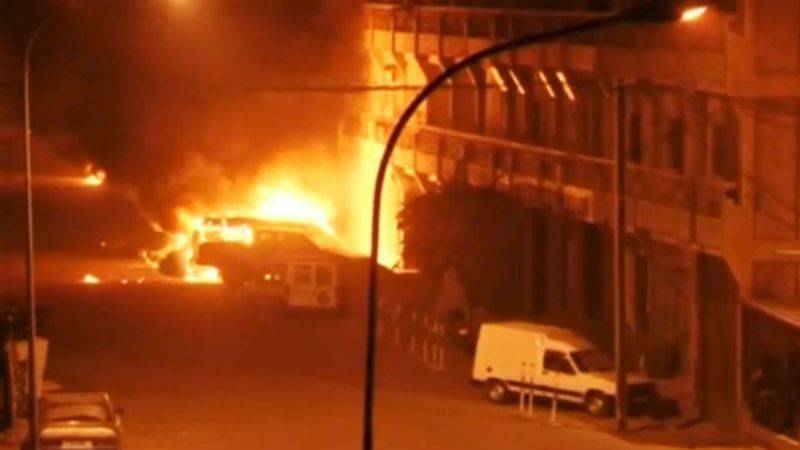 The hotel, located in the center of Ouagadougou, was attacked by terrorists on Friday. According to the agency, "at first they blew up two cars, and then broke into the room, where, according to eyewitnesses, they first began to shoot people of European appearance."
It is noted that "due to the timely intervention of the security forces, it was possible to avoid a greater number of victims." Among the hotel guests were the UN staff and representatives of the special forces in the fight against terrorism from France.
"According to the testimony of the doctors at the university medical center, fifteen hotel guests received bullet wounds of varying severity. They get the help they need, "Reuters reports.
Responsibility for the attack claimed the al-Qaeda group. Her report claims that the militants killed more than 30 people during the attack.
Later, the agency reported that "the fire services of Burkina Faso found about 10 the bodies of those killed on the restaurant's terrace opposite the seized hotel". So far, a total of 20 dead is known.
According to
Bi-bi-si
, "Among the released hostages is the Minister of Labor and Social Protection of Burkina Faso, Clement Sawadogo." About it
news
the service was informed by the head of the country's information ministry Remy Dangin.
"Our forces, with the support of French special forces, continue to fight," said Danginu. - There are killed, but so far we do not have the exact figures.