Information Agency
Reuters
issued a statement by Turkish President Erdogan, which he made during his meeting with Turkish diplomats. Erdogan said that Russia is pursuing in Syria the goal of creating an "artificial dwarf state" in the province of Latakia.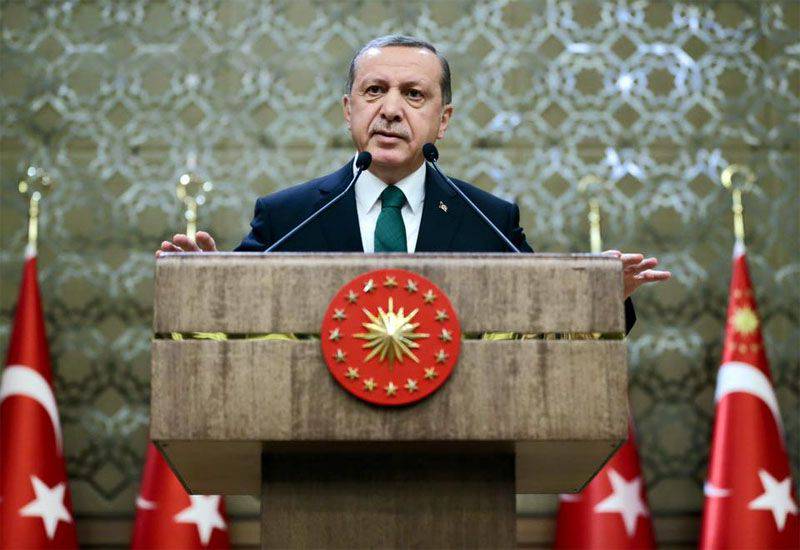 The Turkish president, who continues to flirt with terrorists of various stripes, said in his statement that by creating a "dwarf state" in Latakia, Russia "is going to put pressure on the Turkomans".
After such statements, Erdogan switched to criticism of Iran. According to Erdogan, who dreams of wearing sultan's clothes, Iran is the "hotbed of instability" in the region. The Turkish president said that Iran is "fueling" conflicts in Syria, Yemen and Iraq, "expanding its zone of influence." And the Turkish troops who invaded the Iraqi province of Ninava, according to Erdogan's logic, apparently create a hotbed of stability ...
Such hysterical rhetoric of Mr. Erdogan is understandable. The fact is that on the eve of this, the Syrian government army achieved major success in the province of Latakia, taking control of the main stronghold of the militants of the Front al-Nusra in this Syrian province - the city of Salma. And the destruction of a large group of militants in Latakia leads to the fact that sooner or later the border between Syria and Turkey will be taken under control by Syrian troops, which will obviously complicate the contacts of the Turkish side with the militants operating in Syria. For Erdogan, who uses the Syrian conflict in his own interests, this development does not fit into the previously developed scenario.