A delegation of French lawyers arrived at the Donetsk airport destroyed by the fighting to assess the extent of the damage and collect data to prepare a report on the war crimes committed by the Ukrainian security forces. The delegation also includes one of the supporters of the National Front party headed by Marine Le Pen, known in France. It's about the policy of Jacques Kloostermann, who promised that he would bring the information collected in the Donbas to the general public of France.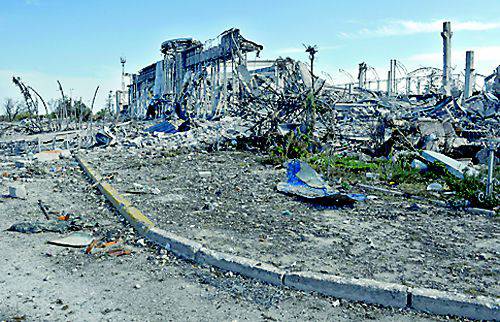 RIA News
cites a fragment of the statement of the representative of the French mission
I hope that we can transfer this to France, and we can spread it as much as possible so that the French really understand what is happening here. Because no one here talks about what is happening here in the Donbass.
One of the places that attracted the special attention of French lawyers was the Orthodox St. Iversky Women's Monastery, which was completely destroyed as a result of the so-called "ATO" conducted by Ukrainian troops. The monastery was located in close proximity to the airport.
According to one of the representatives of the French mission, Jose-Jean Bousquet, he was touched by the fact that people came to the ruined monastery, despite the danger, and lit up the lamps. Several burning lamps in the monastery also met French guests.
Donetsk News Agency
reports that after visiting the airport complex, French lawyers and politicians went to the long-suffering city of Debaltseve, where they would hold a series of meetings with local residents.