PRC Chairman Xi Jingping 11 January announced a large-scale reform of the control system of the Chinese army, whose main body is the Central Military Council (CEA), the blog
bmpd
With reference to the newspaper "Vedomosti".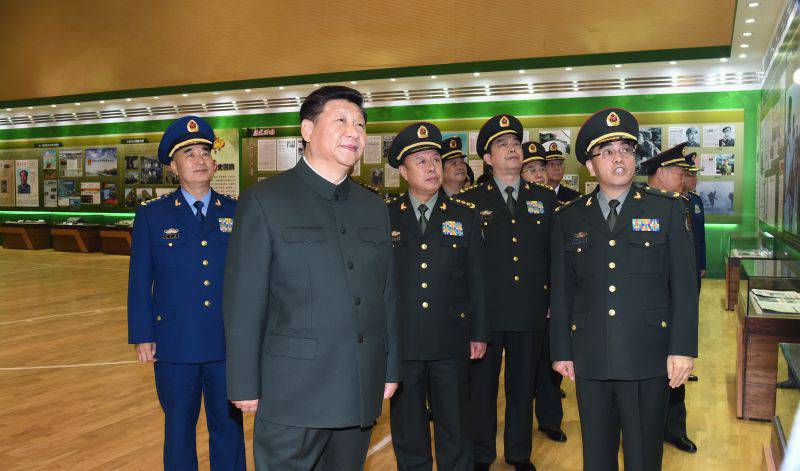 The author of the article, Aleksey Nikolsky, explained that "the Central Military Commission is a unique organ of the Chinese state system that provides control of the political leadership of the country over the PLA (the Ministry of Defense in China has limited external representation functions)."
"According to the plan of the reform, four PLA General Administrations - the General Staff, the Main Political Directorate, the Main Logistics Directorate and the General Directorate of Arms Management - will be disbanded," the author writes. - They are transformed into 15 departments of the Center, including the United Armed Forces Joint Staff Department, the Department of Political Work, the Department of Logistics Support, the Commission for Discipline Inspection, the Department for the Mobilization of National Defense, the Political and Legal Commission, the Commission for Science and Technology, the Strategic Planning Department d.
"This reform has been worked out for a long time," comments Vasily Kashin, an expert at the Center for Analysis of Strategies and Technologies. - According to the degree of radicalism, the reform can be compared with the radical military reform in Russia, launched in 2008 under the leadership of then Defense Minister Anatoly Serdyukov, whose experience has been carefully studied in China. The goal of the reform is to prepare the PLA for military operations in modern conditions, including abroad. "
According to Kashin, "the elimination of such institutions as the Main Political Department, which were created in the PLA since the founding of the PRC and even earlier, during the guerrilla war of the Chinese Communists, aims to improve the interaction of various military structures and bring the military organization to the modern models of other countries" .
"At the same time, a unique institute such as the Central Department of Central Asia remains to be maintained in China, which the PLA will continue to control," the expert notes.
Recall that at the beginning of the year in the People's Republic of China it was already announced that the "Second Artillery of the PLA" would be transformed into a separate type - the Missile Forces, as well as the creation of strategic support forces.

The old and new structure of the Central Military Council of the PRC.