This question is not as simple as it may seem at first glance. On the one hand, the people of Ukraine are not strangers to us. Many there and all relatives live. In addition, not all of Ukraine supported the Maidan and voted for Poroshenko. Even if the Maidan was visited by a million, it is a couple of percent of the entire population of the country. It is impossible for two percent to judge all.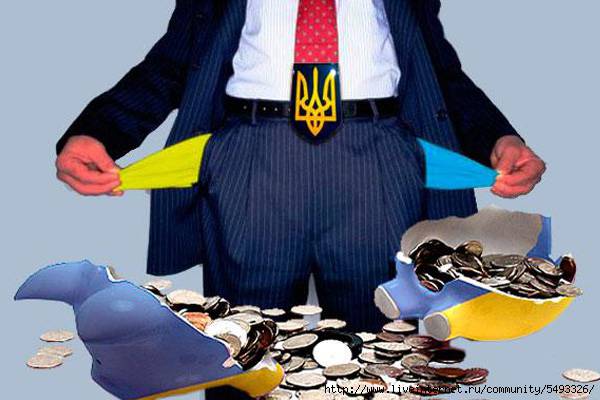 And in the election for Poroshenko hardly 35% voted, according to the polls, the rest 20% was stupidly attributed to him. Yes, and a little more than half of the voters came to the polls, the rest did not come because they did not support not only Poroshenko himself, but were against the whole circus as a whole.
Thus, it turns out that the minority supporters in Ukraine are a minority - about 20%. With a stretch - maybe up to 40%, but still a minority. In addition, many simply did not understand who they support and what will happen next.
It turns out that it is necessary to help Ukraine.
And our Orthodox faith also requires helping our neighbor, no matter how unlucky he may be. He who disbelieves, of course, can brush it off; but if you have an icon on the glove compartment, then it is necessary to help. Moreover, Russia will not lose some coal, some gas or give a discount on something to a freezing neighbor.
But now let's look at the situation from the other side: does Ukraine ask us for help? On the contrary, she accuses us of preventing her from living for the past three hundred years. As soon as Kiev got out from under the Poles (not without the help of Muscovites, it should be noted), so the Muscovites prevent him from living, interfere with the realization of the dream of independence, interfere with the magical way of turning into Europe.
So if Ukraine itself chooses not to depend on Russia, including energetically, maybe it is not necessary to interfere with it in this, and then we will again be guilty. The path of independence is difficult, painful, lies through cold and hunger, but if Ukraine firmly decided to go this way - can it give it such a chance?
Imagine a person who decided to go to the North Pole in order to find Sannikov's Land there, and we are catching up, trying to warm, feed and return. Does he need it? Well caught up, warmed, and confused? Tomorrow he will go on again, and if he is destined to freeze, he will still freeze only a day later.
Here the Jews wandered in the desert for forty years, too, probably, many died on the way, but some still came. The strongest. Something like that, if I understand correctly, Ukrainian nationalists also want to arrange. To lead their people through many trials, so that from forty million ten or fifteen worthy ones remain who learn to live independently of Russia, build their "European fairy tale", turn Ukraine into northern Israel, and Kiev into the second Jerusalem. Or maybe even the first.
You can have a different attitude to this venture. It can be considered an idiotic and utopian venture. You can admire her on the contrary. That's not the question. The question is whether Ukrainians have the right to put this experiment on themselves or not.
If we consider Ukraine an independent country, and Ukrainians as a separate people - then they, of course, can put any experiments on themselves. They decided to leave from forty million fifteen - well, it is their choice, nothing to hold their skirt or run after a thermos to drink hot tea on the way to their promised land.
Humanism is humanism, but a person should have the right to choose their own path to the grave. In the end, everything will be there, just go the different ways.
However, there is one important nuance ... As already shown, not all Ukrainians want to go the road of separatism and die on it. Supporters of this path from the very beginning were a minority — about a million direct participants in the Maidan and another 20% who voted for Poroshenko in the national average (in the southeast there was hardly 10%).
It turns out that 2-3% of the population is pulling the rest of the country full of difficulties and dangers, with 20% following them more or less voluntarily, and 70-80% without any desire at all, simply because they have to go. Crimea, we helped jump out of this convoy. Donbass wanted to jump out after him, but he was given a bloodbath, after which the others sit and are afraid, moreover they are afraid quite rightly.
By the way, if you look into the situation, it is not even 2-3% of those who actively supported and participated in the Maidan, but the 0,1% (or even less) in general, are organizing all of Ukraine's grave power and using it in personal interest. And they just will not freeze and starve, in the cold and hunger they drive others. And 2-3% of the activists of the Maidan are for the most part simply narrow-minded, weak-willed people who have fallen under the influence of smart and powerful organizers.
Thus, Ukraine did not voluntarily go to break with Russia, it was not a weighted decision of the people. This is the result of manipulation of public opinion, mass processing of consciousness and the use of political technologies, before which the average man is powerless.
And demanding that the townsfolk influence the situation somehow, come out from under the influence of the West, change the power in the country - this is the same as demanding the hostages to defeat the terrorists themselves.
If the hostages could independently defeat the terrorists, they would never have become hostages.
Well, the hostage cannot free himself. In the same way, ordinary people cannot escape from the system that has developed around them, because the authorities have a great resource - she has the police, special services, a media resource, and money in the end.
So you still need help? To help or not to help Ukraine depends on whether we consider ourselves responsible for what happens to the people living there. Roughly speaking, do we consider Ukraine independent or not. That's what you need to decide. And we need to decide for ourselves.
If we consider Ukraine independent, then we need to give it the opportunity to choose its own path, no matter how difficult and cruel it may be. They want to ruin half of the population on the way to Europe - their right. And that the population was taken hostage by its authorities - so after all, every nation has the power it deserves. Cruel, but fair. And this also applies to us fully.
Russia deserves Putin, whatever it may be, and Ukraine deserves Poroshenko. Belarus deserves Lukashenko, and Turkey Erdogan. Gorbachev deserved - get Gorbachev, deserved Kemal Ataturk - get signed. Who deserves what.
But! If we consider Ukraine independent, we agree with the position of Yeltsin and Kravchuk, who divided the USSR, as well as with the current Ukrainian authorities - we should not forget about this either. And do not forget about the Crimea and the Donbass. When we regained the Crimea, we did not consider Ukraine independent, we didn't ask Kiev if he wanted to give us the Crimea, we asked the opinion of the Crimeans, but didn't care about the opinion of Kiev.
And when we supported the Donbass, even if this support was unofficial - we also did not consider Ukraine independent, we considered the residents of Donbass to be part of our largest divided people.
That's the problem!
It turns out - here we consider Ukraine independent, we don't think here, we play here, we don't play here, the fish are wrapped here ...
23 was considered independent by Ukraine, and the Crimea was part of Ukraine, then they stopped thinking so, they took the Crimea, supported the Donbass, and now we will again consider Ukraine independent, only without the Crimea and with the Donbas divided in half?
If we took the Crimea, ignoring the opinion of the rest of Ukraine, if we supported the Donbass, if we laugh at the independence and separatism that Kiev boasts, then we do not consider Ukraine to be truly independent.
And if we do not consider Ukraine to be truly independent, we are not ready to abandon our common
stories
, from our family ties, if we consider Poroshenko and Kravchuk to be criminals, and we consider the division of the USSR in 1991 a mistake ... It means that we must help Ukraine!
But you can help in different ways.
Imagine a person who has become addicted to alcohol. How to help him? Suppose your friend was left without an apartment because he drank it, now he lives on the street and freezes. Yes, you can let him stay overnight. You can give him warm clothes, even give him a cottage, but how long will this help last?
Tomorrow he will drink again everything that you gave him, and he will again be freezing on the street. Coal and gas, which Russia "throws up" to Ukraine, is the same momentary help that does not change the situation, but only aggravates it.
With its gas-and-coal help, Russia simply closes the holes that the Ukrainian authorities create with their "European politics." And while Russia will plug these holes, the authorities in Kiev will consider their actions to be correct and take advantage of handouts from Russia. The next year, Kiev will buy even less coal and gas - Russia will still help if the winter turns out to be cold.
Gas-coal handouts from Russia - this is the help that will only get worse in the long run. And if we do not consider Ukraine to be truly independent and want to help its people, we should not indulge the policy of Kiev, plugging its holes with our handouts.
An alcoholic should not give money for drinks, but help to get rid of his addiction. The same applies to the whole nation, who was under a bad influence. The hostage must not be fed, but released.
Only it is necessary to release only those who actually want it. Here we must not forget that a person who is determined to kill himself against the wall will still be killed, and who will decide to find the promised land or freeze on the way of her will still go looking for her.
This means that you need to somehow help those 80% to the residents of the southeast, who in the coffin saw independence, independence, Maidan and other Banderaism, and at the same time take into account that 20% will still look for a way to achieve their own.
Inside one country, those and others will never come to an agreement. Just before, in Soviet times, 80% were satisfied, and 20% secretly dreamed of independent Ukraine. Now the opposite is true - 20% have achieved their goal, and 80% were taken hostage.
The ratio of those and others varies in space and time. Twenty years ago it was a little different than it is now. In the south-east, in the center and in the west, the ratio also differs.
And this duality - two fundamentally different views on the future path of Ukraine - this is a given, this is a problem that is obvious to everyone. And it is precisely this problem that must be helped to solve.
And to solve this question, we need:
1. Recognize that we do not consider Ukraine truly independent. Stop lying to those around you and yourself.
2. To recognize that in the 2014 year, we have already violated the territorial integrity of Ukraine and there is no going back, we must bring this to the logical end. And the Minsk Agreement is not a solution, but simply an emergency brake, on which the conflict has been put.
3. Understand that it was Russia that created this situation - partly in 1917-1922, largely in 1991 and then in 2014 year.
4. Understand that it is Russia who has the keys to the solution of the Ukrainian question and no one will solve it without Russia. So, stop samorachivatsya, hide his head in the sand and escape responsibility. This is a vicious path that harms Russia itself.
5. To deal with politics in Russia itself, because Ukraine is a mirror reflecting our own problems, and unless we solve them, we will not solve anything.
Russia cannot be a great power until it abandons its parts and at the same time does not fully recognize their independence. For the time being, it is withdrawing itself from solving problems whose roots go back to the history of Russia itself. When we understand this, then we will answer the question whether Ukraine needs to be helped - and how.
And not Ukraine, and especially not Europe and the United States, we must answer this question. We must answer it ourselves. And we must do this not for the future of Ukraine, but for the future of Russia.