The 4 generation diesel submarines of the 677 "Lada" project surpassed the submarines of the 636 project, which received the nickname "black hole" for their secrecy, reports
MIC
with reference to the general director of the Admiralty Shipyards Alexander Buzakov.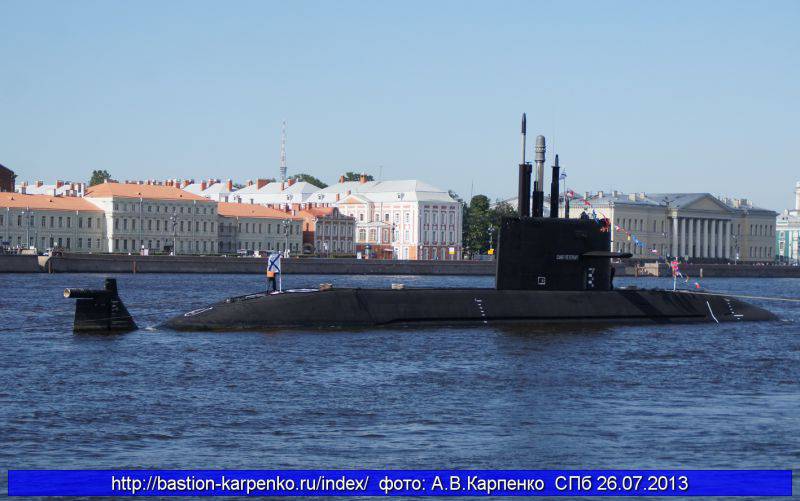 "Already on the basis of the pilot operation of the St. Petersburg submarine, we can say that Lada surpasses its predecessor of the 636 project, which is called a black hole all over the world," said Buzakov.
He recalled that "boats of the fourth generation of the Lada project are a further development of the 636 submarines of the project, they are distinguished by a low level of noise due to the new anti-hydrolocation coating, an improved sonar system, as well as new technologies and materials."
"In addition, a significant amount of research and development (R & D) was carried out as part of the 677 project. Introducing new developments in submarines of the 677 project, we are "pulling" the 636 project's submarines to a new level. A good example is non-penetrating lifting mast devices, which were first installed on the first Lada (St. Petersburg), today successfully implemented on all series of the 636 project, "the general director said.
He added that "currently the boats of the 636 and 677 projects are among the most serious members of their class thanks to powerful rocket armament."
When asked whether the Lada series will be continued, Buzakov replied that "such questions are within the competence of the Ministry of Defense." "Yes, there are such plans, but without a government decree on state defense orders, it's premature to talk about specific terms for signing the contract," said the head of the company.