On the eve
Press Service of the President of Russia
spread the message that Vladimir Putin congratulated the leaders of various countries of the world on the coming new year. Congratulatory messages were sent to President of Abkhazia Raul Khadzhimba, President of Armenia Serj Sargsyan, President of Azerbaijan Ilham Aliyev, Federal Chancellor of Austria Werner Fayman (this is to "A") and leaders of other countries.
The President of Russia congratulated Pope Francis, President of the People's Republic of China Xi Jinping, Prince of Monaco Albert II on the occasion of the upcoming New Year.
The presidents of Turkey and Ukraine were not on the list of congratulations by Vladimir Putin.
However, it was not without congratulations from such "sworn friends" as Barack Obama, Angela Merkel, David Cameron. The ex-leaders of foreign countries, including Silvio Berlusconi, the two presidents Bush, Helmut Kohl, Gerhard Schroeder, Cristina Kirchner and Fidel Castro were also on the list of congratulations.
From the official document:
The President of the Russian Federation congratulated the United States of America President Barack Obama on Merry Christmas and Happy New Year. "The past year has confirmed that relations between Russia and the United States are one of the key factors in ensuring international security," the message says. The head of the Russian state also expressed his conviction that by building a constructive dialogue and cooperation taking into account each other's interests, Russia and the United States could effectively counter new challenges and threats and help resolve crises in various regions.
The President of Russia congratulated the Federal Chancellor of the Federal Republic of Germany on Christmas and New Year's Eve to Angela Merkel. The message notes that the 2015 year reaffirmed the great importance of close cooperation between Russia and Germany to ensure European security, to effectively address pressing international problems and to confront the challenges and threats that modern humanity faces. V.Putin also expressed hope for the continuation of joint work to strengthen Russian-German partnerships in the interests of the peoples of the two countries and the entire continent.
But it is official ... But it would be much more curious to think about what the Russian president could send "in an envelope" to the foreign leaders, as they say, without officialdom. Considering that today the eve of the new year is almost magical time, you can afford to "look into the unofficial correspondence" of the President of the Russian Federation.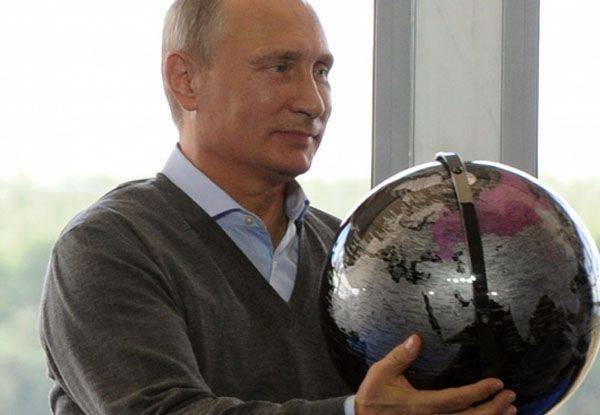 So, from Putin's letter
Obama
.
Barack, with the upcoming 2016 you! This is how time flies, Barak ... I remember how you still went to budding presidents with the most tolerant complexion, as you noted with a white-toothed smile the receipt of the Nobel Peace Prize and the approved plan for the withdrawal of American troops from Iraq and Afghanistan. I remember how you podkachivalsya 750-gram dumbbells in the gym and saluted the marines with a cup of cappuccino. And now 2016, Barak! And you leave ... It is a pity (and, perhaps, fortunately) that you do not have your American Dmitry Anatolyevich ... And therefore you, Barak, leave forever. Do you understand the whole point of the moment? You came - I was, you leave - I will ...

In general, you were a good guy, Barak, but the oil issue and attraction to unipolarity spoiled you, like all your predecessor presidents. They say you tore us to shreds and isolated us three to four times a day. You know, Barak, this must be an interesting and colorful dream, but I would be in your place (although God forbid ...) I would not abuse sleeping pills and antidepressants. Thank you for everything! Especially in those moments of laughter when you said that you are starting to fight ISIS, cure the world of Ebola and reduce American debt ... If you drink it, don't call me, otherwise I'll give you a Victory Day blast for you and I won't take the call for a long time.
From Putin's Letters
Poroshenko
:
Happy New Year, Peter! They say you want a new year as a gift to the Motorola? Then new footholds for you, old man!
From Putin's letter
Merkel
:
Angela, with the coming! I write in small handwriting in a mirror image in Old German, so that they broke their heads in the NSA before transferring to you - Edik prompted Snowden. They say you have five Arabs living in your hallway, and a neat Somali family of 48 people set up camp in the garden. They constantly leave a bunch of sanctions at your door. But you are so kind, Angela - you will receive more ...
From Putin's Letters
Saakashvili
:
Misha, happy monkey year you! While acting on the plan. Operations "Implementation of the radio operator Mani" and "Be-be-be-be" ​​were successful. In order not to suspect anything, start building something glass - you can hardly miss it with the police stations, then grab the glass ... uh, no - they will break it or they will cut your hands. Then it is better while for the glass public baths and toilets. Hold on, Mishiko! Although the blood from the nose, and Odessa - on you! We send ties.
From Putin's Letters
Grybauskaite
:
Salute, Dahl! Happy you! Yesterday I drove past the Metropolis, and, you know, what I thought ... I think this: and after all, Dahl could work here on a frosty street ... Although you didn't change your profession now. Again, customers, customers ... Dal, well, fear God. Well you, tea, not Shashir, or skills and practices of the past do not give rest? And why did you remove the sculptures from the Green Bridge? - Clients asked? .. How ugly you are! I read a book here about you - you know, I liked it! Let, I think, and deputies of the European Parliament esteemed ... And they esteemed.
From Putin's Letters
Kim Jong Ynu
:
Hello my friend! Holiday greetings! I reply briefly to your letter in my address: I will definitely bahn! And more than once! .. But then.
The rest of the "letters" are waiting in the wings ...