President of Ukraine Poroshenko on the board of the SBU noted several loud statements. The first of these is connected with the "demand" to establish a full-fledged system of counterintelligence work in the country. Reports the information portal about it
UNIAN
.
Poroshenko:
I demand in the shortest possible time to develop a concept for the introduction of a counter-intelligence regime in Ukraine.
According to Poroshenko, "the aggressor is moving to new methods of hybrid war." In particular, "new methods", Poroshenko's conviction, consist in "sabotage and propaganda activities on the Ukrainian territory".
It is noteworthy that the president of the country, in which foreign inspectors have settled in the building of the main intelligence service, is calling for the introduction of a counter-intelligence regime in the country.
Poroshenko:
We actually built a new Security Service of Ukraine! Over the past year, more than 20 enemy sabotage and reconnaissance groups have been destroyed, more than 200 terrorist attacks have been prevented, more than 70 extremist groups have been suppressed.
Today, all the Ukrainian people and I, as president and as supreme commander, see before me inspired military personnel who are confident in their extremely honorable and important state mission!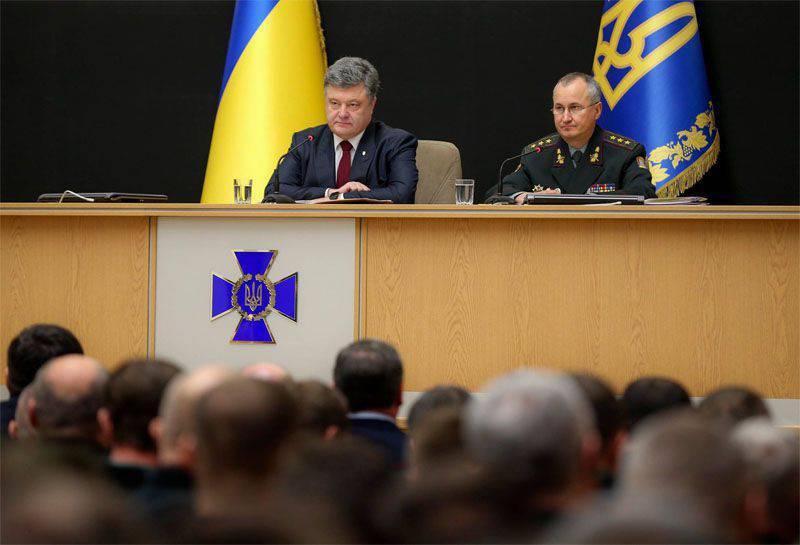 Another noteworthy statement by Poroshenko is due to the fact that in "the SBU it is necessary to carry out the cleaning of the rows to the end".
Poroshenko:
There were facts of corruption in the Security Service of Ukraine itself. And together with the leadership of the Security Service of Ukraine, we will take decisive measures to clear the ranks of our special services from such problems. No one will have a "roof" or "umbrella", and the country's top political leadership has demonstrated, and will continue to demonstrate, political will.
Is it not the country's leadership itself, which itself is mired in corruption schemes, and which, under the fight against corruption, means the elimination of the undesirable to the Maidan regime? ..