At the railway station of the Ukrainian capital, passengers who fly into the territory of Russia are given leaflets, which actually call for terrorist activities in the Russian Federation. The leaflet distributed on behalf of the so-called "All-Ukrainian Union of ATO veterans" calls for arson and sabotage on Russian territory, as well as for transmitting data on the "weak points in the Russian security system" to Ukrainian intelligence. Portal
"PolitNavigator"
publishes a photocopy of leaflets of a frankly extremist nature (telephone numbers are hidden by the editorial board of "VO").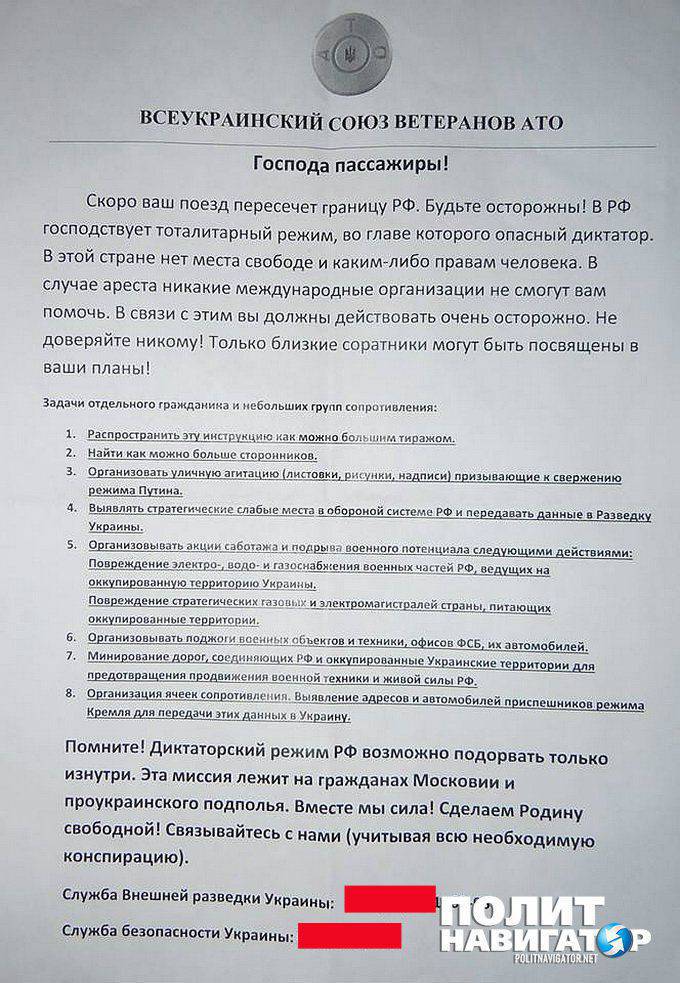 Ukrainian portal reports that people in camouflage distribute leaflets at train stations. There are cases when similar terrorist appeals are pasted straight on the train carriages going from Ukrainian territory to Russia.
Given the fact that the leaflets contain the phones of the Foreign Intelligence Service of Ukraine and the Security Service of Ukraine, we can assume that the Ukrainian special services at least do not interfere with this kind of terrorist activity. The Russian side needs to pay special attention both to the flyers themselves and to who is behind their distribution among the passengers. In addition, it is necessary in the near future to demonstrate materials within the walls of the United Nations, with the emphasis on the fact that the Ukrainian authorities are engaged in de facto complicity with terrorism and extremism.