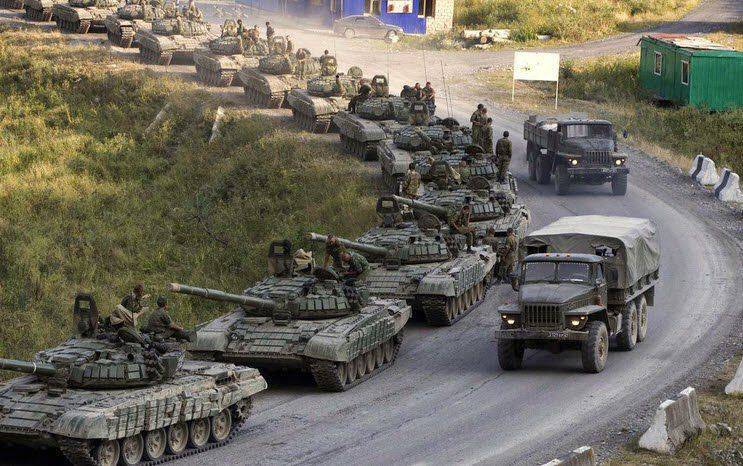 When the Maidan Nezalezhnosti raged in Kiev, a threat hung in the air - according to reliable information - Russian special forces landed in Borispol. Information 100% ... And here it is, freedom, at a distance spitting, but at any time it can take away. And tears appeared in the eyes of conscious Ukrainians: how long they went to freedom, how they dreamed, how they fought, how they waited for her, but everything can be taken away ... Does the tyrannical system of Russia allow for the existence of a free, privileged Ukraine? Never for anything! In itself, the presence of a large cluster of "nerabas" near the frontiers of Putin's empire is deadly dangerous for it. With their light aura, they could destroy the black chains of witchcraft and destroy this fragment of totalitarianism in a free Europe. For the sake of self-preservation, Putin was obliged to break the fragile sprout of Ukrainian freedom ...
But Mordor did not come. "Ad and Israel" passed the hospitable Ukrainian land. Ukraine took advantage of a unique chance and stood on the European way. All this is beautiful and even a little sublime, but a legitimate question arises: "But what about Ad and Israel, where did they get lost?" After all, we all understand (from the stories of children's fairy tales and Hollywood films) that "Mordor, Ad and Israel" - The guys are serious, and just so you will not get rid of them. All the time after the Maidan, the Ukrainian media told us terrible
stories
about Russian hordes who planned to invade / invaded the yellow-black map of Ukraine. From these alone
News
all Ukraine trembled with anger and horror (a thousand years of slavery, the Holodomor, and again ...), such messages came regularly, but the Russians
Tanks
never sparked from Kiev pavers. Evil did not show up for a decisive battle, good won over the absence of an opponent in the ring.
But with the construction of "heaven on earth" somehow did not work out right away - the Crimea left. Just took it and left. Anyone who talks about some abstract "territorial integrity" of Ukraine I want to remind you that the USSR had exactly the same "territorial integrity". Yes, that's exactly the way. By the way, Ukraine has gone very peacefully and calmly. Just "left the USSR" with the territory, population (not only Ukrainian) and industry (built by Russians). And she even refused part of the debt of the USSR — let the Russians pay their bills. At the same time, no one bombed or shelled Kiev. And no one even came up with such a turn of events. "Why?" - you ask. Russians understand politics too well, and they understood that if there were only power methods to save the USSR, then it was a little late to save him. It was quite possible to "pour blood" on the land of Ukraine. Yes, just to imprison especially zealous supporters of "independencia" (the KGB would never have done that to the SBU! You would have done it right away). And the question would be resolved. At first sight.
In fact, power methods work in a very limited range. Alas, they do not solve political problems. It was necessary to save the USSR in 70, the maximum at the beginning of 80. Then it was too late. Or rather, not even save, but reform (humanly). But he was preferred to "kill against the wall." But, at least, the leadership of the USSR did not try to keep the country "with the help of tanks." The 1991 putsch was a frank fake and false start. The USSR possessed monstrous "power" resources, but they were not involved in any way. And rightly so, the difficult political system of the industrial superpower cannot be saved by the Latin American operetta junta. All the "freedom fighters" in Ukraine, Georgia and the Baltic States could be instantly "neutralized". And on completely legal grounds (remember: the principle of territorial integrity, sacred for every Ukrainian, is). But no one did this - "she died that way," why is it pointless to shed blood?
Ukraine in 2014 moved in the opposite direction: the power structures of Ukraine were completely destroyed / corrupt. The legitimacy of the postmaid government was very, very doubtful, Russia defiantly refused to admit it, it boiled over the East. And then the Ukrainian "power" made the decision: to kill. No need to talk about the "American curators": civil war - this is too serious. "Free Ukraine" was being kicked out of the Crimea, and she didn't even try to resist (scary). But she mobilized and threw the army on the insurgent Donbass (simultaneously telling tales of Russian aggression). A real bloody war began with hundreds and then thousands of victims. The construction of paradise was postponed - you first need to defeat the "aggressor". This topic sounds almost 2 year, we are told about the brave Ukrainian troops fighting against the Russian aggressor. And no one stuttered about the militia and their demands, all the fingers pointed at Putin. There would not be this one person and in the free land of Ukraine there would be peace and economic prosperity ... But the constant threat of Russian tanks brought to naught all the efforts of reformers.
In fact, the "government of the reformers" spent all its strength on theft and attempts to "reach out to the Donbass" and kill more people. And was covered with talk about the "Russian invasion." Gentlemen, Panov and seniors: we hear about him soon 2, and where are the Russian tanks on Khreshchatyk? That is, all this time we just lied? And brazenly and in the face. The constant theme of the "Russian invasion" sounded too long. And where is it? For 2, the new government Ukraine managed to destroy its economy and recruit unreasonable loans, and all this was done to stop those "Russian tanks" that did not come. And here is the winter of 2015 / 2016: there is no money, the country does not pay for foreign loans (but not bankrupt, not bankrupt!), There is no coal and electricity, there is no gas and there is no export, and 3 faces billions of debt to Russia. And Ukraine again runs to the Donbass (kill!) And blows up power transmission towers to the Crimea. And again the conversation about "Russian tanks". It turns out that the beggar, the dirty, fascist Bandera has something more valuable: freedom. And they want to take it away.
What surprises me is when, in full seriousness, adults assess the risks of "the arrival of Russian tanks". Tanks will come to destroy "freedom", and this is the worst thing that can happen in the life of a "young European". To hell with the economy! The main thing - Russian tanks that come from the east. In any case, this is the policy of the official authorities of Eastern European countries. They do not want to answer uncomfortable questions: what about the economy, what about the jobs, what about the social sphere? How will we live, Panov, and what? These are inconvenient questions and unnecessary. Therefore, Dalia Grybauskaite and Toomas Ilves talk about this tank apocalypse ... I, knowing nothing more about these Estonians, Latvia and Poland, I can say right away that economic reforms have failed there. Completely and completely. No need in a well-fed, rich and prosperous country to frighten people with horror stories about drunken Russian tankmen. But if everything is really bad with the economy, and there is no money at all, and the people start asking uncomfortable questions to the rulers, then the "magic wand" works: Russian tanks, ready to crush the newly acquired freedom with crawler tracks.
They went bankrupt (not only Ukraine), hence the "tank hysteria". It's simple, sad and sad. The leaders of some Eastern European countries are in the position of stealing farms before revision. And how can you not let the "red cock"? After all, it will remove all the problems: the Russian "aggressors" came and destroyed our rapidly growing economy. The situation is very serious, and if we see how the leaders of the nearby EU countries are running around with matches and kerosene cans in their hands, then this is not funny, not at all funny. Economic "miracles" ended, began the harsh everyday life. At the same time, an information standard is being worked out that any actions by NATO, even in a foreign territory (for example, in Syria), are correct, logical and wonderful. And any retaliatory actions of Russia are aggression ... This is bad and extremely dangerous.
Individually, all these events are not too terrible, but in total ... Even in Belarus, the subject is actively promoted: "what to do if the Russians come in". That is, the "default" discussion is being pushed into that very "tank" course. I'll draw an analogy: Imagine that on all channels every day you are told about the arrival of the planet Nibiru and the associated "bunt". On the radio, television, on the Internet, on large screens, at intersections and shopping centers there is only one plot - Nibiru ... Here you will think about the "volunte-nevalen", and what are these lunatics? You lie at night, at home in bed, and in your head one single plot scrolls: "the solemn arrival of the planet Nibiru". Here you will begin to write involuntarily. The Russian tank threat is about the same: people are brainwashed. And very, very professional. And there is nothing funny here - this is a very bad sign. The fact is that the war in Eastern Europe would solve many problems for the USA. First, it will sharply weaken and discredit Russia: it has suddenly committed aggression. Secondly, it removes all questions on the standard of living and prospects for Eastern Europeans: "the hamster / Putin devoured everything". Thirdly, it seriously weakens Western Europe, completely severs its ties with the "Russian aggressors" and puts it in 100% dependence on the United States.
You know, in connection with all of the above, the position of Europeans, and especially Eastern Europeans, is surprising: it would be nice if they were going to be cherished, nurtured and protected from the "Russian aggressor". Then everything is clear, and their behavior acquires meaning and logic, but, in fact, they are supposed to be used as cannon fodder / decoy duck. This is now absolutely obvious: the Baltics are part of NATO, theoretically entering those "Russian tanks" there is a reason for a big war, and the Kremlin is well aware of this. And in the White House everyone understands everything perfectly well, however, a strange "movement" with American heavy armored vehicles is happening. The explanation is quite strange: to stop the Russian invasion of the Baltic countries.
Well, think for yourself if a military confrontation (and even a direct collision) arises between NATO and the Russian Federation, then it will automatically be global, what exactly is the Baltic? What is so special, interesting in it? War, God forbid, of course, will be between Russia and the West, but not for the Baltic states. Baltic States can be one of the theaters of operations, nothing more. Let's try to reason logically: "why concentrate on this piece of the coast?" What can Russia win by suddenly capturing it? This is not London or New York. What for? Will Russians come to enslave freedom-loving Balts? But if we consider the version with the initiative to incite the war, then getting into the "very little bull": there are inadequate Russophobic leaders, there is a common border with Russia, there is a Russian-speaking population declared "second-rate people." See how it all happened? But it didn't happen all by itself, this puzzle was folded long and hard, bit by bit. The current Baltic is a miracle as good from the point of view of imposing war on Russia, but absolutely hopeless from all other points of view.
Well, what about demography? With the economy? Industry? What will these countries look like in 20 years? What will Georgia look like in 20 years, Ukraine? Difficult questions, heavy and unpleasant. There is no growth, progress and development in these countries. Why? And did anyone even plan this "progress" there? In the border states, the economy is deliberately collapsing, inadequate nationalists are brought to power at any cost (even through a coup), why? Westerners that completely sbrenili? After all, it was possible to support adequate politicians, develop a quiet economy, etc. But they decided otherwise. We know about the position of these very "limitrofov", they openly laugh at them ... But no one asks himself, why? But a stable legal democratic state cannot be pushed so simply into some kind of adventure - resistance will arise (inevitably). But when people have nothing to lose (the economy is absent, there is inter-ethnic discord in the country, the power is "under the hood"), then there will be no resistance, there will be no one to resist. Today's Estonia, Ukraine, or Georgia make sense only within the framework of a global confrontation with Russia, but not by themselves. They were absolutely deliberately driven into a dead end in order to "blow up" there in spite of Russia.
The example of Georgia, Saakashvili, most clearly expresses this trend: Mishiko attacked Russian peacekeepers in South Ossetia and finally killed United Georgia. Notice that everyone in the West speaks of the territorial integrity of Georgia and the "Russian aggression." The fact of the execution of peacekeepers by Georgian artillery has been silently kept silent. From their point of view, it is necessary to return "everything backwards". And everything will be cool. In principle, if it were not for Saakashvili's demarche, everything could be cool. But he was gone. By the way, the fact of the existence of Abkhazians and Ossetians is also cute and just ignored, which is quite funny. Ossetians and Abkhazians are quite separate separate nations with their own language, customs and traditions. Moreover, if Ossetians live in Russia and South Ossetia is relatively small (no offense will be said to her), then Abkhazia is quite comparable with Georgia itself (without Adjara). But no one in the West notices Abkhazians point-blank, and does not want to talk with them about anything. For them, this is the territory occupied by Russia. Here the Russian invaders will leave and the expelled Georgians will return home. Wonderful, just wonderful. And the Abkhaz? Where are they going? Say, Georgia is a civilized, democratic state? Perhaps, but for some reason the only form of interaction between Georgians and non-Georgians on the territory of the former GSSR was inter-ethnic conflicts. And this is all strange.
Who hindered the Western advisers, to whom the Georgians bowed, bowed and will bow, to firmly explain to the "Georgians" the "basis of state and law"? That all nations are equal before the Law and that there are no "clean and unclean." The authority of the US and the EU could play its decisive role. I simply would not dare to object to Tbilisi (America is God). But for some reason no one in Washington and Brussels did not bother with this. Let the matter run ... Or not? Or was it intended? But having united Georgia on a confederative basis, the West strongly gave hands to the very "Russian tankmen". Checkmate. Russia led its game, but the West led its game, but it didn't save Georgia. Before the August war, Georgia could easily have been "glued together". But the West was not interested. From the very beginning, provocation was conceived, and it took place. The West needed not a free, united, rich Georgia (by the way, very powerful PR in theory), but a picture of Russian tanks going to Tbilisi. This is precisely what explains everything, at first glance, illogical and absurd decisions. Picture at any cost. What would happen to the Georgians themselves was of no interest to anyone. Putin attacked Georgia! Yield headlines in all newspapers.
Moreover, these very "Russian tanks" are organized quite clumsily: a lot of dirt, blood and frauds. But the directors of the broadcast does not stop for a second - they need a picture and they get it. In Ukraine, they went the usual way: this whole bloody nightmare was needed for the sole purpose of providing the Western viewer with a picture of Russian tanks going to Kiev. The movie did not take place, and what to do now with the Bandera "extras" is absolutely incomprehensible. In theory, if the authorities of the same Estonia want to ensure their citizens security, they should be friends with Russia and not get into geopolitics. Well, or even sit quietly, like a mouse behind the stove. But one provocative statement is followed by another, military parades are held in 300 meters from the Russian border. What for? Explain to me why this whole circus? Based on the version that the West wants to build a rich, free, prosperous society in Estonia. Actions do not interfere with theory, do not beat, as one of my friends said. But if there is a preparation for broadcasting Russian tanks going to Tallinn, then yes, everything is very logical. But this, of course, is unrealistically cool - to merge the whole country for the sake of one reportage.
By the way, there is little that can be done. I'm a big pessimist here. Endless provocations sooner or later end in war, simply by the laws of the genre. It's like with Ukraine and the Crimea - there was a very dirty coup (in all senses), there were open threats to the Russian-speaking population, there was bloody chaos, mass arrests and beatings of oppositionists. But all this remains "behind the scenes." Picture: democratic, popular revolution and Russian annexation of the Crimea. So it goes. In general, of course, affects the mental level of Eastern Europeans, who with great joy fit into this extras, what are they counting on? Of course, it is possible and necessary to hate Russians and love Americans, but it's not up to self-sacrifice. What are these warriors of the divine wind of democracy? In such a situation, in principle, I do not see how we can get "dry out of water." In the summer of 2014, Ukrainian troops openly fired on Russian territory. So what? Europe is pretty cute on her eyes. It is said that at one time Yanukovych did somersaults on a handkerchief, avoiding going to the IMF for money (understanding, unlike Lukashenko, what is fraught with). So, Russia can very long perform the same "dance", but inevitably, sooner or later, will be forced to respond. The situation when any actions of our opponents are automatically declared legitimate, and our response to aggression - basically leads us to a dead end. We do not "get out." When the GSVG was withdrawn from Germany, who would have thought that as a result of this glorious action, shells would fall on the Rostov region, but that is exactly what happened.
Somehow it did not work out for us in a "common European home". It is difficult to say who is to blame, but what is, that is. By the way, the latest destruction of the Russian "drying" by the Turks also fits into this simple scheme (although, of course, it is not known to the general public who gave the order). So, in general, the forecast is pessimistic: too many idiots are ready to drag chestnuts out of the fire for the USA, and for some reason they all are looking forward to Russian tanks.