The President of the Russian Federation appointed the plenipotentiary in the contact group to resolve the crisis in eastern Ukraine, Boris Gryzlov, a permanent member of the Security Council of Russia, reports
RIA News
.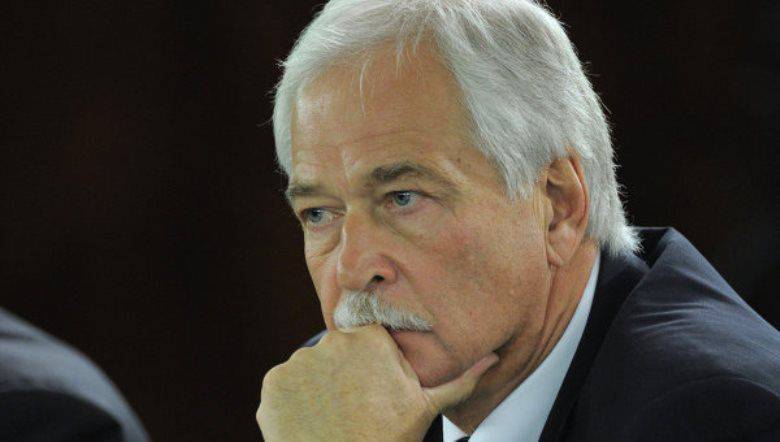 Now, in the contact group, the interests of the Russian Federation are represented by two negotiators - Gryzlov and a special representative appointed in April, Azamat Kulmukhametov.
"I have been assigned the task of doing everything necessary to conduct negotiations in the conditions of a protracted internal conflict in Ukraine," Gryzlov commented on his appointment. "At the same time, we will proceed from the need for full and, most importantly, conscientious observance of the Minsk agreements."
According to him, this is the only opportunity to "stop the civil war in Ukraine" and "restore a normal life."
"I emphasize that we are ready to conduct a dialogue with representatives of both parties to the conflict, and, ultimately, to find the necessary compromise. Only then peace will indeed come to the Ukrainian land, which means that it will be possible to solve the social and economic problems of people, "said Gryzlov.
"I know perfectly well Boris Gryzlov for my work in the State Duma. He is distinguished by the rare ability to coordinate extreme positions, without at the same time passing the permissible facet of a compromise. He will not be an excellent negotiator, "the head of the Duma's CIS affairs committee, Leonid Slutsky, expressed his opinion.
The appointment of Gryzlov caused positive reviews from Russian experts.
"The appointment of Boris Gryzlov says that Russia will not surrender the Donbass, because as we know Boris Gryzlov is a tough negotiator, and it is unlikely that he will be able to expect any compromise solutions. So this once again fixes a tough position on protecting the residents of Donbass, on protecting their interests, and also on protecting the interests of Russia in this region, "said Oleg Bondarenko, director of the Agency for Strategic Communications.
According to him, the appointment, in addition, can be viewed as "an emphasis on the rather tough position of Russia regarding the need for the literal implementation of all paragraphs of the Minsk agreements and the inability to compromise the interests of the residents of Donbass for the sake of some political nuances."