Deputy Chief of the Flight Safety Service of the Russian Armed Forces, Lieutenant General Sergei Baynetov announced the progress of work on determining the details of the flight of the Russian Su-24 bomber shot down by Turkish fighters in the skies over Syria. We are talking about attempts to decipher the flight recorder of the Russian aircraft, which is located in a special laboratory in Moscow. According to General Binetov, it is not yet possible to read the data, since the chips on the recorder board and the board itself have significant damage.
RIA News
cites a fragment of the statement by Sergey Baynetov:
As a result of (radiological) examination, the 13 of 16 non-volatile memory chips were destroyed, three chips - BDD1, BDD2 and BDD5 - were damaged. The BDD1 and BDD2 microcircuits are faulty due to damage to the conductors connecting the crystal with the external leads of the microcircuit and the possible destruction of the crystals themselves. A chip with a serial number BDD5 may be in good condition, since damage to its internal elements in the X-ray image is not traced. Reading information from memory cards is not yet possible due to internal damage. The Commission is working on the issue of attracting specialized research institutions of the Russian Federation, with the ability to extract information directly from the chip chip.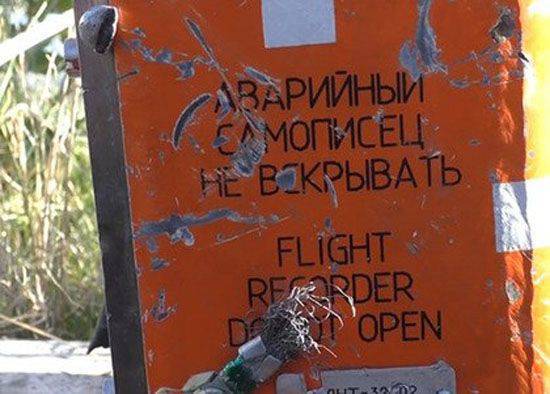 According to General Baynetov, the recorder's body itself received penetrating damage - to the inner container due to the impact of the aircraft on the ground and the impact of parts of the fuselage and other elements of the bomber.
It should be noted that the more often from the mouth of the Russian military appear statements that with the decoding of the recorder of the Su-24 shot down by the Turks, insurmountable difficulties may arise, the more caustic passages regarding the situation appear, for example, in the Turkish media.