Another "proof" of the approval of the western "partners" regarding the fact that there is "neither Nazis nor fascists" in the Maidan Ukraine, the torch march of Azov militants in Mariupol was. During the torchlight procession, "Onizhedeti" shouted frankly fascist slogans, among which were the following: "One race - one nation" and "Glory to the nation, death to the enemies." The march of militants "Azov" was called "march of the brave -" I go to you! "In honor of the" liberation of Mariupol. " From whom and by whom Mariupol was freed, the thugs marching under the Nazi flags did not go into such details.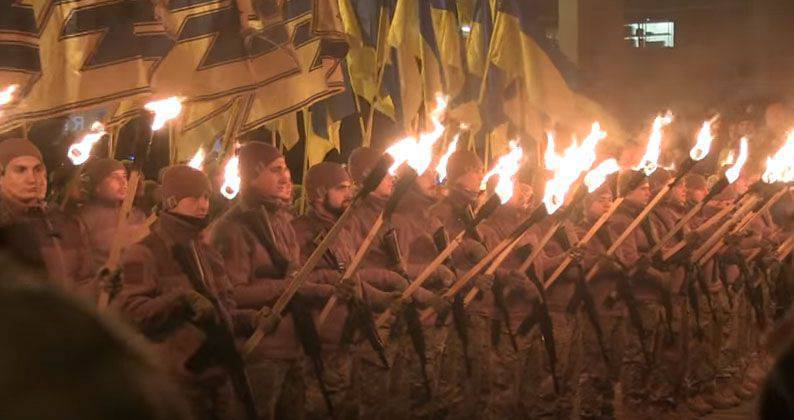 В
YouTube
a video appeared, which was filmed by the neo-Nazis themselves from Azov, who put one of the largest Ukrainian cities under the occupation of war criminals. At the rally, Azov leader Andrei Biletsky made a speech and declared war on the war with the separatists and Russia. At the same time, the statements of Biletsky sounded for some reason in Russian ...
The Nazi performance, which was arranged by neo-Nazis in Mariupol, was also dedicated to the discovery of a monument to Prince Svyatoslav, who, which draws special attention, was a prince of both Kiev and Novgorod. The monument to the prince of Dnepr, who was called "Ukrainian" in Azov (the prince himself was obviously surprised by this epithet), was mounted on a pedestal on which a monument to Lenin stood for a long time.
The torch show "Azovtsev" in Mariupol was virtually no different from the torchlight processions of attack aircraft, which took place in Nazi Germany in the 30-s. In this regard, the question: "Where did you see the Nazis in Ukraine?" allows you to think about the adequacy of those people who are still asking such a question ...