The topic today is somewhat unexpected. Not for politicians or the military. For ordinary people. We were so convinced that Hitler perfectly imparted immunity to fascism to the Germans, that there would never be any problems with that. Fascism for Germany, in our opinion, is unacceptable, and will never be revived. Any reaction from Germany about the Nazis was instantly followed by a reaction. What do you mean? In Germany, Nazism is a crime! And the Nazis simply can not appear. Because the Germans no longer want to repeat the 1945 of the year.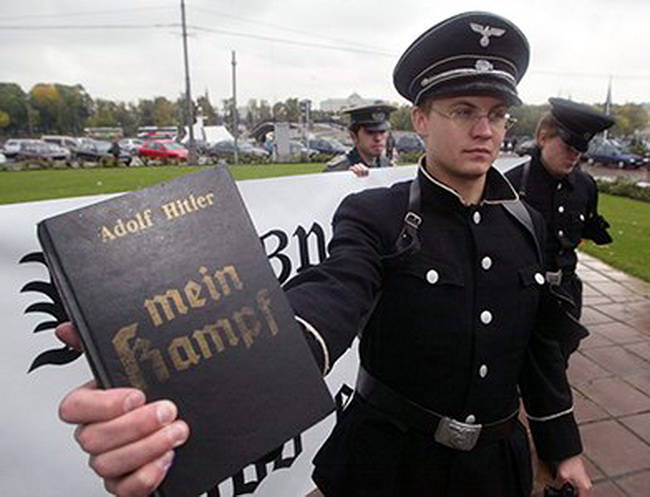 However, time has shown that fascism is still attractive to radical youth. Fascism is tenacious and not destroyed. He just changed. Disguised and adapts to modern realities. Moreover, today we see that fascism in many countries increasingly takes quite significant positions in politics, economics, and ideology.
Today, no one doubts the fascist nature of the Ukrainian government. No one speaks with horror about the right in European countries. Everyone "squinted" in order not to see this phenomenon. What for? Well, the Nazis have fun, burn a dozen cars on their marches. They will receive faces from the police and calm down. Why disturb the peace of the inhabitant? Moreover, this man in the street has completely forgotten how to fight. Own well-being, the fight against excess weight, the purchase of a new smartphone - for him the most important things. And he leaves politics to politicians. They earn on it.
But not all Europeans are passive. There are those who offer to fight. True, the struggle from the outside looks like a mirror. The struggle, which, most likely, will lead not to the destruction of Nazi ideas, but to the spread. Counter-propaganda for propaganda.
So, in Germany, the Association of German teachers plans to partially teach the political manifesto of Adolf Hitler "Mein Kampf" for schoolchildren 16 and older, the website of the German newspaper Handelsblatt reports.
So, no more and no less. Introduce into the curriculum of schoolchildren the main book of German fascism. True, the goal, as I wrote above, is noble. To instill in young people a hatred for what they are learning. Reveal, if I may say so, anti-people and aggressive nature.
Theoretically looks quite. An intelligent anti-fascist teacher tells the students point by point that fascism is bad. And all imbued with faith in this very bad. But in reality? Will such a "vaccination" work in modern Europe? Where more and more young people take to the streets simply because they belong to a national, religious or other movement.
Today in the European philistine there is a large degree of fear of "new Europeans" from Arab countries, from Eastern Europe, from Africa. Europeans feel they can lose their homeland. And regardless of country of residence. Europeans are losing Europe. They lose that world, which for many centuries was unshakable. In which there were some traditions.
And there is another fun thing. Who do you think supports such ideas? For a normal person, the answer is clear. Rights. And no. The main guardians of the new school course are the Social Democrats. Deputy Ernst Dieter Rossmann from the Social Democratic Party of Germany supported this idea.
"Rip off
historical
masking this anti-Semitic anti-humanist polemic pamphlet and explaining the propaganda mechanisms with the help of appropriately qualified teachers is the task of modern education. "
"A critical analysis of Mine Kampf will increase resistance to right-wing populism in the Federal Republic of Germany."
Moreover, according to the BBC, in Germany they plan to print the original source for the first time since the post-war period. It is "Mein Kampf". True, the circulation is limited, only 4000 copies. And the book will provide 3500 with comments. It seems like Hitler's thoughts are fenced from young minds.
But the main thing is not the number of books. And comments are more like a cover from curious journalists. The main thing is that now this book will be freely available. Not only in specialized libraries, but also on sale. And there are a great many writers, commentators, and other "experts" who criticize critics. And I'm not sure that their comments will be perceived worse than those printed in the book.
The first edition of this book was in 1925. That is, long before Hitler came to power in Germany. In 8 years, the ideas embodied in the book helped the author to become the ruler of not only the state, but also the souls of the majority of Germans. Total for 8 years!
I do not think that modern Germany is capable of quickly becoming a fascist state. I can say with confidence that the Germans are really trying to prevent the revival of fascism in their country. But ... there is a pair of "but."
The first "but." Germany is now, no matter how offensive to the rest of Europeans, the leader and legislator of political and economic fashion in Europe. It is Germany that now serves as a ridge for all other EU countries. And a lot of people, voluntarily or involuntarily, are associated with this country. And not just connected, they think like Germans. So, Mein Kampf is no longer a German problem. Mein Kampf is a problem throughout Europe.
What are the consequences of the appearance of this book, for example, in the Baltic States? After all, there will be no trained teachers. There will be ordinary teachers who themselves are largely infected with the ideas of Nazism. And so it can be said about the majority of small European countries.
And the second "but." What is Germany itself today? This is not the German state that was under Hitler. This is no longer a German state. Germany today is a country outside the single nation. A country where the Germans are no longer the overwhelming majority. The country, most of whose population has arrived there in the last 20-30 years. And how this Germany behaves today is very difficult to say.
I do not know how events will develop further. I don't know if German teachers will be able to talk about fascism and Nazism in such a way as to raise hatred for this ideology. The only thing I am sure of today is not the time to fight fascism in this way.
Detailed, even with critical remarks, the study of such books will give the new supporters of fascism a real, already proven, way to seize power. And supporters of fascism can be not only Germans, but also German citizens of other nationalities.
Does Europe want to revive what has already cost humankind enormous human and material losses? Or is Europe looking to protect itself from its tolerance? Ways to protect against refugees? In any case, for us it is a call. The signal to prepare for the next radicalization of the West, but already in brown tones.
A "Mein Kampf" from the first of January will be available in any bookstore. Or read in the library.