The press service of the Leningrad Nuclear Power Plant reports that today (December 18) at 13: 50 Moscow time, the second power unit was shut down due to the formation of steam in one of the rooms of the turbine shop. According to the staff of the power plant, the nature of the steam leak is insignificant, and the necessary work has been carried out to localize it.
From the message
press service of the power facility
:
December 18 at 13.50 Moscow time, power unit No. XXUMX of the Leningrad NPP was stopped by personnel in accordance with the current instructions and regulations due to soaring in one of the premises of the turbine workshop - in the deaerator reduction unit. Hover significantly decreased after stopping the reactor. In addition, at present, the premises with a total area of ​​up to 2 square. m completely isolated. The nature of the steam leak is insignificant, its localization is going on (at the time of the material release - the location is complete - note "VO").

The radiation situation at the Leningrad NPP and the industrial site has not changed and remains within the natural background values.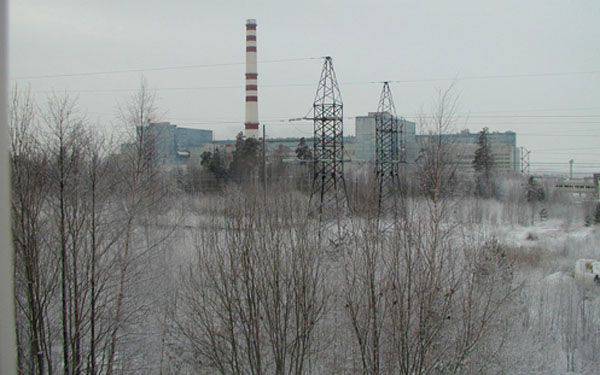 The cause of the accident was a steam engine crack in the turbine hall.
Despite statements by the Leningrad NPP employees that the background radiation is normal, St. Petersburg environmentalists claim that there was a radioactive release. At the same time, the statements of ecologists, which are given by the St. Petersburg portal
"Fontanka"
, look somewhat inconsistent. A representative of the Green World organization, Oleg Bodrov, arguing that the release is radioactive, at the same time says that measurements of the background radiation near the NPP show normal values. From the statement of Oleg Bodrov:
The station is single-circuit, which means that all the vapor on it is radioactive. Another thing is that the scale of pollution is unknown. At the moment, it is known that the power unit has been stopped, and the employees have been sent home. Urban radioactive environment sensors show a normal background, up to X-NUMX micro-X-rays per hour.
Apparently, realizing that the message looks somewhat illogical, they decided in ecological organizations to refer to the statements of the Hydrometeorological Center, in which it was said that the wind in the Leningrad Region was of the west and north-west directions. Such statements were forced to alter the services of Estonia and Finland, which also did not detect any excess of the radiation background levels.
From the press service of the LNPP:
Currently, at the Leningrad NPP, 1,3,4 power units are in operation, which carry a load of 3000 mW. The radiation background in the vicinity of the station does not exceed the natural background values.