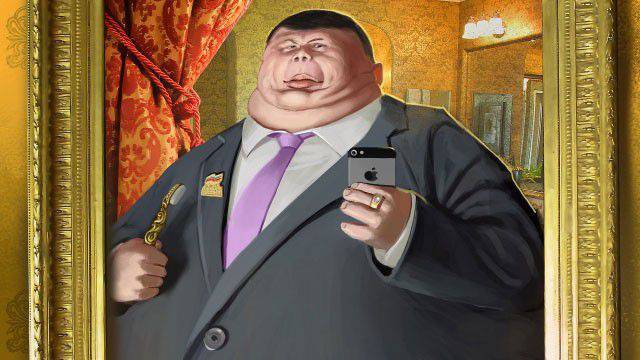 The Russian people from the epic warriors to Pavka Korchagin have always been great, first of all, with the strength of spirit, unselfishness, a keen sense of truth, justice and collectivism. The best owners of these qualities became national heroes and idols to follow. Does today's Russia have such symbol people?
In the recent Soviet past, every inhabitant of our great country knew the answer to this question. And their views, firstly, almost completely coincided, regardless of age, gender, social origin, region of residence, and so on, and, secondly, the views were not official, but meaningful and joint. These symbolic people were shrouded in extraordinary romance and an aura of glory. They were not like American superheroes with fabulous superpowers. These were ordinary people, but with extraordinarily developed features and qualities inherent then practically to all citizens of the country of the Soviets. Therefore, they felt an inextricable connection, sometimes through the centuries. They wanted to match. They wanted to be like and excel. Without this, if one may say so, chasing the hero, there would be neither Baikonur - a cosmic miracle that arose in the bare steppe, nor BAM, nor the feats of our servicemen performing international duty in Afghanistan, or much else. In general, we would live in another country. Everything that today's Russia holds on both materially and spiritually was laid then. On this foundation, on the rudiments of those notions of a national hero, a man of honor and conscience, according to which you measure yourself as a standard, the country still lives in many respects. But these rudiments are dying off more and more.
The last hero - the carrier of these qualities, a fair and honest national robber Danila Bagrov from the dashing nineties. Unfortunately, the late director Alexei Balabanov brilliantly called his film "Brother". And a significant number of Russians still feel the fraternal connection with this hero. Not with a edge in his hands, but with his soul, attitude to life, people, meanings that fill the present and future. Nineties have passed. A new national hero level Danila Bagrov did not appear. Why?
A person is a set of needs, the first and foremost of which is the need to live. But then, as they say, options are possible. Variants of this set of needs and building them in a certain hierarchical sequence is the most important task of any society, for man is a social being. Even the classics said - it is impossible to live in society and be free from it. It turns out a closed logical circle: society forms a social order for its member - a person who is acceptable and necessary to him, and the mass of such individuals constitutes this society. And here comes the main question, and what is the mechanism for forming a social order? Who specifically motivates the society to indicate in its social order those or other qualitative parameters required from the individual? There are such people and structures.
With the collapse of the USSR, the main mission in the world of our former opponents was globalization in the Western style, which is based on national depersonalization, monetization and commercialization of everything and everyone, as well as the transformation of a person from a thinking and sensually evaluating individual life to a faceless labor and consumer resource. Russia has also fallen under this rink of globalization. It is he who in recent years has been shaping our new human objects to follow. It is the objects, because they cannot be called heroes. The formation of these objects is carried out by means of global information flows, which in the modern gadgetised world determine everything. They are followed by money, goods, economic crises, the ups and downs of politicians, political and military actions, revolutions, finally. With the help of special technologies of mind manipulation, developed by order of the so-called transnational financial elite (in 2011, Swiss scientists from the state institute of technology in Zurich proved that almost half of the world's wealth is controlled by all 147 corporations, interconnected) which, by the principle of a funnel, information waves begin to form. Each wave must necessarily contain from one to three "clinging elements". More people and do not remember and the severity of exposure decreases. Information waves, in turn, become part of global information flows, from different angles, in different packaging and dosages, which convey information necessary for a person to make decisions. The necessary, of course, not to him, but to the customer of informational impact. So that a person does not for a minute fall out of this global impact, information flows overlap and overlap in such a way that they become one huge information field, which is formed by carriers that are closely intertwined. Gadgets, Internet, television, radio, printed materials, all kinds of outdoor advertising - with their help and under their influence, a person's perception of the surrounding world and himself in this world is formed. The underwater part of this impact is sewn into all kinds of scientific and educational programs, ratings, political and economic reviews, devoted to everything in the world from trade to fashion, popular shows, finally, feature films and programs for children. Almost everything is commercialized and involved in the formation of human objects to follow. In all countries where the aggressive environment of globalization has penetrated, in all spheres and environments, a person is under the influence of targeted information. He is involuntarily soaked with it and becomes exactly the building material for modern society, which is required for globalization strategists. That is why everything is being done so that the person in the intellectual plan is as simple as possible, and the information flows as intensely as possible. A limited person in a large stream of rapidly changing information is not able to figure out and make an informed individual decision. Therefore, it acts according to the principle of similarity. As everybody. Or according to the principle of "objective control," if the same information comes from three different sources, then it is correct. To do this, representatives of the financial elite and run the information they need through different media and in different forms. We must be modern. It is necessary to adhere to such views, to have a fashionable value set, to love this and that. Need to be stylish.
Today, the information flows generated by analysts employed by the world financial elite, affecting society as a whole and for each individual member of this society individually, form an order for a human object to follow, a copy of which is a pseudohera of our time. Who is he, after all? An ideal resource unit!
Therefore, today everything is aimed at ensuring that a person is to a lesser extent a person and to a greater extent - part of the producing and absorbing mass. The revenues from both of these processes, as well as the pleasure of controlling the masses, are the goal of the representatives of the global financial elite, who invented globalization to do all this. To stimulate the functioning of both types of resources, the fetish of the growth of well-being and wealth of members of society has been put at the forefront of the impact of information flows. The main thing in this race provoked among people is to ensure the growth of soulless matter, and not the growth of spirituality. It is in this shift of emphasis that the semantic message of the appearance of such expressions as "a good person is not a profession" should be sought. The value of a good person is thus devalued to zero. It is necessary to be proud of material wealth, external attributes of success, and not the inner world, which is not visible. Strength of spirit, selflessness, a heightened sense of truth, justice and collectivism, today are increasingly becoming anachronistic and dying rudiments. A society globalized by the Western neoliberal model does not need heroes possessing these qualities, but not ready to work more on the owner just to buy more, again for his benefit. Modern business coaches conduct special trainings, at which people are hammered in that they need to present themselves, to be able to sell. In general, the most important art for us today is the art of selling. And a good person is not a tradable commodity. He will not sell himself, because, as goodness will not allow. It is not customary for the good ones to yakat, brag, boast and get stuffed. And if someone merges such a product, you will also "torment yourself". They will begin: it is wrong, this is not human, this is deception, this is mean, I will not do this and I do not advise you. They try to get rid of such problematic heroes as quickly as possible.
Therefore, modern Russian society is not cultivating its traditional historical hero. And then we wonder why there are no works of the "War and Peace" level, or at least Sholokhov's "Raised virgin soil". No talented authors? No hero. About whom to write, about the resource unit? Who is replacing Danila Bagrov? It is this unit. Faceless "office plankton" and the same faceless "client".
Russia needs a new-old hero. A person from the Pleiad of carriers of "Russianness", and not a global "resource". Our society is far from being completely infected with this virus, although the lesions are already quite deep. A cure is still possible.
People inhabiting Russia, regardless of their natural nationality, have formed an unusually structural consciousness over the past centuries. They always wanted and want everything to be explained, understandable and logical. To the honor and conscience. Only in this case, the mind and soul are in harmony, and each passing day and future is filled with meaning, positive and to the best of creative abilities. That is why invented Hollywood superheroes do not take root. How is not born and its own fictional hero.
Our hero must be natural. To the flesh of the flesh. And so it turns out goes, there is a chain of heroes and suddenly it breaks off in our time. Attempts to continue this chain are being made, but instead of heroes we get gutta-percha dolls, who quickly leave the stage, as a commercial show that has not gained ratings. And the people are ready to nominate heroes from their midst. How ready and go for them. Only not in the form of a resource, but in the form of carriers of the Russian world.
In order for society to begin to nominate heroes from its midst, this society needs the meanings of existence close to it. He needs these senses to be generated not by overseas hirelings of the world financial elite and their Russian branches, but by worthy representatives of this society who do not suffer from the disease of "creacles". Today, society is deprived of such an opportunity, because, firstly, between the elite of self-promoted privatizers of everything and the people and the people is a huge distance, and, secondly, social elevators practically do not work for the same reason. "The son of a thief will be a thief, the son of a prosecutor will be a prosecutor." Who will generate other meanings? While nothing will change, we will read and watch numerous stories about an unreal person.
So Alexei Balabanov came to the same conclusion. In his latest film "I also want," he leads his heroes to a wonderful bell tower of happiness, with which they go into an unearthly world, because nobody needs them here, and they cannot find happiness. In the school essays of the Soviet era, we discussed the topic: the tragedy of an extra person in Russian classical literature, describing Chatsky, Bazarov, and other heroes of the wrong time.
Today we are once again experiencing a similar tragedy, only now not only the good person becomes superfluous, but the collective image of the absolute majority of the representatives and carriers of the Russian world. This can not be allowed, because if everything continues to move in this direction, we will get not only total-devastating degerization, but the degeneration of the best that has crystallized in us for centuries and generations. To prevent this, it is necessary to return to the practice of cultivating a real person. Not a successful moneybag, not a popular public talker, not "stars" made of foil and other neoliberal props. We need a cult of human conscience, truth and justice. For which the instinct of national self-preservation is higher than personal. For which to give, it gives more pleasure than to take.
Fyodor Dostoevsky wrote: "You can not destroy, deprave and eradicate the thirst for truth in our hearts, because of this depravity, no pressure and no humiliation, because this thirst is the most precious to them". And indeed it is. We see how our people respond to the pain of others, injustice, untruth. Helping victims of the elements or protecting civilians of Donbass from nationalist punishers and mercenaries from around the world. But such heroes are treated as a certain element of the show, a part of the sensation shown in prime-time for the rating of the broadcast or the TV channel. And that's all. As a result, these people are perceived. And this is a completely wrong approach.
We need a targeted state program to create a cult of the national hero. Pride and honor of the nation. Salt of the earth. After all, we have a lot of such people among volunteer militias among so-called polite people who, in fact, defended the Crimea bloodlessly, defeated the Crimea, among children cadets, during the recent flood for more than three weeks with their bodies during the day and night defending Komsomolsk-on-Amur. And many, many more who.
In life there is always a place for exploits. Especially in our life, which in the present conditions, in itself is almost a feat. And people perform these feats daily and hourly. Just the country does not know about it. We are fed with sensations about the friendship of a goat with a tiger, about scandals in families of soap-public people and other information trash that softens the brains, but they don't tell about their best sons and daughters of the people. And that they should not go off the screens, newspaper pages, public events platforms, classrooms of schools. Perhaps then life will start to change for the better. And the directors will not have to, like Balabanov, send their heroes to the next world, or, like Ryazanov, in his "Promised Heaven" on an engine to aliens.