In the Donetsk People's Republic they report that over the past week, as a result of shelling from the territory under the control of the Ukrainian military, three representatives of the republican armed forces were killed.
RIA News
cites a fragment of a statement by a representative of the office of the Ombudsman for the DPR:
From November 27 to December 4, as a result of hostilities in the Donetsk People's Republic, three soldiers were killed. One soldier and one local resident were hospitalized with injuries of varying severity.
Today, a source in the Ministry of Defense of the DPR reports that Ukrainian nationalist armed forces have fired at the village of Kominternovo in the Novoazovsky district. The shelling was carried out from the position of the Ukrainian Nazi units located in the Shirokino area.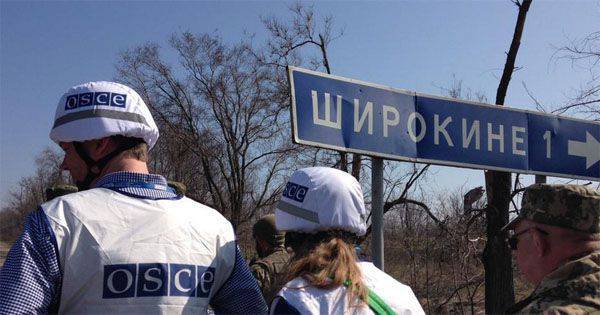 The day before it became known that the OSCE special monitoring mission intends to install several video surveillance cameras in Shirokino. Camera locations are not reported to be dismantled by those who are not interested in establishing sustainable peace in the region.
Informational portal
"Donetsk News Agency"
reports another fire that took place today. From mortars of caliber 82 mm, as well as from a tank gun, part of the village of Zaitsevo in the north of Gorlovka was shelled. The shelling was carried out from the territory controlled by Kiev. According to the latest data, there were no casualties, however, there is a destruction of the infrastructure of the village.