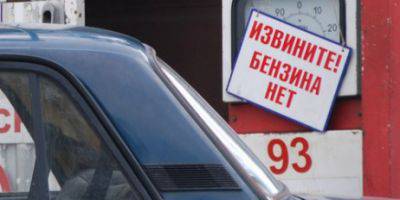 Had a Skype conversation with an assistant gasoline bargega from Lugansk. There is now such a specialty there. With an assistant because he sat on the phone and took and distributed orders. And his companion in the evening twilight merchandise customers.
The phone rang regularly. Having such a person in Lugansk today is very useful. Gasoline is needed by all who have cars. Why - a stupid question. If a person needs to go somewhere, then it is necessary.
Gas stations do not actually sell gasoline. Let go only to those who are supposed to. Public utilities, ambulances, apparatchiki. They say that "their" can refuel. We all went through it in the nineties, so the situation is quite understandable and clear.
The blockade generated demand, demand generated fuel shuttles and smugglers.
Plotnitsky, by the way, assured that since December there will be no more expensive 44 rubles per liter. And there will be no fuel shortages. Already 3.12, and the picture is like this.
All ordinary people of Lugansk are supplied with gasoline through the shuttles. In Russia, the 92 is worth 36 rubles, in the border area 42-44, in Lugansk from 50 rubles per liter.
There are several categories of earners.
There are no residents living near the border. With a good set of circumstances, they can make an 3 to 5 walker across the border with a canister from a day to day. That is how much you can transfer one-time to a person with an appropriate registration. They accumulate a small batch at home, and then they rent it to the "wholesalers". You can earn rubles 300-400 per day, with special luck - up to 600. In a month it is quite a normal amount by Lugansk standards. From 10 to 15 thousands. For LC very well.
"Wholesalers" carry fuel further and distribute through their network clientele.
There are still "cab drivers". This is when 5 people come by car to the checkpoint, then the car goes by itself, and people like wines work. And by car, the owner can take a full tank and canister. Here, of course, vases are not popular, with their tank capacity. Mostly used "Volkswagen". The same "Passat" tank from 70 liters, so ... Plus 5 jerry cans after the transfer of foot shuttles back. Roughly speaking, 150 liters of gasoline, or 2000 rubles arrived.
Rumor has it that there are black smugglers. But nobody takes it seriously, because there are almost enough "whites" for everyone. Unemployed enough. And if life presses, then you can stand in line with the canister.
And everyone is happy, so to speak. But it seems to me that it is impossible.
My interlocutor's phone called often. At the end of our conversation, people were recording as early as Saturday night. Gasoline is needed for everyone who has a car and has money for it. And the price ... When necessary, do not stand behind it.
The question is different: how much effort is needed to ensure that the people of Lugansk are provided with gasoline? The stupidest question, I understand.
Then smarter. Who benefits from everything that happens? Why is a former miner, left without work, forced to go and stand in line at the checkpoint? Why is a person who earned his money doomed to give them to intermediaries? Why all this? Is it really so difficult for our oil companies to just bring fuel to Lugansk?
Moreover, not free. Nobody talks about charity.
Everything reminds of some strange survival experiment. Passports (we will touch this topic in the near future), diplomas, now also gasoline.
I would like to see the end of this experiment. Survived unequivocally. We need to help further. Light brought. Gas connected. What prevents to do the same with gasoline?
The situation is simple: to lease to any desired fuel company from Russia several gas stations of the same Akhmetov. Yes, to give. You can not rent. Just. In use. And to ensure the work of this company. The benefits will be much greater than what we have: healthy men and guys hanging out in queues at border checkpoints.
And take care of the freed labor. Here, of course, Russia is not an assistant, as if the authorities of the LC are obliged to strain. But to arrange the supply of fuel is clearly the responsibility of our side. If the power of the LC is not able to cope with the problem. And they obviously can not yet.
So you need to help. Rosneft, Lukoil, Gazprom, how are you?
Crime and semi-criminal can be destroyed in different ways. Sowing, punishing, chasing. And it can be easier and without criminal special effects - knocking the ground out from under the feet of the hucksters. Having stopped this fuel clowning, stuffing pockets to intermediaries.
Definitely respect will add. And the authorities on both sides of the border, and the people of Lugansk.
And why not?