It seems that Turkish President Erdogan has finally, as they say, lured the coast. In an interview with the French news agency Fance-Presse, he said that "Turkey has all the evidence of Russia's involvement in the oil trade with DAISH (ISIL)." AFP in official
Twitter
gives a fragment of Erdogan's statement:
We have evidence. We will show them to the world.
But Erdogan accidentally has no evidence of Russia's trade with Al-Qaida and the Taliban ...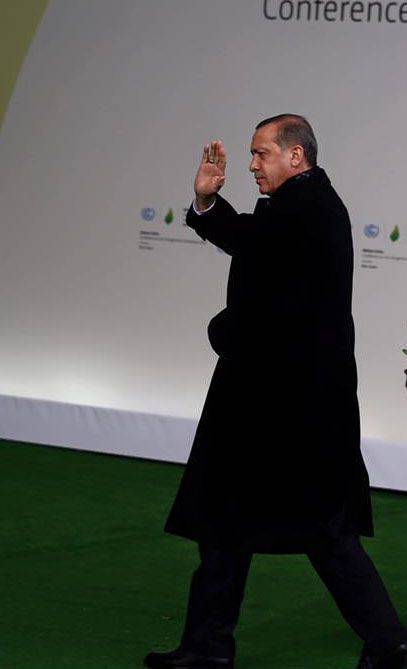 It seems that in this situation, one of the psychological principles of the person involved in the commission of a crime works. This principle is literally in the following: you can not refute the accusations in your address - try to blame someone else, up to the one who presented the accusations himself.
But a few days ago, Erdogan announced to the whole world that if they found confirmation of the Russian data that Turkey was involved in the sale of stolen oil DAISH, he would leave his post. On the eve of the National Defense Management Center, Russian high-ranking military officers presented a block of photo and video materials showing how thousands of tank trucks stretch from Syria and Iraq to the Turkish border, from where they move towards oil storage tanks and ports, where (in ports) they are already waiting for tankers Erdogan Jr. company. Apparently, this is not evidence for Erdogan.
Now in official Ankara they mold some delusional fakes, on which, through screenshots of computer toys and statements from "unnamed sources," evidence of the link between the Russian Federation and DAISH will be presented. So far, as "evidence", Erdogan has submitted his own statement that one person who has both Syrian and Russian citizenship is allegedly buying oil from igilovtsy. This is a certain George (Georg) Khashravi. So, it turns out that it was he who was driving thousands of fuel trucks to Turkey, and even without Erdogan's knowledge? .. So? .. As you can see, the meeting with Poroshenko for Erdogan was not in vain ...