The general secretary of the Japanese government, Yosyhide Suga, said that official Tokyo was concerned about the plans of the Russian Ministry of Defense to "build buildings and facilities on Iturup and Kunashir 392." According to a Japanese official, the official authorities of Tokyo "closely monitor the actions of Russia" in the Kuril Islands (in the rhetoric of Mr. Sugi, the Kurils are referred to as "northern territories").
RIA News
quotes a statement from a Japanese government official:
The government (of Japan) continues to closely monitor the actions of Russia. We intend to respond accordingly, including through diplomatic channels.
And "appropriate", what is it like? Japan "in protest" erect 392 buildings and structures on its territory? ..
Recall that the plans of the Ministry of Defense of the Russian Federation include the construction of military camps in Kuriles with all the necessary infrastructure, including schools, kindergartens, hospitals, playgrounds, cultural centers, sports facilities. On the islands will appear around 40 new homes, including hostels for military personnel and their families. The construction of two base towns in the Kuriles engaged Spetsstroy.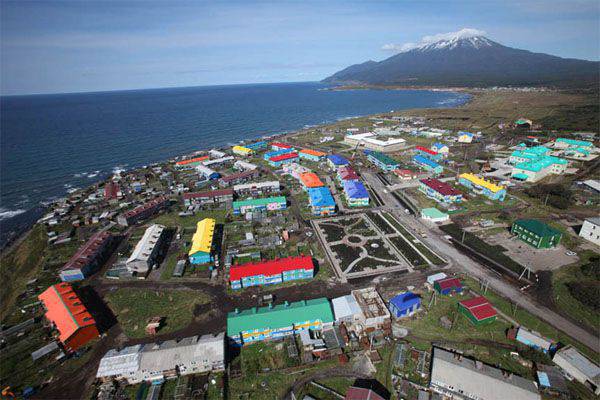 The appearance of new infrastructure on Iturup and Kunashir will also revitalize the economic component of the islands. And the total potential of the Kuril archipelago for Russia is truly enormous. And the least attention in this regard should be paid to the reaction of the Japanese Sugi.