The President of Kazakhstan Nursultan Nazarbayev 30 November opened in Astana a joint venture "Kazakhstan Paramount Engineering", formed by the local company "Kazakhstan Engineering Distribution" and the South African company Paramount Group, the blog
bmpd
with reference to the country's Defense Ministry.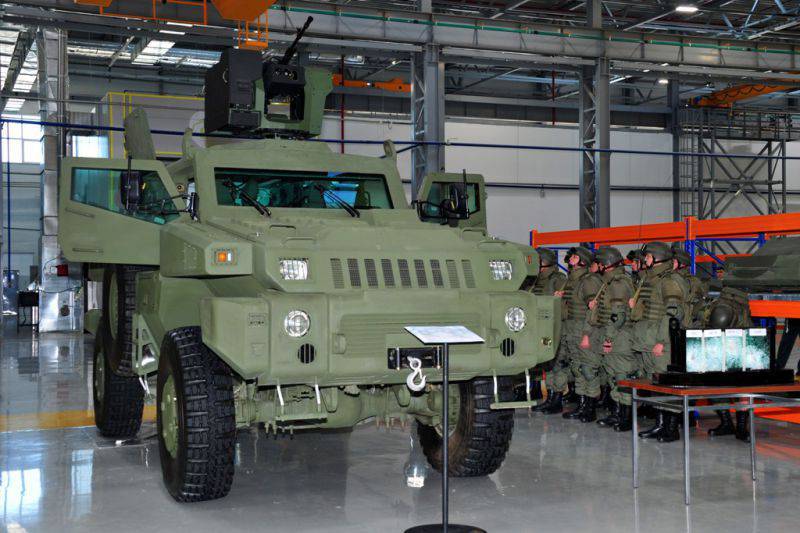 Armored Paramount Marodeur ("Arlan") at the plant for the production of armored wheeled vehicles, Astana, 30.11.2015
"A similar project is being implemented for the first time in Central Asia and will allow creating a highly profitable joint venture capable of providing a qualitative breakthrough in the defense and engineering industries. The production capacity of the plant is 120 armored wheeled vehicles per year. Modern high-tech equipment allows you to implement a full cycle of work such as laser cutting of sheet metal, welding armor plates, applying paintwork, assembly work, strict quality control. Technical equipment of the plant involves the solution of a wide range of tasks in the field of production of wheeled vehicles for military and civil purposes, "the release says.
It is noted that "the presence of a design department and a service center at the plant will allow further modernization and maintenance of the machines in accordance with the requirements of customers."
"All appliances manufactured at the plant will be manufactured in accordance with international standards, which will allow to sell products both within Kazakhstan and abroad. The armored wheeled vehicles offered for production in Kazakhstan are among the best in their classes in a number of indicators, "the press service of the military department said.
The engineering staff of the enterprise will be trained both in Kazakhstan and abroad.