The head of the Turkish Cabinet of Ministers, Ahmet Davutoglu, said it was necessary to create military channels of communication with Russia to prevent incidents in Syria. Davutoglu told the media about his proposal during a regular briefing, where he again stated that last week the Russian military aircraft "violated Turkish airspace", and "Turkish Air Force aircraft protected this space" and "did not go beyond it". Information Agency
TASS
cites the statement of the Turkish Prime Minister:
Turkish planes did not violate the airspace of Russia, they did not aim at anyone in the airspace of Russian planes. But Turkish airspace was violated. And the responsibility of the Air Force all over the world to protect its airspace. After three violations committed in conditions when there is a war near our borders and flows of refugees continue, we could not close our eyes to this anymore. To prevent such incidents from happening again, let's open military communications channels. We again call for this Russia. Let's open the diplomatic channels to restore our relationship. Discuss this and prevent even greater crises. We have a common fate in this geography. Russia and Turkey are neighbors, and this will not change.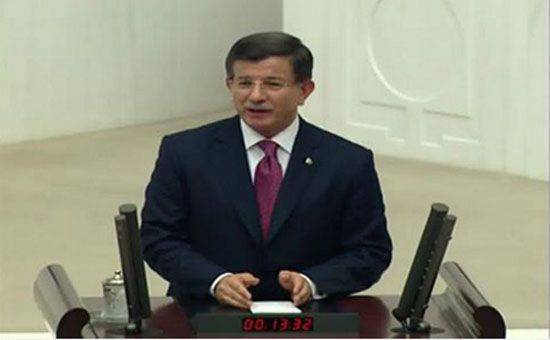 It is strange that Mr. Davutoglu together with Turkish President Erdogan just a few days ago did not particularly care about the "common fate (of Turkey and Russia) in this geography". Nor did they care about the deterioration of relations with Russia as a result of the treacherous attack of the Su-24 aircraft, which was carrying out antiterrorist missions in Syria. By the way, at that moment neither the prime minister nor the president of Turkey remembered the existence of a military communication channel between Ankara and Moscow, which could have prevented the incident and the death of the Russian military. Today, they suddenly decided to recall the military channel and geographical neighborhood ...