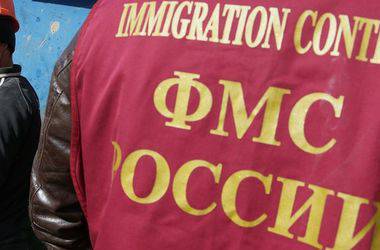 Today, the term has expired, given to citizens of Ukraine who did not wish to determine status in Russia in order to leave Russia. As the head of the Federal Migration Service, Romodanovsky, said earlier, from December 1, sanctions will be imposed on Ukrainians who violate the migration law of Russia.
"When he (the intruder) leaves, they will shut down the entrance to the Russian Federation. Depending on how much he has stayed here, this figure will change: 120 days exceeded - 3 of the year of entrance closure, 180 days exceeded - 5 of the years of entrance closure. Year exceeded - 10 years of entry closure. "
The lightweight migration regime for Ukrainian citizens, introduced for humanitarian reasons, has been canceled in Russia since August 1. From this point on, for all Ukrainians, except those who left the territory of Donbass on an extraordinary mass scale, the usual stay order began to act, as for all foreigners from visa-free countries - they can stay in the country without determining their status 90 days. After this time, they either receive permits for employment and prolong their stay in Russia, or after 120 days from the moment they arrive they will have to close the entrance.
After August 1, the FMS of Russia repeatedly reminded the citizens of Ukraine about the need to obtain permission to work in Russia or otherwise determine their status, for example, to obtain a temporary residence permit or citizenship.
So, watch?
The wave of hysteria, raised on the network in connection with this case, has actually disappeared. And there was no chance of any special success for such a hopeless cause. But it is impossible not to focus on this moment.
Indeed, for the year that passed under the sign of the movement of Ukrainians and former Ukrainians to the territory of Russia, it was possible to make a choice and answer the question "who the fuck?". Much has been written about the difficulties (sometimes insurmountable), with the "curve" of the FMS. But in any case there are nuances. And it was on this day that I would like to reflect on some of the nuances associated with our refugees.
Let's start with the FMS.
Yes, the activities of this organization have caused many complaints. Quite reasonable. Our FMS was simply not ready for such a stream of clients. Both technically and in terms of staff training. It is one thing to issue passports for Russians and to "build" those who want to work in Russia from Asian countries, and another thing is to work out a huge number of people who often do not have the entire package of documents.
In general, the entire policy of the country in relation to those who want to obtain citizenship, regardless of where the person came from - this is something else going on in torment. And it remains only to hope that the lessons of the past year will be perceived by the FMS as it should be. And the appropriate conclusions. Otherwise, it will be possible to speak about the "Compatriot" program only with negative and only in the past tense.
There is another frankly stupid moment. Any person who wants to obtain Russian citizenship, when submitting documents, including must submit a registration. It is desirable at the place of residence. This moment really nullified the efforts of many migrants.
A person who arrived in Russia, who wants to become its citizen, having agreed to move under the targeted resettlement program to the specified city, faced a very peculiar task. It was necessary not only to find housing, where to live, while documents are being processed, but also to receive temporary registration there. Otherwise, all further gestures do not make sense.
This is the silliest nonsense on the part of the state. Instead of somehow settling this issue, giving the same registration to the address of a temporary accommodation center or another place (hostel, for example), what was done was "fucking" many people who had arrived. That is, the question was handed over to the Russians. Who wanted to give BP to refugees - gave. Who is free, who is for money, this is a matter of conscience. Many (I know more than one example) refused because registration is temporary, but the numbers in the payment are real. And not everyone turned the language of compensation, that's why they refused.
In general, the desire "everything, and preferably free" was present for many who came. Very often I had to hear the arguments that "you did not protect us, you owe us." Often.
But summing up the opinion on the work of the FMS, I will say one thing. Not that "it could be better", but "it could be worse, but far worse"?
Now a little about the problems of those who came, who were not directly related to the FMS. Actually, to those aspects that gave rise to this decision.
Many diverse authors spoke online at various resources. As usual for the same LJ, anonymous and faceless. But with outright fury opposed the decree. Therefore, as an opponent of December 1, I will cite a number of statements by Vladislav Shurygin, a military commentator for the newspaper "Tomorrow". Well, the Deputy Mr. Prokhanov. Face, frankly, open and not hiding, unlike many, under a faceless mask. Only for this is respect and attention to words.
Vladislav Vladislavovich published in his LJ several materials on this topic. Criticized the FMS and the country's policies with facts and figures.
http://shurigin.livejournal.com/680341.html
I will not say anything for the numbers, but I would like to comment on some of the things from his speech.
"Another problem of refugees is connected with this: they don't have the opportunity to keep their common passport. If you apply for temporary asylum, you are immediately taken away with a general Ukrainian passport and give you a refugee certificate instead. And you naturally find yourself on the reservation - you cannot cross the Russian border with him. If you, for example, came to Russia from Kharkov, but you still have relatives in Donetsk or Lugansk, you will not be able to cross the border with the DPR of the LPR. then on the "neutral" territory, for example, in Belarus, you cannot because the Russian legislation prohibits the "territory" from leaving the "refugees".
Is logical. How would a person, by the will of fate turned out to be in another country, most likely, would have to first of all attend to obtaining documents, searching for work, housing, places of study for children. By definition, a refugee has something to do, except to roll out to relatives in a country where a war is going on, which has deprived him of everything. Especially if the person was not in the border Rostov or Belgorod, but a little further. Here, as if not really about pokatushki for guests need to think.
In fact, Mr. Shurygin somewhat deceitful. As a person who has plunged into the Donbass, by example I can say the following: a huge number of "refugees" did not pass the passport, because they did not intend to live in Russia. They planned to "sit out" the time they deemed sufficient. I had acquaintances from Pervomaisk, who quite well spent the winter with relatives in the Belgorod region, even arranged for children to go to a local school, received some allowances and help, but did not even think about handing over passports and getting our citizenship. And from time to time they rode in their car to Pervomaisk, to check how apartments stand there, didn't they rob?
And there are thousands of them.
"For the majority of people who have relatives in Ukraine, such" serfdom "is unacceptable. And therefore, people hand over this evidence of a refugee, take back their passports and immediately find themselves in the very trap that I wrote about at the very beginning!"
That is, 90 days. No matter where "serfdom", the right word! In any country with refugees do it that way. Even pohlesche, if you compare with the same France. But it is not a matter of serfdom and great love for one's kin. The point of pensions, which can be obtained only in Ukraine. It is a matter of houses, apartments, and so on, what remains there, behind the "ribbon."
So many "refugees" have raised such a scream when they were resettled according to our immense. The point is not the fear of the severe frosts of Siberia, the fact is that it is far from Izvarin the same. Before the hut at the weekend do not ride. And who wanted to work and a new life - he got it. Let not in Moscow or Rostov, but received. And I know those who are almost satisfied with it. Almost - because I have in my friends a former Donbass, and now a Vorkuta miner.
And this, Shurygin, by the way, confirms unwittingly.
"But there are those who have been ordered to go back to Ukraine - these are political migrants. These are people who are being prosecuted and wanted by the SBU, who went all in different ways, many simply hid from arrest."
Undoubtedly. There are such people. But what is their problem?
"According to the most modest estimates, the number of such refugees in Russia is up to 4000 people. And the number of political migrants is constantly growing, because the repression in Ukraine is only increasing. The problems of these people are not reflected in Russian legislation at all! Most of them are highly educated people, most of them are humanists who deliberately chose the path of political struggle against the Nazi regime in Kiev. And you will not send them under a quota somewhere near Ulyanovsk to grow potatoes or a livestock breeder near Kursk. They are ready to continue the fight here, and their value lies precisely in the fact that they are conscious and well-versed professionals, but refugee status and political asylum in Moscow are impossible to obtain. We have to live with a Ukrainian passport, in fact, in the status of a labor migrant. And now, it is these people who can become potential victims of future deportations! "
Here, actually. Oily such a point. 4 000 fighters with the junta, who can not fight anywhere except in Moscow. I don't understand why Russian legislation should protect the interests of these people, to be honest. The laws of the Russian Federation are written in the first (and last) place for citizens of the Russian Federation. What prevents these people from proudly refusing the passport of Ukraine, to take Russian citizenship and, as citizens of Russia, to fight Nazism in the former Motherland?
Yes, everything is simple. Refugee or political refugee status. That is, benefits and payments due to it. We will be obliged to feed and maintain them for an indefinite amount of time, and they will fight the Ukrainian regime with the whole crowd. All four thousand. In Moscow.
Strange, but that's why two famous and smartest people, fighters with the Ukrainian regime (I mean bloggers Yura and Mikhail, Yurasumy and Mikle1) do not have to sit in the capital? It turns out that a place to work and struggle can be organized anywhere. Including, in a couple of thousands of kilometers from this notorious Moscow. And they live. And work. And fighting with the regime.
I do not know how anyone, but I thought about the presence in Moscow of such a crowd who do not want to part with their past, but who want at my expense "to fight the Ukrainian junta" is something not very good. As well as not very understanding of the fact that in Russia more than a year there were crowds of people who do not care about this Russia, to put it mildly. Their goal was to "sit out" the most difficult times, and then come back and "live like they used to live."
But what Russia turned out to be, and she didn't bring in the troops, and didn't shower at all comers with golden rain. One nation has a good proverb: "Guest for the first three days." Seem to be? So it seems to me that quite. Accepted, helped. Whether it is good or bad is another question. At all, do not please. Although they tried to please and tried. I watched it with my own eyes since last April. And the cooling of attention to those who came from Ukraine was largely provoked by the people themselves. Too much "give", as in my opinion. And too much dirt.
In order not to be unfounded, I will give not my example. This person is very famous on both sides of the border. Someone Alena / Elena "Gyurza". Or "Odessa Gyurza". I had the dubious pleasure of meeting and chatting with her. Doubtful because of all those with whom I happened to meet in the Donbas, it was this lady who caused the brightest negative. His frank dislike for the Russians. Colleague Roman Kryvov will not lie.
http://madame-katushki.livejournal.com/244111.html
Reading is not very convenient, but I hope that anyone who spends this effort will be rewarded with passages about the absence of disposable syringes in all medical institutions of Magadan. The rest can already be read through the line. Although the numbers can stop. And on the need for an urgent change of Magadan back to Odessa. Original creativity. And again, I draw the attention of those who study this opus,
"I will not interrupt the program (on obtaining citizenship), after treatment I will return either to Moscow or to the Crimea."
What was required to prove, in fact. And there are thousands too.
To summarize some of the above. The decision may not be epoch-making, but it was suggested from the very beginning. Who wants to become a Russian, he will become. Yes, the FMS is still an office, but I'm sure it will work out to get the desired result. And who wanted to just "sit out", and even on the Russian neck ... Guest for the first three days. Okay, year. But no more.
And about four thousand political refugees ... Everything is also clear here. Yes, dear ones, it is clear that you would like to retain your citizenship so that when (exactly when, and not if) Poroshenko's regime falls, you can return home shouting "We won!" and try to take the place of the junta. But too much of you ... a bit too much. A brigade is more than any government in exile. So places are still not enough for everyone. And is it not better to think about how best to apply yourself today? Even without growing potatoes in Ulyanovsk and chickens in Belgorod?