Turkish President Erdogan made another statement for the Western media. This time, the Turkish president gave his comments on the latest events to the American television channel
CNN
. The main subject is the deployment by Russia at the Hmeimim airbase in Syria S-400 Triumph air defense missile system. The TV presenter asked Erdogan how he can comment on bringing the Russian anti-aircraft missile system in Syria into full combat readiness and, in his opinion, is it possible for Russia to attack the Turkish Air Force?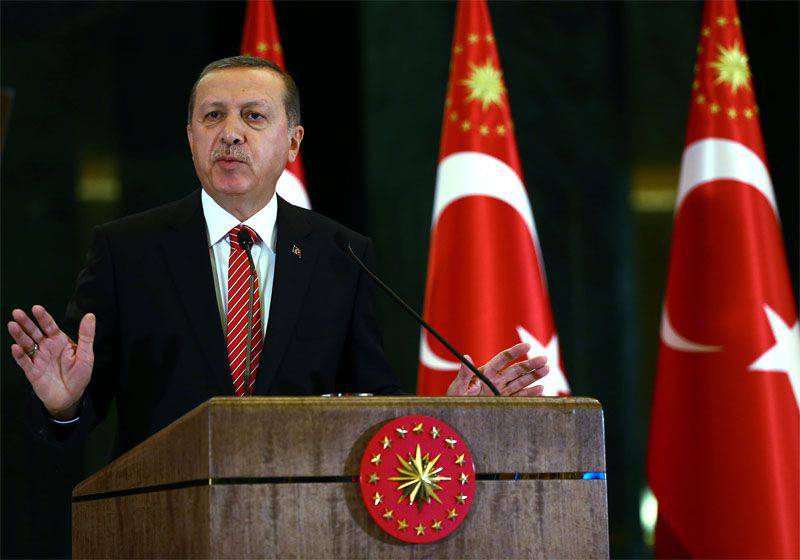 Erdogan said that he considered the strike likely, while adding that such a blow would be viewed by Turkey as an "act of aggression against its independence." After that, Erdogan clarified the reaction of Turkey, if the plane of the Turkish Air Force would be hypothetically shot down in Syrian airspace. According to Erdogan, regardless of where the Turkish aircraft will be shot down, this will be regarded as an act of aggression against Turkey.
Interesting, however, the logic ... It turns out that, according to Erdogan, Russia should not consider a strike on a Russian plane that operated over the territory of Syria as a Turkish aggression against the Russian Federation, but Turkey would in any case be perceived as aggression ...
Today, the Turkish newspaper
the site www.hurriyet.com.tr
writes that the authorities decided to suspend the flights of Turkish military aircraft in Syrian airspace. Recall that earlier the official representative of the Syrian authorities noted that any intrusion into the airspace of the country outside the coalition with Russia or without the consent of the official Damascus would be perceived as an aggressive act against Syrian sovereignty. Without the presence of the Russian C-400 complex in Latakia, Ankara had little effect on these words ...