The head of the press service of the Eastern Military District of the Russian Federation, Alexander Gordeyev, reports that the selection committee has completed the acceptance of the newest Su-35С fighter, held at the plant in Komsomolsk-on-Amur. It is reported that the multipurpose fighter has already entered service with the aviation regiment of the VBO stationed in the Khabarovsk Territory.
Alexander Gordeev added that the delivery of Su-35С aircraft to the air regiment is going in full accordance with the plans. Reports about it
RIA News
. The first Su-35 entered service with an aviation regiment at the beginning of 2014.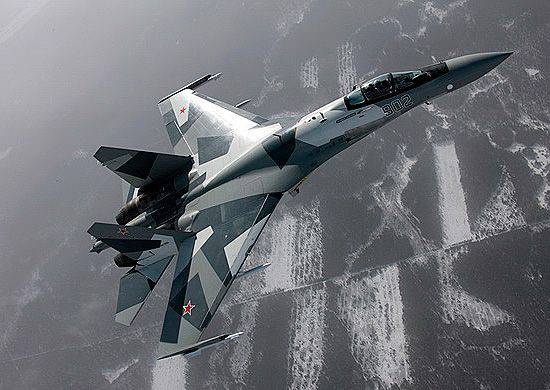 For your information:
Su-35С - deep modernization of the multi-generation fighter "4 ++". Experts point out that in a super-maneuverable aircraft several segments were implemented, corresponding to the 5 generation technology.
The crew of the Su-35C is 1 man, the maximum range of the flight is 3600 km, the maximum take-off weight is 34,5 t with the maximum weight of the combat load 8 t. Speed ​​- to 2600 km / h.
The aircraft has an optical-location system capable of detecting and tracking targets for outgoing thermal radiation. It measures the distance to the target and its laser light.
The pilot has a helmet-mounted sighting system, in front of him are two liquid crystal displays and a special indicator on the cockpit glass. The plane has a control system.