Turkish President Erdogan, who was silent like a fish the day before, made several statements at once about yesterday's tragedy with the Russian Su-24, shot down by Turkish Air Force aircraft. At the same time, in his statements, Erdogan not only did not name what happened as a tragedy, but did not find the courage to apologize to Russia.
RIA News
cites a statement by the Turkish president, who hastened on the eve of hiding behind other NATO representatives:
Turkey has always advocated peace, dialogue, diplomatic settlement, and after that we will continue to do the same. But let no one expect us to remain deaf and blind to violating our space, our borders, our sovereignty. We have no thoughts to inflate this incident, we only protect our security and the rights of our brothers.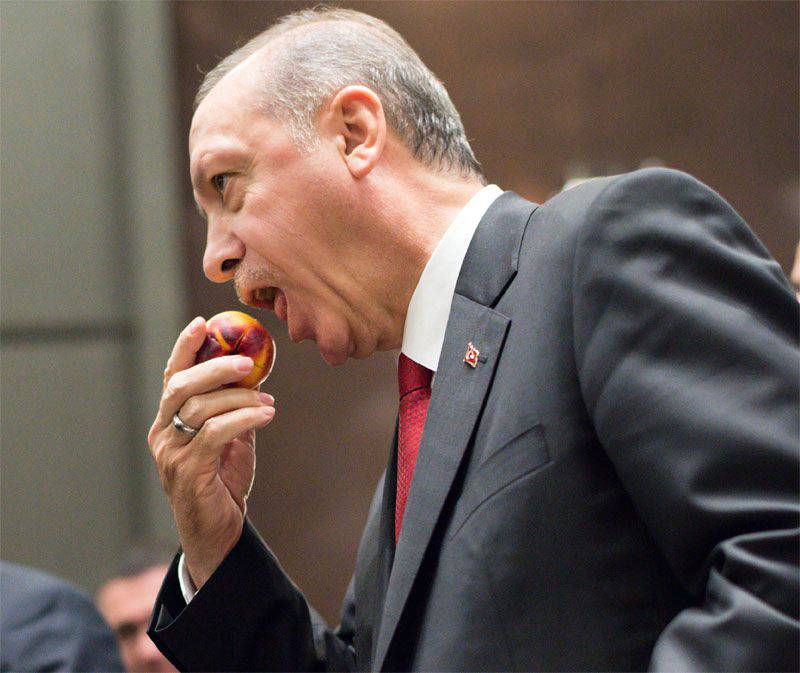 By "our brothers" Erdogan, apparently, understood the militants from the Syrian Turkmen groups, as well as the thugs from ISIL, thanks to whom Ankara feeds on cheap oil and has the ability to continue the bloodshed in Syria, solving its tasks also for the Kurds.
Erdogan once again assured everyone that the Russian plane was shot down in Turkish airspace, but it did not clarify how the Russian bomber in this situation threatened the security of Turkey. Or does Erdogan understand the security of Turkey solely as something associated with the support of international terrorism and the smuggling of hydrocarbons? ..
Recall that, according to the Ministry of Defense, the Su-24 RF VKS was attacked at a distance of 4 km from the Turkish border at an altitude of about 6 thousand meters. NATO was unable to confirm the words of Erdogan that a Russian plane violated Turkish airspace.