Why does a dog wag its tail?
Because she is smarter than the tail.
If the tail were smarter, he would wag the dog.
(Larry Beinhart. "Wagging Dog: Roman")
The VO pages have already published materials on how PR technologies affect the masses. Yes, but what is the place and role of PR activities in the communication process? In what forms of communication practices "public relations" are capable of deforming, reforming and, at times, transforming both the information environment surrounding us and the very nature of the interaction of the communicants in it. First of all, it should be said that PR is precisely a system of communication practices that includes absolutely everything: the appearance of the TV announcer, his soulful or firm voice, and the general direction of the entire flow of information. That is - how, about what and in what form to write and accordingly - about what to write (and what to show) is not necessary at all.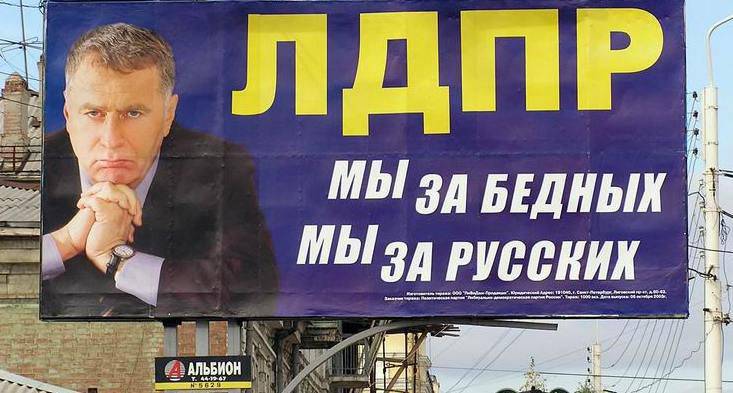 Of course, you all saw this poster ...
Phenomena of communicative activity were reviewed by well-known American researcher and information theorist James Grunig, who identified four main models of PR practices. His model is accepted today by experts all over the world, and in total there are four models of communications, both asymmetrical and symmetrical.
The first model - PR in the form of manipulation and propaganda has been known for a very long time. A good example of such a model today is advertising, stimulating the sale of goods, etc. This is an asymmetric model and is limited to one-way communication with the public. At the same time, with the help of information pressure, some people try to attract the attention of the audience and get the necessary actions from it. The recipient of information in this model is a passive object, and the objectivity of the transmitted data does not matter ("the planet Nibiru flies to Earth and will soon face us!"). After all, the purpose of such communication is the attention of the public.
Here you should digress a little and ask readers about the people with what level of education most often become victims of deception by gypsies? Do you think those who have the lowest level of education? And no! The data of the Ministry of Interior suggests the opposite! More often come across people with incomplete higher! And higher! And why? And because they heard about telepathy, telekinesis, mesmerism, hypnosis and ... they were also brought up. But some semi-literate girl from Tmutarakan (and there were such in the past time, and now they are) does not know this, but her mother said to her - "Gypsy are cheating, it will do - say I went to ...!" how to cheat such? Then, as for the "educated", the first thought is "what if, really?", "What if Nibiru still falls ?!" This is what "what if?" They are caught! And the gypsy, and ... "catchers of souls" with a university degree! Although this work and levels many ethical aspects of the information impact on society. That is, the main tools of this model are propaganda and agitation. They are often confused, like damask and Damascus steel, but in fact they are very easy to distinguish. Propaganda refers to the general, and agitation - to the private! For example, "Long live freedom, equality and fraternity!" (The slogan of the French Revolution) is propaganda. "Vote for the friend of the people of Jean-Paul Marat - the true advocate of the disadvantaged!" - this is agitation. Or: "Wash your hands before eating!" - promoting a healthy lifestyle. "Wash your hands before eating Soop soap!" - agitation.
Now let us turn to the second model of PR practice "according to Grunig" - informing the public. The main idea here is not to get publicity or advertising, but to give the population as much accurate and accurate information as possible. But the flow of information remains asymmetrical, one-sided. Such a model of PR today is used by the authorities, political organizations, associations, non-profit organizations. In this case, the subjects of information themselves decide what information the public needs to know. And much depends on their honesty and decency, professional skills and ... money! However, there are some "pitfalls" here. You can tell a lot by just informing you. Watch the feature film "Trick or Wag the Dog" and ... you will get a comprehensive idea of ​​how such information can be carried out in the interests of the "public"!
The third model is two-way asymmetric communication. How to understand this? And so! PR work is carried out taking into account the study of target audiences and their reaction to this or that information. There is a positive reaction or it is expected - we give information. The reaction is negative - do not give! That is, there is feedback in this model (opinion polls, focus groups, interviews), but all this is needed only in order to plan an effective PR campaign, get support from key groups of the public and ... extort money from it and get support! Look very interesting in this regard, the American film "Kate and Leo" and you will clearly see how it is done. In this case, public relations is used to convince or force the public to agree with the views of the organization or structure, and not vice versa. Such a PR model is usually used by commercial structures, but the state does not shun it either.
As you can see, this model is based on the fact that the source of information, that is, the subject is aware of the need to take into account the views of the environment and its impact on the interests of the organization. Therefore, in this case, PR is transformed from propaganda into more or less socially responsible communicative activity. That is, it is still better than just propaganda, agitation and "informing", since all this is simply imposed on people without regard for their interests. Exploited by man to knowledge and novelty!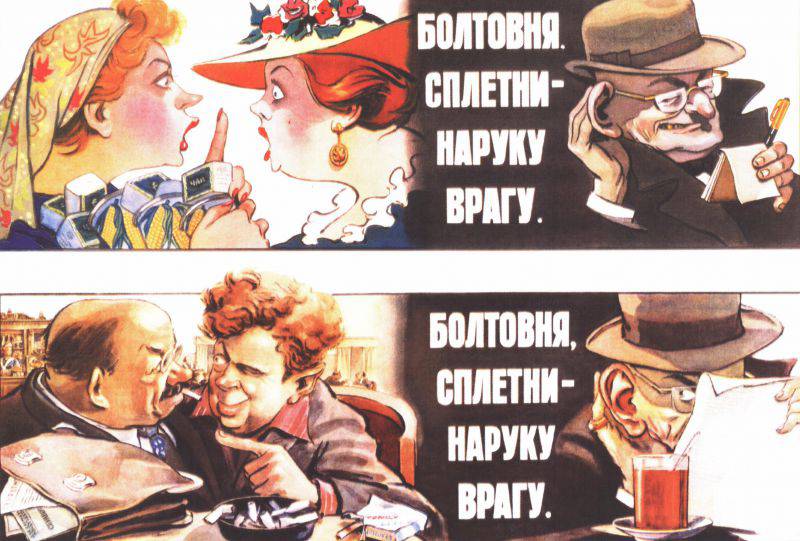 "Hat and glasses means spy!" Poster 1954
The two-way symmetric model of communication today is the most advanced, complex, effective and expensive. The institution or organization in this case is trying to establish partnerships with the public, mutually acceptable for those and for others. And the goal of PR is aimed at achieving mutual understanding between the leadership of the organization and the public, which has an impact on the organization. The organization as a source, and the public as the recipient of information in this case cannot be considered, since an equal dialogue is established between them. We can say that there is a place for deception. Yes, it always is, but people who notice such deception very soon (or not soon, but sooner or later) will no longer trust such an organization, and it will lose not only the credit of their trust, but also the money, and nowhere without them!
Here both sides of the communication process should be perceived as groups that achieve mutual understanding and can effectively interact. Even if they do not love each other. Suppose you have matches, and I have boxes. We can hate each other as much as we like, but we can only light a fire together. It means that the tasks of a professional PR manager are to find such points of contact or even create them artificially. However, according to Grunig, this model is rarely dominant because of the need for continuous search for a compromise. Because of this, the effectiveness of information interaction between the public and PR actors is significantly reduced. In addition, most people are not very intelligent and educated and therefore prefer "quick", "simple" and "effective", in their everyday view, solutions.
All these four models are carried out within the framework of selected strategies, and there are only two of them. A rational (objective) strategy of PR practice addresses the mind of the potential audience, and provides arguments that should inform and convince opponents. In them, subjects enclose their arguments not only in verbal form, but also for clarity using drawings or graphs that are able to reinforce and reinforce the impression of what was expressed.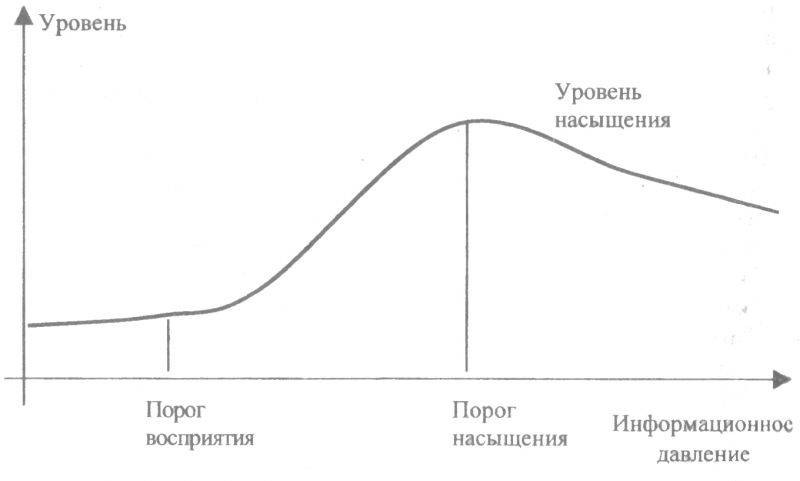 Diagram of the process of informational impact on the audience.
Strategies of emotional (associative) PR practice appeal to feelings, memories (and time erases bad memories, but keeps good ones in memory!), Emotions, to the subconscious; they affect people through the association of ideas. A favorite tactical device, in this case, is a graphic image (figure, symbol), and even more importance is given to the color scheme. For example: a thick-bodied bourgeoisie in a black top hat, and a slender worker in a red budenovka, the "pest" of 30's necessarily wearing a hat and glasses and a brush with a mustache (the ideal image in the movie is the artist M. Gluzsky!) Sometimes in PR activities both of these strategies are used simultaneously, which are applied to different audiences.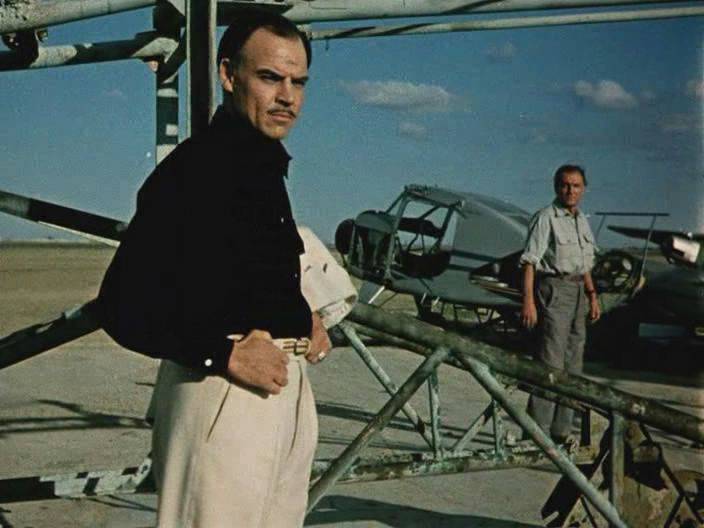 "A scoundrel can be seen immediately!" M. Gluzsky in the movie "The Last Inch."
By way of expression, PR practices are divided into "hard" and "soft". A "hard type" PR campaign has short-term goals - to influence the public in such a way as to bring it to immediate action through screaming and external effects. A "soft" PR campaign has a goal not only to provide information about a particular project, but also to create a favorable atmosphere around it. Most often, this is achieved by emotional influence, symbolism, and deep motives affecting feelings. Such a PR campaign is designed for medium terms.
In any case, one should always remember that the audience's response to information is non-linear: it passes through the thresholds of perception and saturation, so the PR should build his work so that his campaign is between them, in the zone of highest efficiency, and not beyond the saturation threshold. In this case, his efforts will be in vain, and the money will be thrown to the wind. There is even a precisely verified number of "picture" shows, which arouses interest and trust. Then - the "sign" is changing!
Well, the election campaign of V.V. Zhirinovsky, carried out at the beginning of the 2000s under the slogan "We are for the poor, we are for the Russians!" Probably, someone even remembers these huge billboards that filled the whole country? Then I immediately asked my PR students: "Will someone vote for him under this slogan?" There were no people who wanted 50! Then I offered to interview everyone on 10 and find out their opinion about this slogan, and whether they will vote for the Liberal Democratic Party. It turned out that there are very few! Moreover, one of the "activists" was an unemployed young man who said: "Zhirik is a cool dude!"
However, the elections showed that he overcame the 5% barrier and remained in the Duma. This means one thing: a study was conducted that showed that there is a target audience (CA) that will "lead" to this slogan and will provide another term. But since it is small, then its "needs and aspirations" can then be ignored! And then there will be a new Central Asian, a new slogan will be created for it, which will appeal to the senses, and ... a new tenure will be provided. Wow, isn't it?