American analyst Michael Peck in an article for National Interest magazine tried to explain why the United States should be wary of the Chinese Air Force.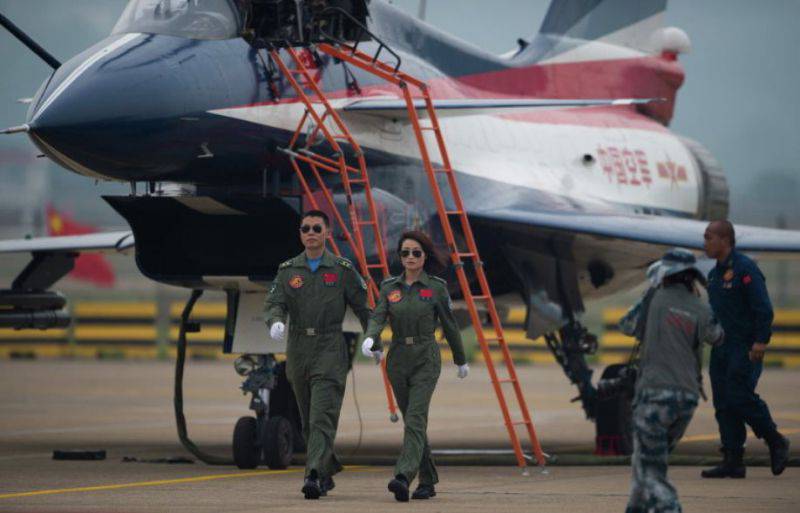 "The power of the Chinese air force is growing. If a crisis breaks out in the skies over Taiwan, will Washington really be able to stop Beijing? "
RIA News
analytics.
In his article, Peck refers to the research work "Air superiority opportunities in the USA and China" prepared by the American center RAND. The authors considered two possible situations: "the invasion of the PRC into Taiwan and the Sino-American conflict over the Spratly Islands in the South China Sea".
The scenarios tried on the state of the USA and China air forces on 4 specific years - 1996, 2003, 2010 and 2017.
According to Peck, "the results were amazing."
"In particular, in 1996, the United States would have won an easy victory in the skies over Taiwan with the help of the entire 2,1 squadron. In 2003, the Americans would already need 10,6 squadrons, in 2010 - 19,6. In the 2017 year (the number of aircraft in the squadron is 72), "writes the analyst.
In 2017, 29,9 squadrons will already be needed, i.e. 2 thous. Aircraft.
"As for the war of attrition war scenario, the US would have needed an 1996 squadron to destroy 50 percent of China's air force in the event of its hypothetical Taiwan attack, Peck said in the 0,8 year.
He notes that it was easier for Americans to dominate the skies over the South China Sea than near territorial China. "And yet, according to Rand's calculations, the difference between the 1996 and 2017 years is still significant - the 0,5 and 10,1 squadrons, respectively," the author writes.
Rand experts warned that their calculations should not be taken literally, since they used mostly open sources. The purpose of the study is to show the development trend of the air fleets of the two countries and study the consequences of the changes that have occurred.
In general, the researchers came to the following conclusion:
"Although the US still has no equal in the conduct of air combat, due to the modernization of the Chinese Air Force, coupled with the inevitable difficulties in conducting operations at long distances in the Asian theater of operations, the US is increasingly difficult to achieve air superiority in the first days or weeks of possible military conflict with the PRC.