More than 100 people died from an ISIS terrorist attack in Paris on November 13, on a fatal Friday. We grieve for the victims and express our condolences to their families and friends, but does France and its capital, Paris, deserve this with such value as Charlie Hebdo magazine? For which the crash of a Russian airliner over Sinai, which killed more than 200 passengers, has become "porn in Russian"?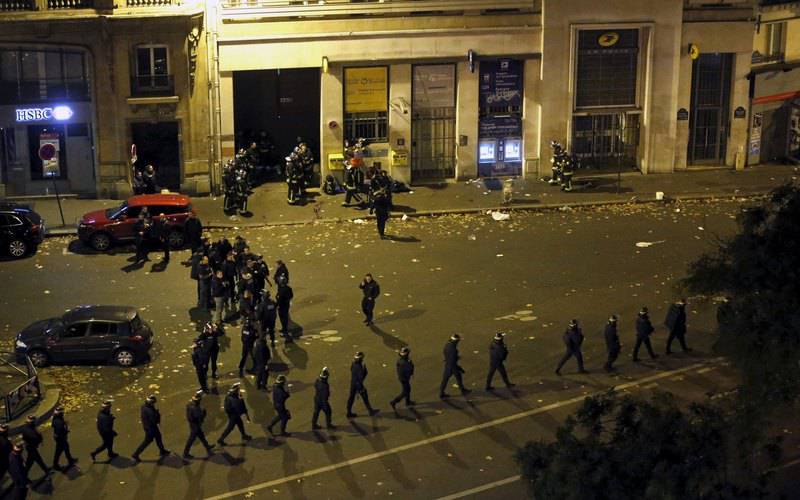 Then the West, and France, almost did not notice the death of the Russian aircraft, escaped with duty telegrams of condolence by the Foreign Ministry, and bullying "Charly Ebdo." Barack Obama has not sent a telegram. This is a moral sentence of the entire "democratic" Western public. For the moral, sooner or later, the physical will follow ... We see his first steps.
We remember how not long ago all of Europe shouted: "We are" Charly "when the editorial staff of this magazine was shot by Islamist terrorists. Instead of mourning for lost people, freedom of words and insults was raised on a shield. This is not by chance. For all the "Charlie" shrines of the peoples of the world, their gods have long been boys for ridicule, and then others' deaths have depreciated, and, in the end, they will devalue and the death of "Charly". Therefore, we admit in our souls that this French tragedy is no longer bitter as it used to be.
Let us pray for the soul of an untimely dying France. With a manic obsession, she injects huge doses of multiculturalism, tolerance and homosexuality into her veins, finally called herself "Charly", and thus began to mock the victims of other nations like Ebdo. While the moral decay and the abomination reached the depths of hell, and he peered at Paris, and gave his presentation for the country "Charly".
"Charly" became, as it were, the last drop of poison, France publicly, through the mouth of its President Hollande, consecrated the blasphemy "Charly" with its name, calling them "freedom of speech" ... And "for the bazaar" it is necessary to answer, the criminals know this, but they don't know tolerance of its "enlightened society." "The wounds from the word are deeper than from the sword," taught the great Russian writer of Little Russian origin Nikolai Vasilievich Gogol ...
France, by and large, is responsible for its "market" today: insults of the feelings of believers took place, and not only from "Charly Ebdo", and now we see how they are literally washed away with blood. Unfortunately, this is already a world trend - it has hit all countries of the world to one degree or another, so hell is looking more and more at our free to hate world.
There will be grief on your street if you cause grief to others, allow yourself to laugh at the grief of others - this applies to all Charlie fans, from Bandera's Kiev to arrogant London and exceptional Washington. The gods thirst for justice ...
France, and indeed all of Europe, lost their moral immunity, with the exception of Hungary's Prime Minister Viktor Orban and Czech President Milos Zeman. One may depict flash mobs like "I-Charly" as many times as they like, but the problem of the people's moral health will not solve it, the disease will progress further. The "Bataclan" club, with the highest death toll, was attacked, perhaps not by accident: he proclaimed in his shop window: "I am Charly" ...
Many conspiracy versions have already been cited, from revenge for the recent bombing of the ISIS oil fields by the French Air Force to the US geopolitical combination using ISIS, in order to force France and Germany to sign an economic surrender to the Transatlantic Trade Partnership, under the auspices of the USA.
Most likely, these aspects are present, but we don't want to notice the fundamental reason lying on the surface: insulting the religious and national feelings of peoples, the Western invasion of Arab countries, which led to enormous civilian casualties that drive the hearts of ordinary extremist terrorists.
If France and Europe remain "Charly", the 13 / 11 tragedies will repeat again and again. Until a new Jeanne d'Arc appears, which will free France from "Charly", only after that it will be possible to finally, at the ideological level, deal with ISIS. There is, by the way, one woman in Paris, Marine Le Pen, who can fulfill this mission — she talks about her need. It seems that God has not quite left France with his grace ...
By the way, Orthodox Russia has immunity from the moral impoverishment that struck Europe - traditional Islam represented by three pillars: Grozny, Kazan and Ufa, and other religions traditional for our multi-ethnic country.
13, Friday, Paris, concert,
Football match, terrorist attack ...
ISIS gives the plot
Charly Ebdo ...
The blood on the face of Paris is crying!
The bloody food media threw up the glory,
To judge who survived so unexpectedly
And who died quite by accident!
Rotten word
It's ready to burn hearts again ...
There is a High Court, and it will come,
It's a shame that the executioner is ISIS
Sometimes it carries ...
Are you from Charly?
So go through,
Concert ISIS
See ...