Ukrainian Prime Minister Arseniy Yatsenyuk said that Kiev is ready to take action if Russia does not go to the restructuring of the Ukrainian billion-dollar debt. Recall that Ukraine should pay off debt obligations on bonds bought out by Russia before the end of this year. Otherwise, Ukraine will be defaulted by all economic laws.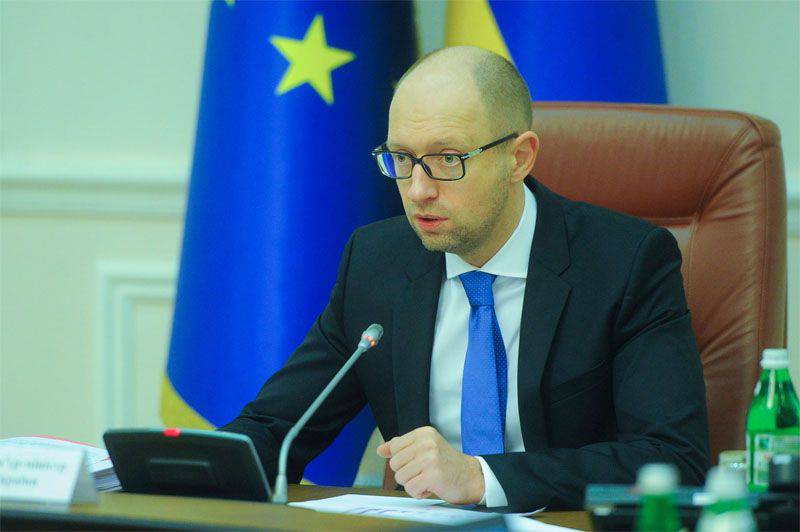 According to Yatsenyuk, if Moscow does not agree to take the path of restructuring Ukrainian debt, then Ukraine will respond (attention!) By imposing a moratorium on the payment of this debt. The logic, of course, is amazing. According to this logic, it turns out that Ukraine cannot pay 3 a billion RF dollars for lack of funds in the budget, but in addition it is going to allow itself not to repay the debt.
Statement Yatsenyuk leads
RIA News
:
Unfortunately, we had a proposal for negotiations on October 29, but Russia refused to conduct negotiations. Now it depends on Russia whether it wants to continue negotiations. If Russia does not agree, then the Cabinet will impose a moratorium on the payment of 3 billions of debts to the Russian Federation.
Based on the statement of Yatsenyuk, Moscow, as it were, must conclude that in any case it will not receive money from Ukraine. Maybe in this case, it is time to impose a moratorium on the recognition of the Kiev authorities as legitimate, with all the ensuing consequences, up to the withdrawal of recognition of the elections held in Ukraine?
Recall the other day international rating agencies
Fitch
и
S&P
once again lowered the bar of the credit rating of Kiev - this time to the mark D, corresponding to the default. Moratorium on what Yatsenyuk is going to threaten these rating agencies? ..