At the very beginning of the flight tests of the first prototype of the An-178 transport aircraft built by GP Antonov, a serious problem was found with the alignment of the vehicle. As it turned out, the reason for this was the miscalculations of the developers, reports
Look
with a link to the bmpd blog.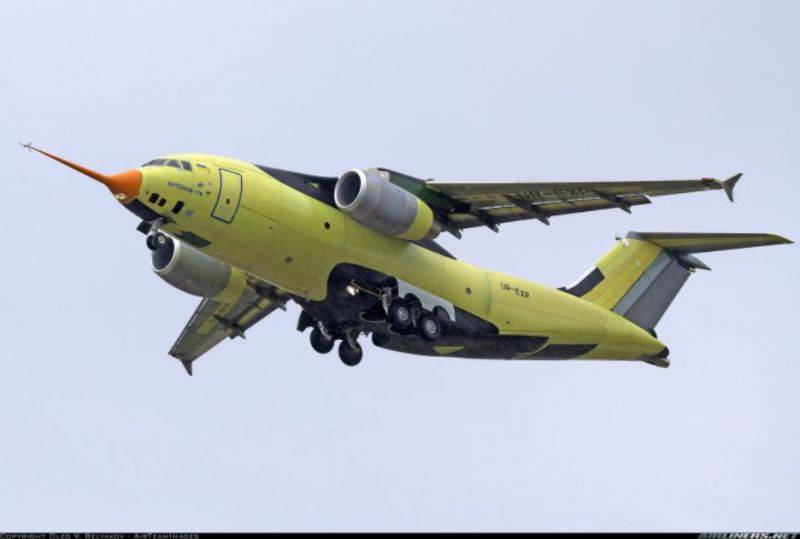 The first flight An-178, airfield "Gostomel", 07.05.2015 g
"As a result, in order to ensure normal alignment, the aircraft is forced to perform all any lengthy test and distillation flights with an additional ballast weight of 1,32 tons in the form of a package of 15 kg steel plates weighing 85 – 90 kg each, laid behind the flight deck," writes the publication .
It is reported that "it was with this ballast that the prototype An-178 made flights to air shows in Le Bourget, and now to Dubai, and after landing, the ballast is quickly unloaded to conceal the fact of its presence on the plane."
The ballast, as it should be expected, worsens the characteristics of the transport worker, "already not corresponding to the advertising data declared by the manufacturer," the publication notes.
Presumably "the reason for the incorrect alignment of the machine was the decision taken at the design stage in 2012 to increase the wing span of the An-178 by 2 meters, as well as the wing area from 88,5 to 98,6 square. m while maintaining the same parameters already projected fuselage, the author writes, citing expert opinion.
This decision was made in order to correct the identified error, when calculating the take-off and landing characteristics - they turned out to be insufficient in relation to the stated.
According to experts, "a means of correcting a centering defect can be an increase in the length of the aircraft's fuselage near the center section and nose, but this will require a serious redesign, construction of a new prototype, and, in fact, a new test program for the redesigned aircraft."