On the eve of Poland held a march on the occasion of independence. For the Polish radical nationalists, the main slogan remained the same: "Poland is for the Poles!" However, perhaps for the first time since such actions were held, slogans were said that there is no place for refugees in Poland, which are primarily refugees from Syria and others countries of the Middle East.
To understand the attitude of Polish society to the migration crisis, it is worth presenting a publication in
Facebook
close relatives of one of the Polish schoolchildren. A photo of a page of a notebook for physics works has been published on the web, where the problem proposed by the school teacher has been written down.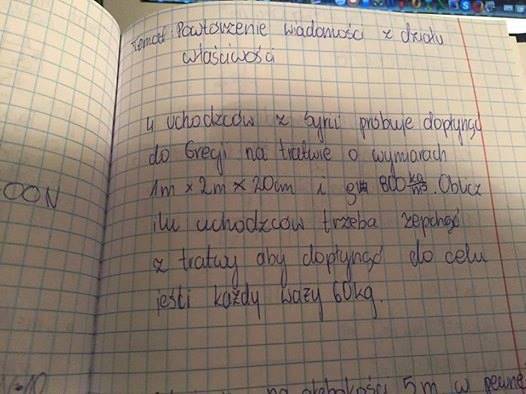 We present the translation of the text of this "entertaining" task:
Four refugees from Syria are trying to get to Greece by raft size 1m x2m x 20 cm and density 800 kg / m3. Calculate how many refugees will have to collide with the raft, so that the rest will reach the goal, if everyone weighs 60 kg.
Initially, many felt that the publication did not really correspond, and Anna Mierzyńska (that is the name of the author of the publication) deliberately discredits the Polish school. However, in the comments the Polish schoolchildren themselves made it clear that such tasks they were actually offered to solve by their teacher.