Sometimes you want to write not an article, but such an essay. Philosophical-not-know-what thoughts. Just sit and write your own opinion about some completely imperceptible fact.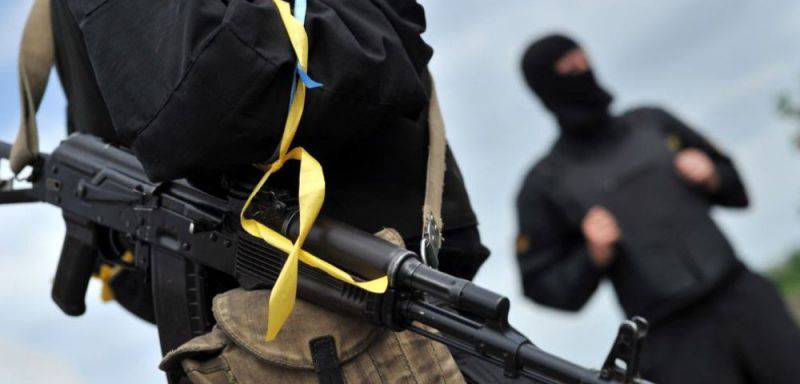 So many copies broken in Ukraine. Theoretically, I can now spread another on a plate. But I do not want. Today I just want to laugh a little. And above us, maybe. And above them.
Remember the recent initiative of several deputies of the State Duma of the Russian Federation about a life ban on entry into Russia for all participants of the ATO in Ukraine? I will not write about whether this is right or wrong. I will not express the opinion of one or another part of our people. What for? The people already understand everything, and have already decided everything for themselves. I think that in Russia we will not see Ukrainians with their own orders on their chests for a long time.
Not those that will come as part of some official delegations, but those who will go to 9 May to the eternal flame. Or 2 August. Ukraine has become a swear word for a long time. And the Ukrainian orders in our country - as a sign of a special abomination. But you can not wear ... Young was stupid ...
Today I am interested in another. The reaction of Ukrainian politicians to such a proposal. In particular, the ambassador of Ukraine to the USA Valery Chaly. Agree, the ambassador - not a small person in foreign policy. As a general. Only in another department.
"I could not resist. Not at the post. Excuse me. Here in the Russian State Duma they propose banning entry to Russia for life for members of the ATO. What a cynicism and mockery of common sense! As they say: from a sore head - to a healthy one! I did not have to be at the forefront. At that time, by diplomatic means, we stopped a full-scale war. "
This is in vain. For a diplomat, endurance is like a military reaction. If this feeling is not, then die soon. And about the healer's abilities ... m-yes ... Pan Chaly, not only to the doctor, does not pull on the shaman.
How so? Russia isolates itself from the rest of the world! And do not laugh. If the murderers of Donetsk children do not come to us, we will remain in complete ... isolation. Do not pay much attention to the word "isolation". The author had in mind just the word that you thought.
I feel very sorry for myself. And not only yourself, but all of you, Russians. This is what you need to be ghouls, so that to us, besides the participants of the Ukrainian ATO, murderers and rapists, nobody wanted to go? But somewhere there are scientists, artists, writers, directors, artists ... And to us only killers ... and if not distinguished, then there is nothing to do in Russia.
"You can bring me. And I'll try to ensure that all Russian politicians, the initiators of this crazy idea, are banned from entering Ukraine and the United States, with all the attendant circumstances. "
But I, too, for ... Forbid to hell. And then ride around the world as their own country house. Simple people, means, collect money, wait for holiday, and these ride. But the question is: what does the Ukrainian ambassador have to do with banning entry into the United States? Megalomania? Not sure. Rather a parallel reality.
Probably, readers do not know where it started. It's not just the Ukrainian ambassador and some politicians who run bile through the square. I'll explain what's the matter. So, the Ukrainian long-distance driver, an active participant in the ATO, was stopped at the border in south-eastern Ukraine by Russian border guards and was not allowed into the territory of the Russian Federation. Precisely because the security of such a person in our territory, we can not provide.
Sorry, but not a diplomat or politician. Not even the owner of a bank or factory. Just drove. Taxis and taxis. And the Russian Federation has no extra police to provide security. Not even from the Russians. From the Ukrainians, whom we have on a good area will be typed. The indignation of the punisher himself, and especially Ukrainian journalists, resulted in numerous notes, articles and other rubbish in ukroSMI.
After that, on November 5, deputies of the State Duma of the Russian Federation from the Communist Party faction suggested that Prime Minister Dmitry Medvedev make a list of participants in the ATO, for whom entry into Russia would be banned for life. They did not introduce a new law, did not organize a hearing, did not announce a nationwide discussion. Just made a proposal to the government.
Always considered our people kind and merciful. And considered himself soft. Once even a cow could not kill. Slack, in one word. But in this situation, we are a beast. Guys, where do Ukrainians earn money? What shishi to feed the family?
Not only are we blocking oxygen with a preferential stay in Russia, there are also many millions (please do not swear, I did not say that, Chaly) do not let people go. Here it is, the hidden gut of the Russian people. He pretends to be a fool and himself ...
Today, I am in favor of the entire Russian (once again I clarify, I don't like the word "Russian." For me, in Russia, all are Russian) the people and government of the Russian Federation. Such a decision is necessary in order to quickly restore your native state. Your favorite Ukraine. Leaving abroad to work, including to Russia, you are depriving Ukraine of working hands and feet. I do not know, maybe there are also those who work with their head left.
It is precisely from purely humanistic considerations that I, as a representative of the Russian people, ask deputies of the State Duma of the Russian Federation and the Government of the Russian Federation to adopt a law banning the entry of participants in the ATO to Russia. It is the participants of the ATO as the vanguard of the Ukrainian people will restore the economy of Ukraine, dig up new oil and gas wells, climb into closed mines and destroyed chemical plants. It is impossible to deprive the fraternal state of the most active part of fighters for independence.
It always amazes me when an official, invested with sufficiently large powers and admitted to many state secrets, is engaged as a boy in self-promotion on the Internet. But it amazes me even more that for some, including our officials, this has become the norm. PR can I ... PR can any person, except politician, official and military. These are service people, and any of their actions was and will not be personally an act of a person, but an act of a state official. The man of the state.
And since I am a private person, I will answer the Ukrainian state in the person of Ambassador Valery Chaly as just a face. And FIG knows him ... FIG knows him where Ukrainians have to earn. This is not my business. The main thing is that there will be no such earnings for them. Ukraine tse Europe? So go ahead ... Compete with refugees from Arab countries.