A prototype of a small-sized nuclear power plant on a wheeled or toboggan platform is planned to be created by 2020 g,
TASS
a message from the general director of the Engineering Company of Innovative Projects, Yury Konyushko.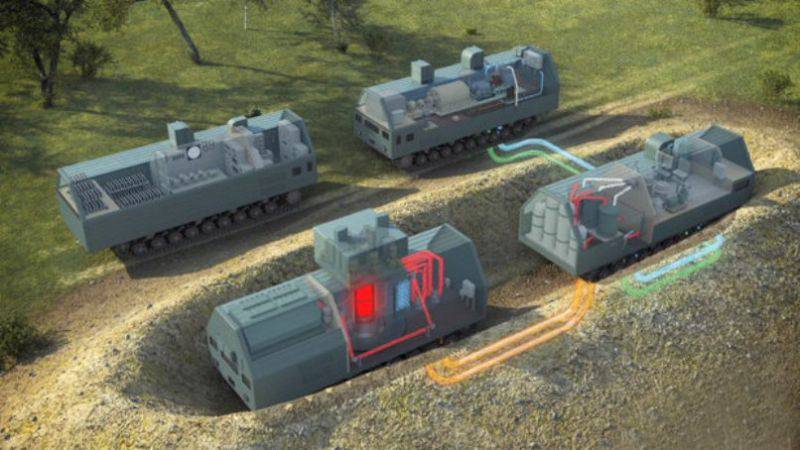 Low-power mobile nuclear power plant "Object 27" or TPP-3, created in the USSR in 1961 on a heavy platform tank.
"The Minister of Defense gave the command to make a pilot project of low-power nuclear power plants in the interests of the Ministry of Defense. The project is already underway and is at the stage of research and development (R & D), "said Konyushko.
"Preliminary data on the project should be submitted to the military department by the end of the year," Konyushko specified. - Then, according to the procedure, we are entering a full-fledged R & D project, which will end with a technical project, this is a year or two. Then we go out on the experimental design work and the manufacture of a prototype. We have to submit it in four to five years, that is, to 2020 year. "
According to him, it is also necessary to prepare mass production for 2020, since now "there is no production base that would serially produce these things."
The general director did not disclose any characteristics of the station under development. He only noted that "the installations will be created according to the modular principle and, depending on the size and power, they will be placed on the MAZ or KamAZ wheeled chassis, and on sleds in the Arctic conditions".
"At first, such facilities need at least 30 for the regions of the Far North, the Arctic archipelago. They can be delivered to their home base by airplanes or helicopters, "said Konyushko.
"These autonomous systems are designed for many years of work without the involvement of numerous personnel for maintenance. At the same time, data from such stations will be transmitted to control panels via satellites, "he added.