One of the main goals of Russia, including in Syria, is the fight against terrorism, no one will be able to intimidate the Russians, Vladimir Putin said during a meeting with representatives of public, scientific, cultural and religious organizations of Dagestan. He writes about it
Rossiyskaya Gazeta
.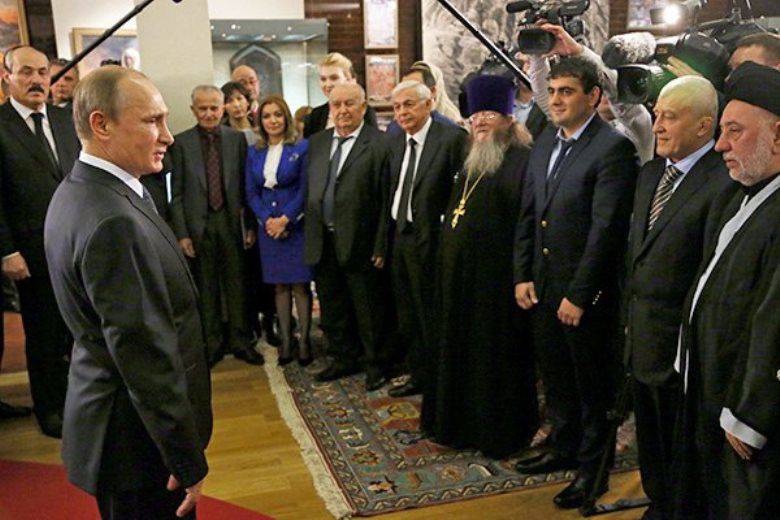 One of the participants noted that there are attempts to create a conflict in Russia with the participation of Muslims. However, "the centuries-old experience of multi-confessional existence shows that there can be no such conflict in Russia".
"I completely agree with you about the fact that someone can intimidate us. The Russian people as a whole, and Dagestan, especially, have never succeeded in intimidating anyone at all, this is absolutely "an attempt against unsuitable means," as lawyers say. A hopeless occupation, "Putin said.
"Our goal, indeed, in Syria, and anywhere else, is the fight against terrorism, primarily in this area of ​​our activity. We are ready to cooperate with all forces that fight against terrorism, regardless of religious affiliation. And we are doing this work, I want to inform you, quite intensively, "he said.
"Dagestanis are very fond of their small Motherland, Dagestan, their republic, and our common great Motherland - Russia. I highly appreciate the devotion of Dagestanis to their homeland. They are ready to show these qualities, if life demands it, the way it was in 1999, "the president said.
"As for our internal affairs, we still have a lot to do to develop our own country. We, I would say, have a unique case, unique conditions for this have developed, life is so lined up that those who wanted to prevent, even help us, because we have to concentrate our efforts on our own internal development, "he continued.
"The fact that yesterday we still bought with ease for the so-called petrodollars, today we are thinking how to produce ourselves. And for this you need to deal with fundamental science, and applied science, high-tech areas of production. We will all do it. Of course, with the active support of all our citizens. As a matter of fact, I feel this attitude, and what you just said about it, about the mood of Dagestan, is very important, "the head of state noted.
The meeting was held in Moscow at the exhibition "Derbent, Dagestan, Russia", dedicated to the 2000 anniversary of one of the oldest cities in the Russian Federation - Derbent.